Finding Fulfillment in Being a Mother Only
Written by Sherrie Cook, Contributing Writer
For many years I've disliked filling out paperwork at a doctor's office or school that asks for my employment status.  I struggle with knowing the right adjective or title to describe all I do in a day. Usually, I simply put "homemaker". That never seems fair to anyone. Does that mean that the mother who works is not a homemaker, too? No. Does that mean that all I do all day is manage my home? Of course not. So really, it's not fair to any moms anywhere.
I suppose it's because there are never enough lines in the packet to explain what the real job of being a mommy encompasses. Even if there were enough lines, we moms wouldn't have ample time to sit there and fill in all the details of our days!
Some days it seems all we get accomplished is to change diapers and wash endless faces and wipe away falling tears and dam up dripping noses. Sometimes, we get to celebrate successes and at other times we have to do our best to mend broken hearts. Sometimes our waking hours are distracted by looming decisions regarding the future of our children…sometimes our nights get consumed, too.
Throw in breakfast, baths, homework, packing lunches, creating wholesome dinners, character training, errands, cleaning house, soccer, baseball and volleyball practice, church time, husband time, and a little family time and our schedules are filled to the top! overflowing! (Notice I skipped personal time, exercise and sleep, among others. Those are the ones that get cut first anyway, right?)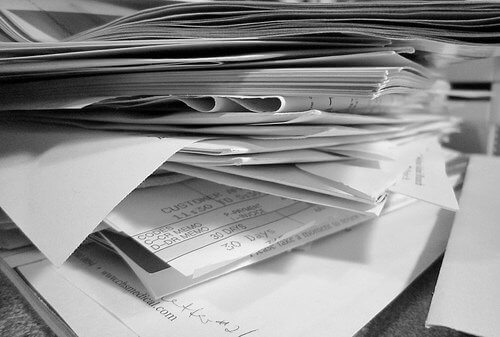 Image courtesy of katerha
Distracted by Doing "Good"
So why is it that we always think we can take on more? And more? And MORE? Like… involvement in the worship choir, teaching a Bible class, president of the PTO, soccer coach, part-time job, co-op coordinator, troop leader, ladies class instructor, mentor, head chef for small group and secretary for the neighborhood association!
Can you identify with some [if not all] of those titles above? As women who love God, we earnestly want to serve Him. We see a need and we want to fill it. If we're asked to participate in a noble cause, we most often respond positively.
If the request was for something illegal or a blatant waste of time, we would have no problem walking away, but all the things (and we all know there are way more) listed above have merit. They are "good" things in which to be involved. They help our families, our friends and lost souls. They need to be done. And somewhere in the dark corners of our minds, perhaps many of us know that if we don't step in and fill the role, no one will.
In many cases, I believe, that being distracted by doing good is one of the ways the evil one uses to get a foothold on the hearts of God fearing women. Women who have a heart for Jesus. Women who want to serve Him by serving their families. Women who desire to model the woman of Proverbs 31. Women like you and me.
I, personally, have been dabbling in this very drudgery. I'm learning every day, hard lessons. I'm making heart wrenching choices about where I can truly be involved.
Right now, I am a mother of very young children. I feel like I have so much to give to my family, my friends, my neighborhood, my world!  I am embarrassed to admit that at times I feel like my gifts are being stifled or wasted while I do this "mom thing". It is when I bring that confession to the Lord that I can hear Him whisper, "Be the best mommy you can be. Today. Let tomorrow take care of itself."
It is then that I'm reminded that being "only a mom" or "just a mother" is enough. It is enough for God. It is enough for my children. It is enough for me. Right now, I'm pleased to say that motherhood is my season. If it is your season too, I pray you will join me as we strive to find peace in the presence of this awesome calling.
Do you ever struggle with "only" being a mother? How do you combat those struggles?
Other Related Posts You May Enjoy