Naturally Neutralizing Stress: Herbs that Calm
We all have those moments of random stress, moments that leave us drained, exhausted, and with a lingering feeling of depression. This month at Keeper of the Home, we've been addressing ways to find a balance in our lives, both physically and mentally.
On Monday, Stephanie addressed natural ways to approach depression, and she mentioned several herbs that can help to calm our senses in the midst of stress. I'd like to elaborate further on some of them, and explain why they work so well.
Chamomile
Chamomile is one of the most effective calming herbs. Safe enough for anyone to use, this is my "go-to" herb when I first begin to feel overwhelmed. Chamomile affects not only our nervous system, but the immune and digestive systems as well. It helps to calm nervous stomach cramps and relieve tension headaches.
Uses :: I've found the tincture to have the quickest effect, however, I also recommend using chamomile tea for lingering stress – I believe the act of sipping from a cup slows our minds and bodies down more effectively. You can also warm olive oil and add a handful of chamomile blossoms to make an easy oil for a soothing massage. I frequently add fresh chamomile blossoms to our children's bathtub – not only do they love the experience of a "flower bath", but it allows all of us to benefit from the aromatic experience.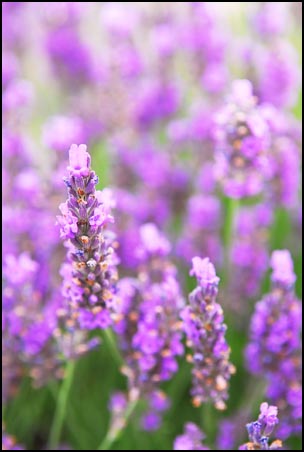 Lavender
Lavender is one of the most highly utilized plants for its calming effects. It is an incredibly strong nervine, making it a wonderful herb for those who suffer from headaches. It is also a mild anti-depressant, and can be used by itself or in conjunction with other calming herbs for a pleasant tea.
Uses: My preferred method is to use lavender honey in my teas – I've found that allows the properties of the lavender to come thru, without the overwhelming taste that can quickly turn people off. Another quick relief method is to apply lavender essential oil to your temples and the nape of your neck. It can also be added to a spray bottle of warm water and used as a room freshener – especially good for when EVERYONE needs a lift!
Catnip
No, it's not just for cats! It actually has the complete opposite effect on people than it has on cats. Catnip can be used for calming all kinds of stress, although I have found it particularly effective for aiding restful sleep. It also works wonderfully for teething babies, not only lowering the fevers that naturally occur during that growth process, but soothing the accompanying pain as well.
Uses: Catnip can be quite bitter, so I've found it easiest to combine with other herbs such as lemon balm and chamomile in a tea. I also find it more effective as a tincture, and have had great success in using it in situation where I would normally use Tylenol (fever and pain reduction).

California Poppy
An often overlooked herb, likely because of its association with the opium poppy, California poppy has similar sedative properties, but is much milder and nonaddictive.
Uses: Its greatest use is for sound sleep, although I use California poppy for long car trips with our children – it works wonderfully to calm nerve stress, as well as helping balance excitability. I have found the tincture to work well, although a tea made with poppy blossoms and milky oat tops is delightful as well.
Milky Oat Tops (or oatstraw)
One of the foundations for our family's traditional diet is oats. We soak and eat them for breakfast, ferment them with clabber for breads, and make a tea from the green tops. 🙂  Oats are one of the best nerve toners, and are incredibly rich in minerals and vitamins. If you are tired, depressed, anxious – oats can help significantly improve your health.
Uses: Eat oats frequently (learn more about preparing them here), or use the milky oat tops as a tea daily. I have found that long term use provides the greatest benefits.
This is by no means a comprehensive list! There are many other herbs that God has provided for us to use – do your research, and find which herb or blend of herbs works best for your situation and your body.
Here's one of my all-time favorite blends for neutralizing stress. I use this for occasional stress, as well as a treatment for my own insomnia when it rears its ugly head.
Evening Blessing Herbal Blend
4 parts California poppy blossoms
4 parts milky oat tops
3 parts lemon balm
2 parts red clover
2 parts licorice
1 part meadowsweet
1 part chamomile
Combine and use 1 tablespoon of herbs to 1 cup boiling water. Cover, and let steep for 15-20 minutes. Sweeten if desired (an excellent time for that lavender honey I mentioned!).
Drink 2-3 cups per day for stress relief, and 1-2 cups before bedtime to aid sleep.
What kinds of herbal remedies do you find effective for treating your stress?