Developing the Exercise Habit

Written by Stacy K, Contributing Writer
Every new year many of us vow to exercise regularly and get in shape for good. Some wish to shed the extra pounds that crept on over the holiday season, others want to improve heart health, or simply feel more energized. Whatever your reason, striving to exercise on a regular basis is a worthy goal.
Exercise boasts many benefits beyond making our outsides look good. Such as:
Mental clarity
Increased ability to deal with stress
Boosted serotonin levels leading to improved mood (a happy mom is always a good thing to have around)
Better sleep
More inclined to "love" your husband
Increased energy levels
Makes everyday tasks (like lifting and chasing children) easier
We can discuss the benefits of exercise all day, but when the rubber meets the road, how are we going to accomplish a regular workout with kids underfoot, mouths to feed, and clothes to wash?
How does a keeper of the home find time to workout?
It's not easy (at first). But it can be done. And it does get easier.
Here are my three best tips for finding time to exercise and making it a lifelong habit:
1. Think ahead about WHEN and HOW you will exercise.

Image by Maxime Perron Caissy
Plan it. Pencil it in. Treat it like an appointment.
Mom getting regular exercise is going to benefit the whole family, so don't be too quick to leave it off your to-do list.
If you are serious about making exercise a regular part of your life, you need to think about the details. What will the kids do while you exercise? What type of workout will you do? Where are your shoes?
It can be a challenge with little ones around, but with some pre-planning, it is possible.
2. Find something you enjoy.
I have a workout DVD that is thoroughly enjoyable (for me) . It doesn't feel like exercise when I do it because I'm having fun. Why would I put myself through a run on the treadmill (which I do not enjoy) when I can do something that makes me smile?
This is one of the biggest keys to sticking with exercise. You can only push yourself to do something you despise for so long. Find something you love and you will actually look forward to working out.
Try different things and see what you like. Find out what others enjoy and see if it might be a good fit for you too.
Workout DVDs are a good fit for me, they are always accessible and can be used on my schedule. I have experimented with a variety of at-home workouts to find the ones that suit me best. There are a number of DVDs available for rent through netflix and at the local library, so it is possible to "try before you buy". It is also great to ask your friends for recommendations.
3. Make exercise a part of everyday family life.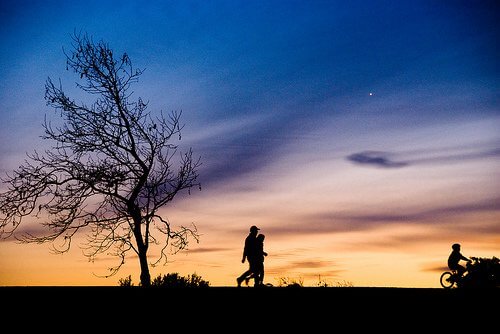 Image by Gadgetdude
Finding time to be alone is not always possible for mommas. Becoming more active as a family is one way to ensure you all reap the benefits exercise has to offer.
Kids love tradition and routine and can be great accountability partners. If you take a walk every Thursday afternoon, they may be the ones to keep you to it when you don't feel like going.
Kids LOVE it when mom and dad play with them, instead of just watching; be sure to get in on the fun and throw the ball around, play tag, or ride bikes together.
Family walks are also a great way to get out and enjoy God's creation. Making walks a part of your routine and taking them around the same time each day helps make them actually happen!
One of our favorite family games is to turn on the music and have each person take a turn being the leader. We pretend we are in an exercise class and do what the teacher says. It is often quite hilarious!
If you are just beginning to carve out time for regular exercise, I encourage you to go slow. Successfully establishing the workout habit is more likely when you ease into it. Jumping in and doing too much too soon often leads to burn out and injury. But don't worry, your body will adapt quickly and you'll soon be feeling good!
Is making time for regular exercise one of your goals? How do you stay active as a family?
Top image by lululemonathletica
Other Related Posts You May Enjoy