Cook More Real Food Event: May 20th-June 12th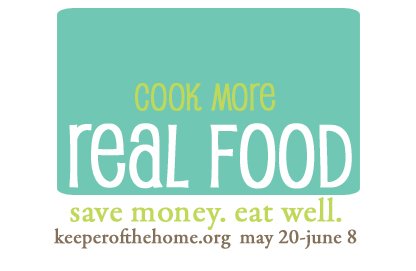 I've been writing lots about saving money on a whole foods diet, especially around the launch of my new book, Real Food on a Real Budget. Hearing about concepts that will help you to cook more from scratch, improve your diet and lighten up your grocery budget is a really good thing.
Actually DOING those things and putting into practice what you've learned is even better.
That's why over the next 4 weeks, I will be running a special, practical series here at Keeper of the Home. The goal?
help you cook more real, whole foods
from scratch
in less time
in order to save money.
Sound good?
Here's the plan:
May 20th (today) :: Introduction
Get you on board, starting to think about how you will implement these upcoming activities into to your life. Also, start spreading the word and inviting others to join in with us!
I'll walk you through my own process of taking stock of what I already have in my house, figuring out what needs to be used up, and getting things more organized and accessible.
We'll do the same thing as with our pantries, but focusing instead on our freezers. Surely you're like me and also have things that have become burried and forgotten, and need to be put to good use!
Using the knowledge of what we have available to us, together we'll create meal plans with 3 purposes:
to use up what we have, so that we can shop less in June and save up some money (this is a great opportunity to start saving up some extra money for bulk food purchases!)
to get you more used to meal planning in general and see how it can help you make better food, with less time and stress
to prepare for a couple days of food prep and cooking ahead (see below), to stock our freezers with meals and snacks for busy days!
I will be spending as much time as I can spare over the course of 2 days, to do food prep that makes meals come together easier, and to put away meals (or meal components), baking and snacks in my freezer and pantry.
This isn't necessarily Once-a-Month-Cooking. It can be, if you have the time and desire. Personally, I find it hard to get enough solid cooking time with 3 little ones to do true OAMC cooking.
I will, however, be squeezing in every bit of kitchen time I can get during those 2 days, to cook ahead and do the things that will make pulling together real food and wholesome meals much, much easier for the rest of the month. I have the additional goal of having pre-made food to make our upcoming move (July 1st) that much easier by not having to think about cooking.
I will be live tweeting and updating Facebook during those 2 days with my progress, and I will invite you to do the same. At the end, I will blog my own results, and then post a link-up so that you can share your own results with everyone one.
Want to join in?
Visit the Event page on Facebook and confirm that you'll be joining in! Share it with your friends as well.
If you haven't already, you can follow me on Twitter or "like" my Facebook page, to keep updated.
Or simply leave a comment below and tell me that you're in!
Looking forward to working together with you all to cook more real food and save some money in the process!