Questions to Ask at Your Local Farmer's Market

Photo by shaggyshoo
I grew up in West Michigan where the local farmer's market was always a highlight of the summer. Early on Saturday mornings my sisters and I would head to the market with mom to buy yummy, fresh, and local produce, and THE BEST cinnamon rolls from a Mennonite family to eat on Sunday mornings before church!
My mom was raised on a farm in Ohio, so she always taught us the value of fresh produce, whether we grew it ourselves in our garden, or we bought it at the farmer's market. When I moved away from home I struggled to find places to buy fresh produce. And if I did find a market or local produce stand, I wasn't sure the best way to go about finding the kind of food I was looking for.
This past year, we moved to a new home on the other side of our town, and within walking distance to the farmer's market! I was so excited to be able to frequent the market and buy fresh and local produce, just like my mom did when I was growing up.
But, the farmer's market here is much different than the one that I grew up going to. Ours is indoor, and open year round, and has everything from a restaurant, antiques, hand made items, fresh coffee and even meat counters, and more, as well as local produce and plants.
I was a little overwhelmed the first time that I walked through. Which vendors are the best to buy from? Why is there a booth with cheap sunglasses at the farmer's market? Why does that produce stand have bananas? How do I know where and how these tomatoes, or corn, or apples, are grown? And then my mom came to visit one weekend and I took her to the market with me and watched and listened and learned, all over again.

Photo by Bonita Sarita
Questions I'm Learning to Ask at the Farmer's Market
I still feel fairly new to being a productive shopper at the farmer's market. But I'm learning that one of the most important ways to get the most out of the market and all it has to offer is to ask questions, lots of questions.
Open-ended Questions
The first thing I learned is to ask open-ended questions. Instead of yes or no questions like – Do you use pesticides? Or, Is your beef grass-fed? How about  – How do you grow your strawberries (or corn, or tomatoes)? Or, How do you raise your beef (or chicken, or lamb)? Let the farmer tell you about what he does, most of them are more than happy to tell you all about what they do.
And you may find that diamond in the rough – the produce booth that's not certified organic, but uses all organic practices to grow their fruits and veggies, or the chicken that is supplemented with corn and grain, but is also free range and pastured, and raised without antibiotics, and is half the price of certified organic pastured chicken.
Also, if you are trying a fruit for vegetable for the first time, ask about the best ways to store, prepare, or even preserve it. Farmer's have a wealth of knowledge about the products they sell. The day my mom and I were at the market she bought leeks for the first time and asked the women at the booth what to do with them. She probably learned more than she ever needed to know about leeks that day!
Specific Questions
Also, there are specific questions that are really helpful to ask. Questions like, When was this fruit or vegetable picked? If it's been more than a day, you might want to pass, you can probably find some that were actually picked that same morning.
Also, you might want to ask where the produce is grown and raised. Part of the idea of going to a farmer's market is to buy locally, but when you see something that seems like it's probably not locally in season, like bananas, you can ask where it's from. A tip that my mom taught me is that if the produce has grocery stickers on it, it was not grown by the vendor that is selling it. One of the vendors at our market brings in produce from Florida, like strawberries and tomatoes. While it would be really nice to buy strawberries right now, I know that our strawberry season is right around the corner and I'll be able to get local, fresh, amazing strawberries at a great price. I'll pass on the ones that were shipped from across the country.
And don't be afraid to ask for a deal! If you're buying a large amount of something to preserve, ask for a lower price. A friend of mine recently got 25 lbs. of asparagus for $.75 less per pound than the regular price, and it was lower than the sale price at the grocery store.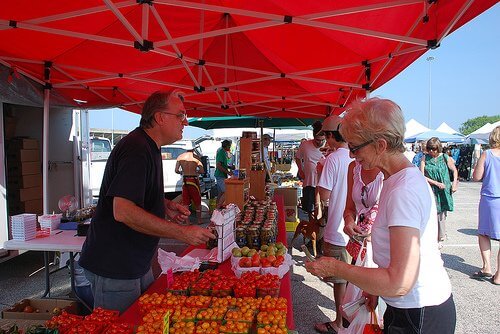 Photo by Bonita Sarita
If you have a question, just ask!
Most of all, don't be intimidated to ask questions. Vendors are selling at the local farmer's market because they want to sell directly to customers. They want to build relationships and share their expertise and knowledge with their customers.
Sometimes I feel like a vendor or farmer might be bothered by, or not have time for, my questions. But remember, you are the reason the farmers are there, they want you to buy their products and be happy with them and keep coming back. Take advantage of the opportunity the farmer's market provides to learn all you can about where your food comes from, how it is grown and raised and processed.
What questions do you ask the farmers at your local market?