Cook More Real Food: Take Inventory of Your Pantry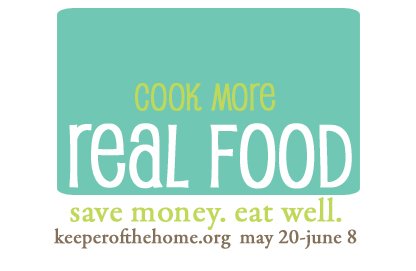 Wondering what Cook More Real Food is all about? Learn more about this event that's taking place here at Keeper of the Home over the course of the next several weeks!
For those on Facebook, join over 185 other women and be a part of the event!
Today we are tackling our pantries! I hope you'll join us! Watch me as I clean out, re-organize and take inventory of all the food that's in my own pantry!
Are you ready to do it yourself? Here's a recap of what you need to do:
1. Set aside about an hour or hour and a half for this project.
For some it may take slightly less time, but this is probably a reasonable time estimate for most people. I did mine at night, once the kids were in bed. Naptimes are another great possibility.
2. Print off or create an inventory sheet.
I simply printed one off from my ListPlanIt membership (so valuable- I love mine and use it all the time!). You can also just make one by taking a blank sheet of paper and separating it into categories of the types of food that are in your pantry (canned goods, grains, baking supplies, pasta, etc.).
3. Open up your pantry and empty it out.
Yes, completely. Pull every single thing off of those shelves. I put mine all over the kitchen floor. You could also use your table or your counters for storage.
4. Grab your list and start writing and checking things off.
Write down absolutely everything that is in your pantry. Nothing is too small to skip. I even wrote down things like 1/2 cup of pearl barley, or a handful of dried tomatoes. Everything!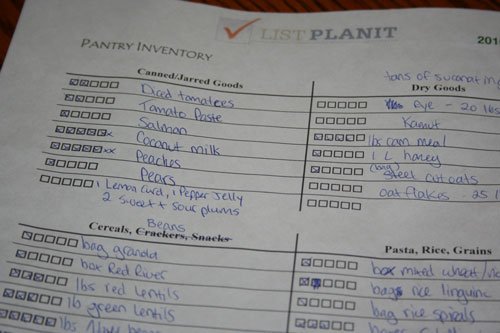 5. Wipe down your pantry.
It's an easy job when the shelves are empty. Take advantage of this opportunity to get it nice and clean.
6. Re-fill containers with any bulk items.
If you have extra bulk items, fill up your smaller containers before you put them away. I topped off my cocoa, shredded coconut, rice, etc. from the larger bulk bags that I buy.
7. Consider labeling your shelves.
You'll notice in the video that I have labels on my shelves that indicate where different types of items belong (canned goods, bulk grains, extras, herbs and so on). Though it's not necessary, I do find it helpful in keeping my pantry tidier for the most part (but if you watch the video, you'll know that my pantry was NOT tidy a couple of days ago!). Life happens. 🙂
8. Put everything away as neatly as possible.
I like to sort like items with other like items, so all of my grains together, all canned good together. I use my shelves all the way to the very back, by putting items that I have extra of in the back, and keeping at least some of everything a bit closer to the front for accessibility. It's never possible to have absolutely everything immediately accessible, but I manage to have most things where I can grab them quickly, and only a few that require me to shift items around to get to what I want.
9. Post your inventory list on the inside of your pantry door.
This way you will know exactly where it is when we go to use it for the Meal Planning event on June 1st. You will also want to keep it handy as a reference for grocery shopping and future meal planning. Being able to see what you have (and don't have) at a glance makes planning easier and helps you to make the best possible use of what you have so that you can save more money.
10. Breathe easy.
You're done until Friday! Relax for a few days and then get ready to do the same process with your freezer on May 28th!
Just for fun… what was the most random thing that you found during your pantry inventory?
Is this something you've ever done before? Did you find it helpful?