Coming up- Simply Celebrating Christmas!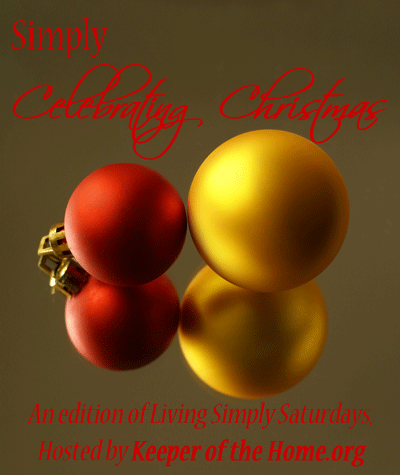 Looking for ways to keep your Christmas simple, stress-free and Christ-focused this year? Me too!
Just wanted to remind you that this Saturday, December 6, we'll take a short hiatus from the regular Living Simply Saturday carnival, and instead focus on simplicity in our Christmas celebrations.
I'm eager to read your posts on how your family celebrates, how you simplify your gift giving, decorations, or food preparations, how you shift the focus back onto giving and serving and loving others and how you keep Christ at the center of all that you do (it doesn't matter whether your post is serious, practical, spiritual, informative- it's all good!).
Please join me and help spread the word! I'm so looking forward to this carnival, and so at a loss for intelligent or interesting things to say at the late hour that I'm posting this (and that is why I shouldn't be blogging at nearly 11pm when I'm tired as can be!), so suffice it to say I'll see you Saturday!