Cook More Real Food: Let the Freezer Cooking Begin!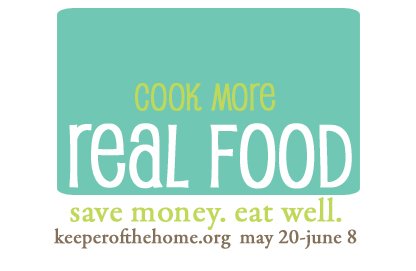 I hope you're all as excited as I am to spend conclude this Cook More Real Food Event by spending some concentrated time cooking and baking, in order to fill my freezer up with easy, real food meals and snacks!
Before I share my cooking list and plan for the day with you, here's a question that I was asked on Facebook yesterday:
…For your monthly freezer cook day, you are going to do it during the week–what do you do with your kiddos? I always have to do mine on the weekend so the hubbie can hold down the fort while I'm in the kitchen– Kristin
Yep, I'm going to do it with my kiddos!
But, no, not really with them. Here's what I'm planning to do (and for those who don't know, I have 3 kids ages 5, 3 and 9 mths):
Get up a bit early on Monday to get a jump start on some things that I can work on before/while the kids eat breakfast.
Allow them to watch one movie on Monday morning, after basic chores/homeschool is done and while the baby naps, while I work feverishly nearby.
Take a break in the late morning and for lunchtime.
Put the little ones down for afternoon naps around 1-2pm and the oldest will either take a quiet time or come help me in the kitchen. I'll spend another 1-2 really focused hours during this time.
Stop for the rest of the afternoon and make a simple dinner using some of the foods that I've been working on.
Tuesday morning- start bright and early again to get a head start.
This is my blog work morning (with a mother's helper), so no cooking for me! Nose to the computer…
After lunch, I'll use naptimes the same as on Monday, as well as coordinate what I make for dinner with the things I'm working on.
If need be, I'll finish up by myself on Tuesday night after the kids are in bed.
It's a bit more challenging to make this work with little ones, but it is by no means impossible! If you're in the same situation as me, just try to look at your schedule really creatively and see how you can give yourself different pockets of focused time. Be willing to get up extra early or go to bed late. It's only 1 or 2 days and it will be worth it.
One thing that helps me is to plan more time than I think I'll really need. If I was able to work on my list completely uninterrupted, I think I could do it in 4-5 hours max. However, I'm planning for more like 6-8 hours because I expect that I will be interrupted and that things won't flow as smoothly as planned. Life happens!
June Freezer Cooking Plan
Friday, Saturday, Sunday (June4-6th):
Thaw all meat
Thaw jars of pumpkin puree
Soak/cook all beans
Chicken in crockpot, freeze meat in portions
Soak oats for granola
Soak flour for muffins
Soak flour for bread and pizza dough
Monday, June 7th:
Tuesday, June 8th:
Seasoned taco meat and beans
Shepherd's Pie x 3
Samosas (time consuming, but so worth it!) x 2
Chili (start in crockpot first thing in the morning) – huge pot!
Pizza Sauce – enough for 4 pizzas
Put cooled broth in jars to freeze
If you're still looking for freezer meal recipes, here's a great resource for a lot of healthier recipes!
I posted this on Saturday to help as a final reminder to prepare for the upcoming Freezer Days on Monday and Tuesday. On Monday morning, I will simply pop in to say hi, and then you will be able to find me throughout the rest of the day on Facebook and Twitter as I do live updates on my cooking progress (so please follow or "Like" me if you haven't already).
On Monday night, I'll put up a brief update with where I'm at so far, and then go back to Facebook and Twitter again. I will do my best to get a final photo and end results post up on Tuesday night. Just curious… would you like me to open up a McLinky to allow you to share your Freezer Cooking successes with the rest of us?
What are your plans for the upcoming Freezer Cooking Days? And for those with young children, how do you accomplish extra time in the kitchen for freezer cooking?