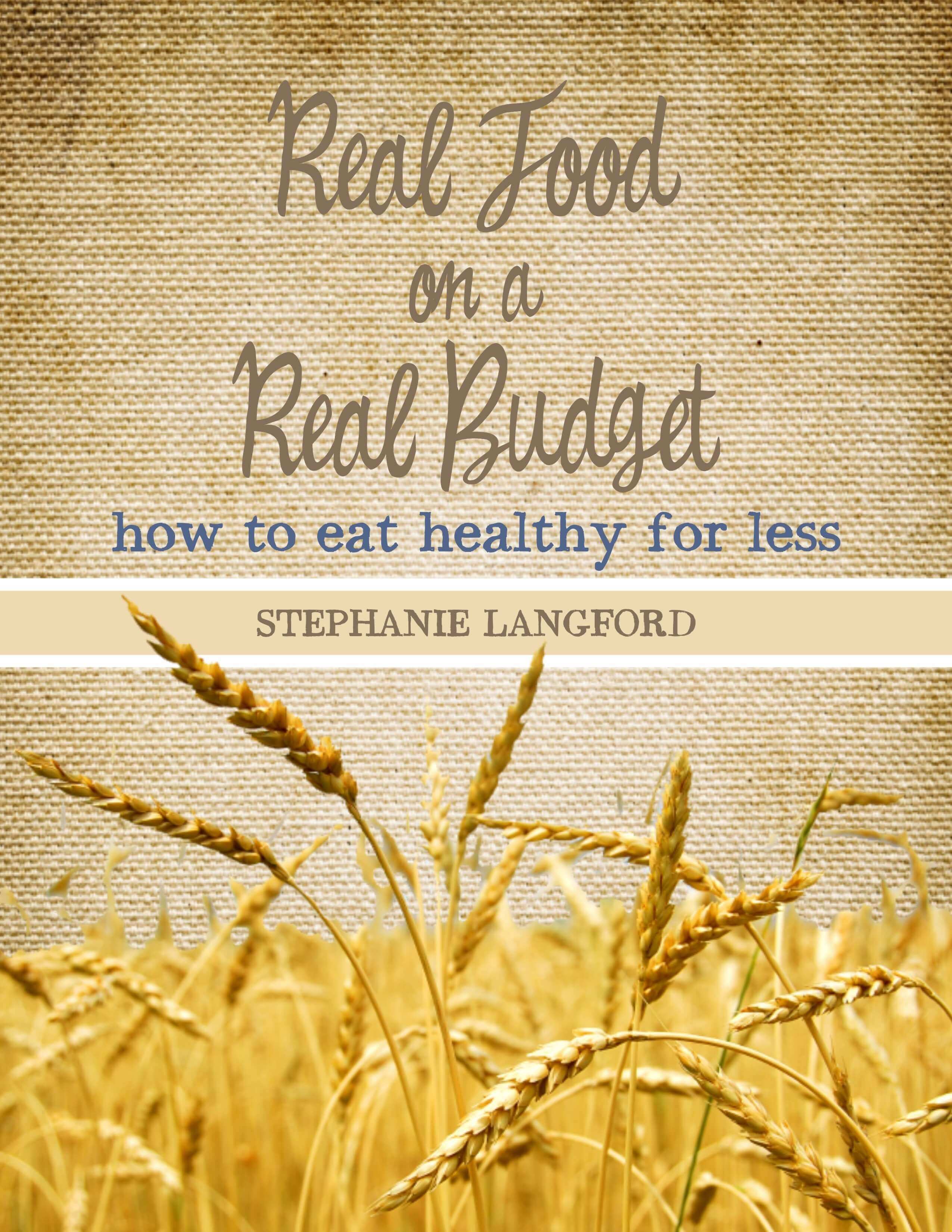 Are you spending too much on groceries? Would you like to;maximize;your current budget so that you can afford more wholesome, nutritious foods for your family?
Real Food on a Real Budget is written as a primer for families who want to learn how to save an average of 20-30% on their food budget ($100-$200 per month for most families), while at the same time serving better quality and more nutritionally dense foods.
Based on 6 years of hands-on experience and hundreds of hours of research, Real Food on a Real Budget is packed with practical tips and suggestions to help you become a better a steward of both your finances and your health.
(more details and sneak peeks below)
Buy a digital copy ;$18.97
What You Can Expect to Learn From This 280-Page Book:
How to shave literally hundreds and potentially even thousands off of your grocery expenses every year, without compromising on what you buy!
How to establish a realistic food budget for your unique family, and actually stick to it.
How to provide better nutrition and cost effectiveness through a meal planning method that suits you best.
How to find places to buy whole and traditional foods wherever you live and compare prices so that you know you're getting the absolute best deals.
Why, what and how to buy in bulk and what to do with all that food!
Which foods are both nutrient-dense, cost-effective, and how to work your diet around them.
Why cooking from scratch is key to eating real foods, how to find the time to do it, and how to use that time as effectively as possible.
Why you should purchase your foods seasonally and locally, preserve them for cheaper year-round eats, and even grow them yourself.
How to evaluate whether couponing can work for you and help to stretch your budget just a little bit further.
Countless tips for practicing frugality in your kitchen.
And more… (that's what they all say, right? But it's true!)
Here's a little peek into the book: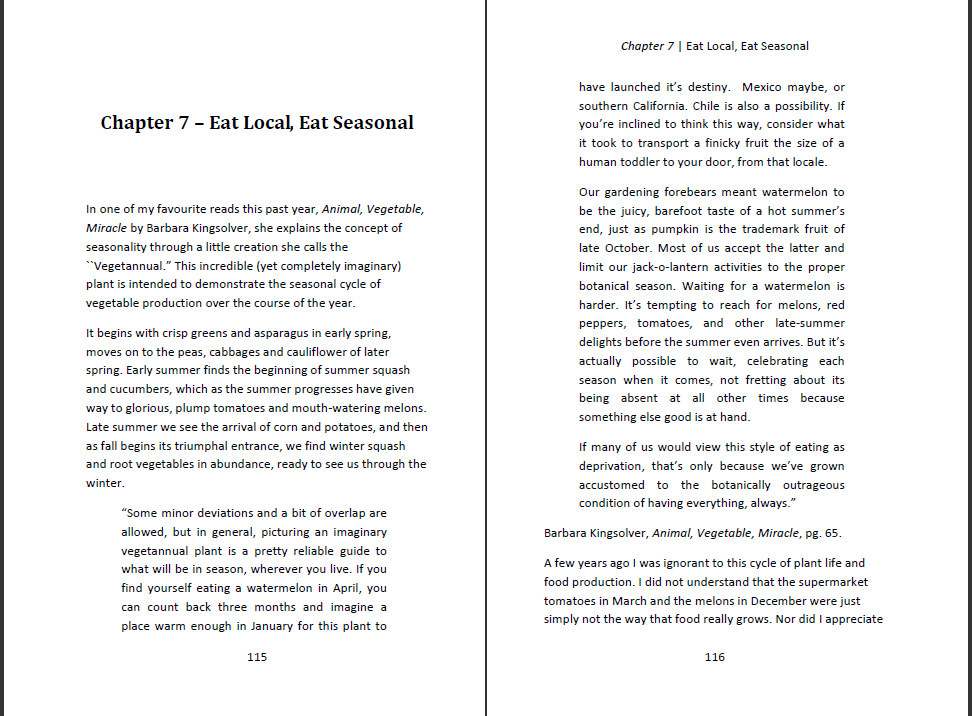 Want to take an even closer look at the book?
Download this PDF file to read a preview copy from the Introduction chapter.
Real Food on a Real Budget (Preview)
(Click on it once, it will take you to a new page with a link- when you click that link the file will open/download)
What Others Are Saying About Real Food on a Real Budget
"Stephanie has written something sorely needed in today's culture — how to eat real food on an honest-to-goodness, realistic budget. I've never read anything like it before, and I found myself nodding along in agreement on page after page. She has provided us with a gem! I'm so glad people will have a resource for eating well without going in the red. I know I'll be using her book for feeding my own family well and for managing our finances."
Tsh Oxenreider, Simple Mom
"Real Food on a Real Budget – How to Eat Healthy for Less is a life saver. I've been doing real food for almost a year, and my grocery budget is out of control. By implementing Stephanie's practical tips on how to compare prices, plan meals, and make more from scratch, I am well on my way to getting my grocery budget under control. I highly recommend this book for anyone who wants to eat real food without breaking the bank."
Jo-Lynne, Musings of a Housewife
"I thought I had real food budgeting and frugality figured out. I was wrong! From Stephanie's wise and balanced approach to eating healthfully on a budget, I have learned some things I can put into practice right away to reduce my family's food budget. Her money-saving ideas and practices don't sacrifice good health or good food. She successfully takes on the challenge of eating real food on a budget, and shares countless examples of how it really can be done. She doesn't promote one specific nutritional thought over another, but instead speaks clearly, simply, and helpfully to all who "esteem whole foods, real foods, healthier foods." I highly recommend Stephanie's book."
Wardeh, GNOWFGLINS (God's Natural, Organic, Whole Foods, Grown Locally, In Season)
"Stephanie has not only put together the most professional-looking ebook I've ever seen, but she has crafted a go-to resource for those who want to eat well, enjoy good health, and act their wage. I'm looking forward to implementing many of her recommendations in the coming months and years."
Jessica, Life as Mom
"What a fantastic resource!; Stephanie's book is approachable and informative, with a dose of honesty I find endearing. I've thoroughly underlined, bookmarked and starred my way through my copy;; "Real Food on a Real Budget" will be a resource I'll be referring to again and again."
Sarah, Heartland Renaissance (formerly Sarah's Musings)
Get Your Copy Today!
You can purchase your copy of Real Food on a Real Budget and work towards getting that grocery budget under control starting today!
Buy a digital copy;$18.97
I'm as frugal as you are, and am very proactive about getting my money's worth on everything I buy. Because you're here, I know that you are the same way.

Real Food on a Real Budget is a compilation of years of practical study, took almost a full year to write, and is jam-packed with ideas on how to save money and eat better. By utilizing even just a handful of the recommendations I have no doubt that you will be able to save hundreds of dollars over the course of a year, or even in just a month or two (if you're as gung-ho as I am), without having to compromise on foods that won't nourish you or your family. That said – if for any reason you're not happy with your purchase, all you have to do is return the book and email me for a full refund, no questions asked.

Interested in being;an affiliate?