My Nourishing New Year's Resolutions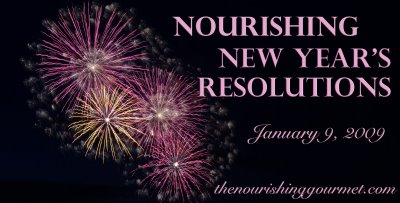 It's time for the Nourishing New Year's Resolutions carnival! Thanks Kimi, for a wonderful idea to help us to really think through and articulate where we want to go next with nourishing foods and practices!
I've been excited for the chance to force invite myself to sit down and actually write out some of the things that I want to do, and there's nothing like blog accountability to make me actually work towards accomplishing my goals!
Here are my Nourishing Resolutions for 2009:

1) Learn to make an incredible loaf of wheat-free sourdough bread.
Though I already bake wheat-free bread all the time (including sourdough), and can make loaves that are passable and even really nice sometimes, I haven't yet figured out how to make that really amazing loaf. You know, the one that your husband claims is just the absolute best in the world, and your guests rave about, and that works like a charm every time. I feel like I still have much to learn in the art of making sourdough bread (and it really is an art!), and seeing as bread is such a staple in our family, it seems like a fitting goal.
I am thinking of purchasing a starter from online instead of continuing to make my own, and there are such wonderful sounding starters available for really reasonable prices. A few places to check out are Fermented Treasures, Sourdoughs International and Cultures for Health.
2) Try three new lacto-fermented recipes for fruits and vegetables, and find 1 or 2 that my family loves!
As I have the extra time and inclination, I have been trying a few of the fermented veggie and fruit recipes in Nourishing Traditions
(in addition to the kefir, yogurt and kombucha I already make). So far, we loved the Garlic Dill Pickles, but the Sauerkraut didn't go over too well (then again, we're not sauerkraut eaters to begin with), and my husband didn't really care for the fermented berry sauce (though my kids and I grew to somewhat like it by the end of the jar).
I've heard that the Ginger Carrots aren't so hot, that the Ketchup is really good but doesn't taste like ketchup, and I'm intrigued by the garlic recipe (basically whole garlic cloves, pickled). I think I'll try the ketchup and garlic, and perhaps a fruit chutney or two, and I'll have to dig around to see if anything else appeals to me (or might appeal to my family).
3) Consistently make my own mayonnaise, instead of buying it half the time.
This actually shouldn't be that hard of a resolution anymore, since just last week I made the recipe in a way that everyone really enjoyed, including my husband, and he is the ultimate one that needs to give his approval. Up until now, he hasn't loved any of the mayos I've tried making, and so I kept reverting to store-bought, knowing that it's not the best for us.
Last week, I made the recipe from The Nourishing Gourmet once again, this time using my new food processor (which worked like a dream- what a perfect consistency it made and it was sooo easy to do!). I had to use apple cider vinegar, instead of white wine vinegar and balsamic vinegar, because that was what I had. I added a touch of honey to help make up for the lack of sweetness from the balsamic, and I think it helped. I also used sunflower oil, which was recommended in Nourishing Traditions, but I may give grapeseed oil a try when my sunflower oil runs out.
There you have it! Some do-able goals that I'm excited to be able to implement into my time in the kitchen, knowing that I'm continuing to provide better and better quality (and tasting) food for my family!
What about the rest of you? Have you joined in the carnival? What are some nourishing new year's resolutions that you are making for 2009?