An Easy Two-Week Meal Plan for the Pregnant Mom
It's not easy to plan meals when I'm juggling my normal life, but when I'm pregnant all bets are off.
You know what I mean:  You're exhausted. You're overwhelmed. You're hungry for things that may be very different than what anyone else who you're feeding wants to eat.
This is a topic that comes up again and again: how do you meal plan when you're pregnant?
Like many parts of motherhood, pregnancy is trial and blessing mixed together. You have new life within you, but you have to battle the exhaustion, nausea, and many other expectations you face.
You also have to consider your nutrition. You're not just feeding yourself (or that brood around the table)…you're growing a person inside!
A great tool to use, and one that I find myself relying on more and more as my life gets busier and fuller, is Plan to Eat. You can add your favorite recipes, make shopping lists, and much more. In fact, add Keeper of the Home as a friend and you'll see the great selection of recipes we have added too! 🙂
A two-week meal plan for the pregnant mom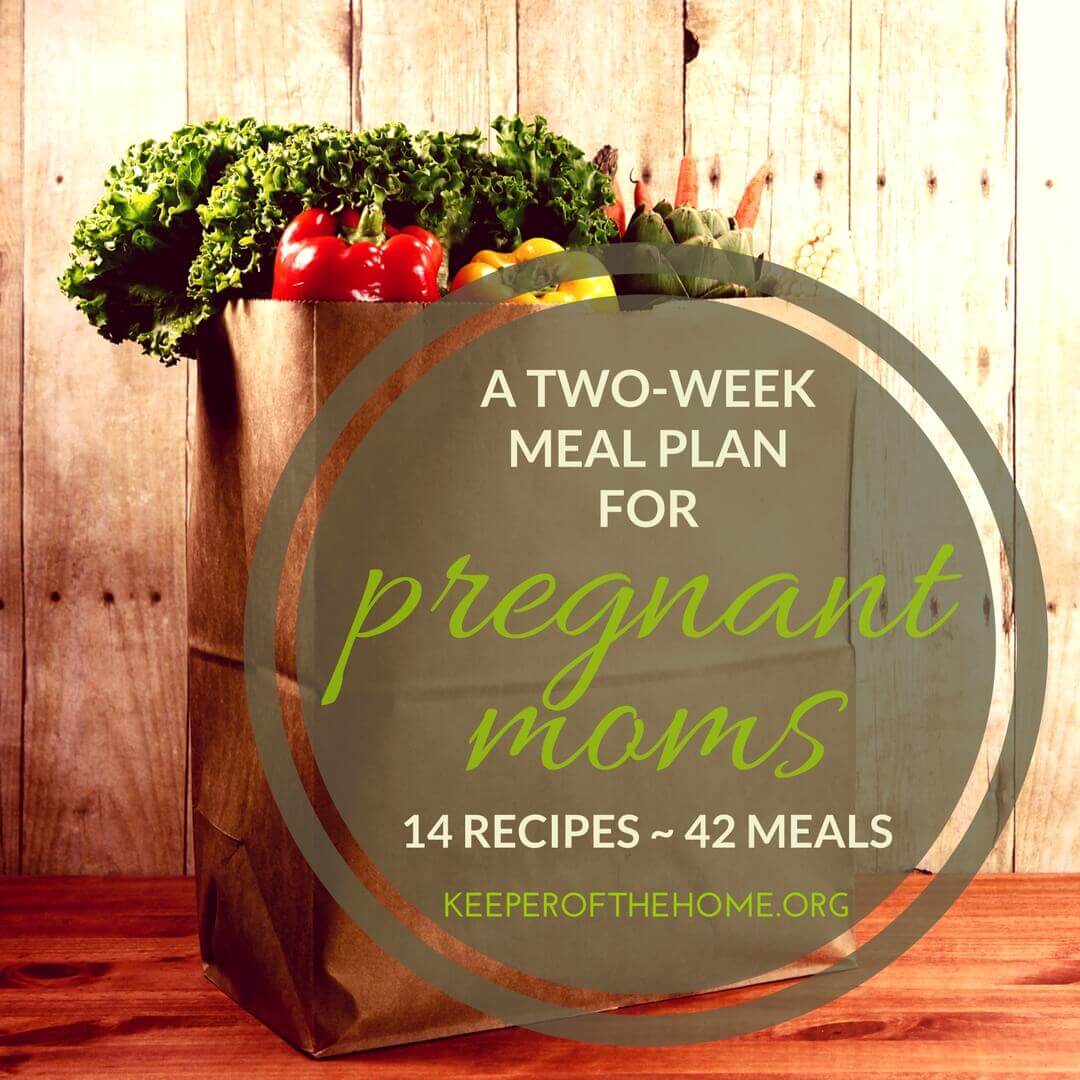 We've included recipes for dinners and links and ideas for breakfasts and lunches (except Sunday, with a "brunch" offering instead).
However, don't feel like this is a to-do list! You have a lot going on, growing that baby. Use this for inspiration, ideas, and maybe even a listing of 42 great meal ideas (in case you're in a place where you can only plan for ONE meal a day!).
Week 1: Sunday
Brunch: Whatever-You've-Got Breakfast Casserole, Fruit
Dinner: Southwest Grilled Chicken, Green Beans
Recipe for Southwest Grilled Chicken
Ingredients:
2-3 lbs chicken drumsticks OR thighs (or a mix of both)
2 TBSP extra virgin olive oil (you could also substitute avocado oil)
2 tsp coarse sea salt
2 tsp paprika
1 tsp fresh cracked pepper
1 tsp dried oregano
½ tsp onion powder
½ dried thyme
½ tsp garlic powder
¼ tsp chili powder
¼ tsp cayenne powder
Instructions :
Pre-heat your barbecue and get it nice and hot (I usually get mine close to 500 degrees).
Add oil and all spices and herbs to a bowl and stir until thoroughly combined.
Put chicken into either a bowl or a ziploc bag (my preference) and add the spice and oil mixture.
Mix the chicken and spice mixture together until chicken is well coated.
Put the chicken on the grill and close the lid for about 10 minutes, and turn it down to a lower temperature (mine has a low setting, which is what I switch it over to, and this brings it to around 350).
Flip chicken (it should have nice grill marks on it at this point) and cook for another 5 minutes. If you're cooking drumsticks, you may wish to rotate them by a quarter turn a little more frequently for more even cooking.
Watch chicken as it continues to cook and check for doneness, which will vary depending on how large your pieces are, whether they were fully or only partially thawed, and the temperature of your grill.
Week 1: Monday
Breakfast: Cheesy Scrambled Eggs, Sausage, Fruit
Lunch: Black Bean and Cheese Quesadilla
Recipe for Black Bean and Cheese Quesadilla
Ingredients
2 cans (15 oz) black beans, drained
1 1/2 cup salsa, mild or spicy
1 tsp ground cumin
2 cups shredded Colby-Monterey Jack cheese mix
8 (8-inch) flour tortillas
1/3 cup sour cream
Instructions:
Empty one can of beans into a bowl and mash gently with a potato masher or the back of a fork. Mix in remaining can of whole beans, 1 cup of salsa and cumin.
Spread mixture evenly on 4 tortillas; top each with cheese. Cover with remaining tortillas.
Heat a 10-inch skillet over medium heat. Cook quesadillas 2-3 minutes per side.
Cut into wedges and serve with remaining salsa and sour cream on the side for dipping.
Dinner: Garden Salads topped with leftover chicken from Sunday night
Week 1: Tuesday
Breakfast: Classic Baked Oatmeal
Lunch: Egg Salad Sandwich on Whole Grain Bread with Veggie Sticks 
Dinner: Lasagna, Side Salad
Recipe for Lasagna
Ingredients:
1 pound lean ground beef
4 cups tomato-basil pasta sauce
6 uncooked lasagna noodles
1 (15-ounce) container ricotta cheese
2 1/2 cups (10 ounces) shredded mozzarella cheese
1/4 cup hot water
Instructions:
Cook beef in a large skillet over medium heat, stirring until it crumbles and is no longer pink; drain. Stir in pasta sauce.
Spread one-third of meat sauce in a lightly greased 11- x 7-inch baking dish; layer with 3 noodles and half each of ricotta cheese and mozzarella cheese. (The ricotta cheese layers will be thin.)
Repeat procedure; spread remaining one-third of meat sauce over mozzarella cheese.
Slowly pour 1/4 cup hot water around inside edge of dish. Tightly cover baking dish with 2 layers of heavy-duty aluminum foil.
Bake at 375° for 45 minutes; uncover and bake 10 more minutes. Let stand 10 minutes before serving.
Week 1: Wednesday
Breakfast: Strawberry Chia Muffins
Lunch: Turkey Burger, Sweet potato fries  
Dinner: Crustless Quiche
Recipe for Crustless Quiche
Ingredients:
1 cup of fresh or frozen chopped kale 
1-2 teaspoons apple cider vinegar
8 eggs
4-5 pre-cooked sausage links
salt and pepper
seasoned feta or goat cheese
Instructions:
Preheat the oven to 350º.
After coating the skillet with olive oil, cook kale in half an inch of water until tender. I add a teaspoon of apple cider vinegar and salt while cooking the kale to help break it down.
Once the kale is cooked down and the water is gone, add the rest of the spices and cut up pieces of pre-cooked sausage (bacon would work great here too).
Add eggs and mix thoroughly.
Cook on medium heat until eggs are mostly firm around the edges and the middle is still slightly liquid.
Add feta or goat cheese on top and remove from stove.
Place in oven and cook at 350º for 10 minutes.
Enjoy with freshly sliced tomatoes on the side, sprinkled with salt and pepper.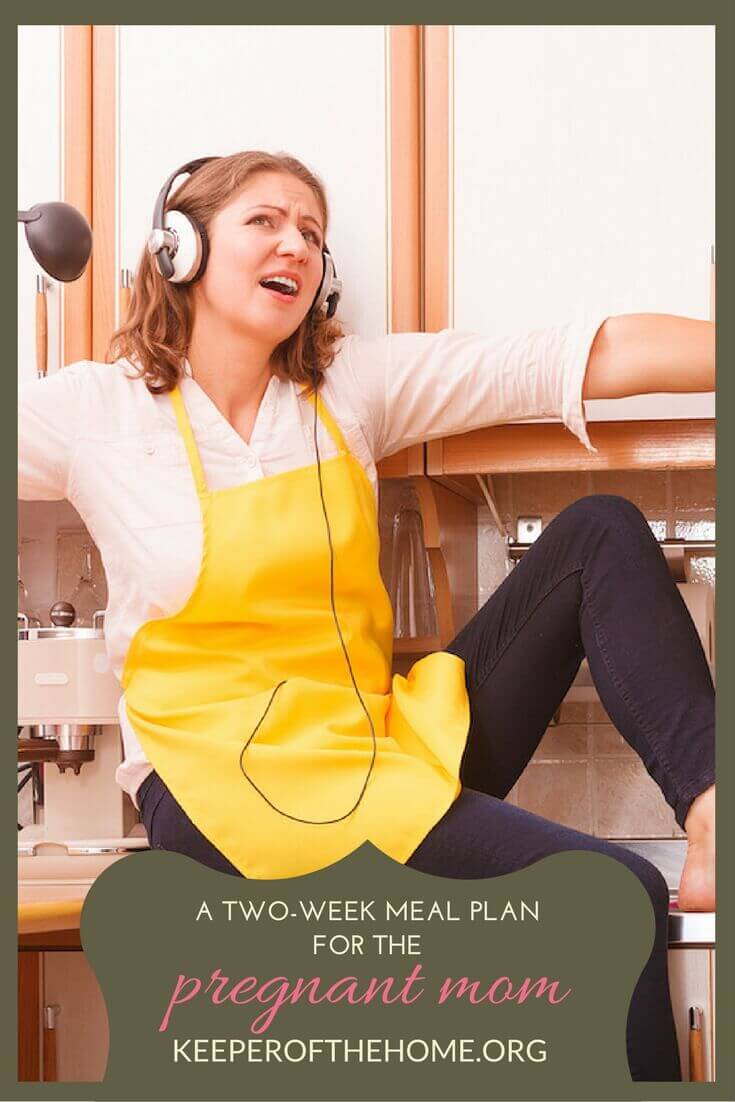 Week 1: Thursday
Breakfast: Protein-Rich Smoothie
Lunch: Pita Pizza
Use whole-wheat pita pockets, tomato sauce, a few veggies that are on hand, and low-fat mozzarella for a simple pizza.
Assemble and bake for 10 minutes at 400.
Dinner: Mediterranean Chickpea Salad
Recipe for Mediterranean Chickpea Salad
Ingredients:
15 oz can chickpeas, drained and rinsed
½ pint cherry tomatoes, quartered
1 cucumber, seeded and chopped
4 oz. mozzarella cheese, cut into ½ inch cubes
¼ red onion, finely chopped
2 Tbsp coarsely chopped fresh parsley
1 Tbsp lemon juice
¼ cup extra-virgin olive oil
salt and pepper to taste
Instructions:
In medium mixing bowl, gently combine first six ingredients; set aside.
In separate mixing bowl, whisk together lemon juice and olive oil with salt and pepper.
Pour this over the reserved vegetables.
Serve chilled.
Week 1: Friday
Breakfast: Berry Muffins
Lunch: Sliced Veggies and Hummus on Whole Wheat Pita 
Dinner: Salmon Cakes
Recipe for Salmon Cakes
Ingredients:
2 cans salmon (with bones, but drained)
2 eggs
1 cup bread crumbs (any bread works- homemade wheat, spelt or kamut, gluten free, sourdough, etc.)
½ small onion, minced OR 1 tsp dried onion powder
2 cloves minced garlic OR ½ tsp. garlic powder
2 Tbsp mustard (dijon or regular)
1 Tbsp lemon juice
1 Tbsp organic soy sauce
Sea salt and fresh ground pepper to taste
Instructions:
Drain canned salmon, then dump into a medium sized bowl.
Using the back of a fork, break salmon apart and crush bones.
Mix in eggs, then bread crumbs, and lastly, all of the seasonings.
Preheat a cast-iron pan to medium heat, and add a few pats of butter and some extra virgin olive oil.
Use your hands to shape the salmon mixture into patties. Place in the preheated pan.
Once cooked halfway through and nicely browned (2-3 minutes), flip over and allow to cook all the way (another couple minutes). 
Week 1: Saturday
Breakfast: Almond Butter on Toast, Banana
Lunch: Veggie Mac and Cheese
Dinner: Slow Cooker Greek Style Chicken
Recipe for Slow Cooker Greek Style Chicken
Ingredients:
1 large yellow onion, chopped
6 cloves of garlic, crushed and sliced
3 lbs. bone-in chicken thighs, skin removed
2 tbsp lemon juice (approx. 1 lemon)
15 oz. fire-roasted tomatoes, diced
½ cup pitted Kalamata olives, halved
2 cups soaked & cooked white beans (or two 14 oz. cans drained & rinsed)
Optional: Lemon slices and crumbled feta cheese for serving
Greek Seasoning Mix:
1 tsp dried oregano
½ tsp each of onion powder, garlic powder, parsley, thyme and sea salt
¼ tsp freshly ground black pepper
⅛ tsp nutmeg
Instructions:
Lightly coat the bottom of a 6-quart slow cooker with olive oil or coconut oil.
In a small bowl, combine the Greek Seasoning Mix ingredients. Evenly distribute the seasoning mix among the chicken thighs by sprinkling both sides of each thigh with the seasoning mix.
Place chopped onion and garlic in bottom of slow cooker. Then arrange the seasoned chicken thighs over the onions and drizzle the lemon juice across the top.
Evenly spoon the tomatoes and olives on top of each chicken thigh.
Cover and cook on high for 5-6 hours or on low for 7-8 hours.
During the last 30 minutes of cooking time, carefully remove the chicken thighs (tongs work best) and place on a platter. Stir in the beans, if using – otherwise, skip this step. Then carefully add the chicken back to the crockpot and continue cooking.
When ready to serve, place about a half-cup of rice (or grain-free cauliflower rice) on each plate, if desired. Then place the chicken thighs over the rice with a large ladle or two of the white bean mixture. Garnish with lemon wedges and crumbled feta cheese, if desired. Enjoy!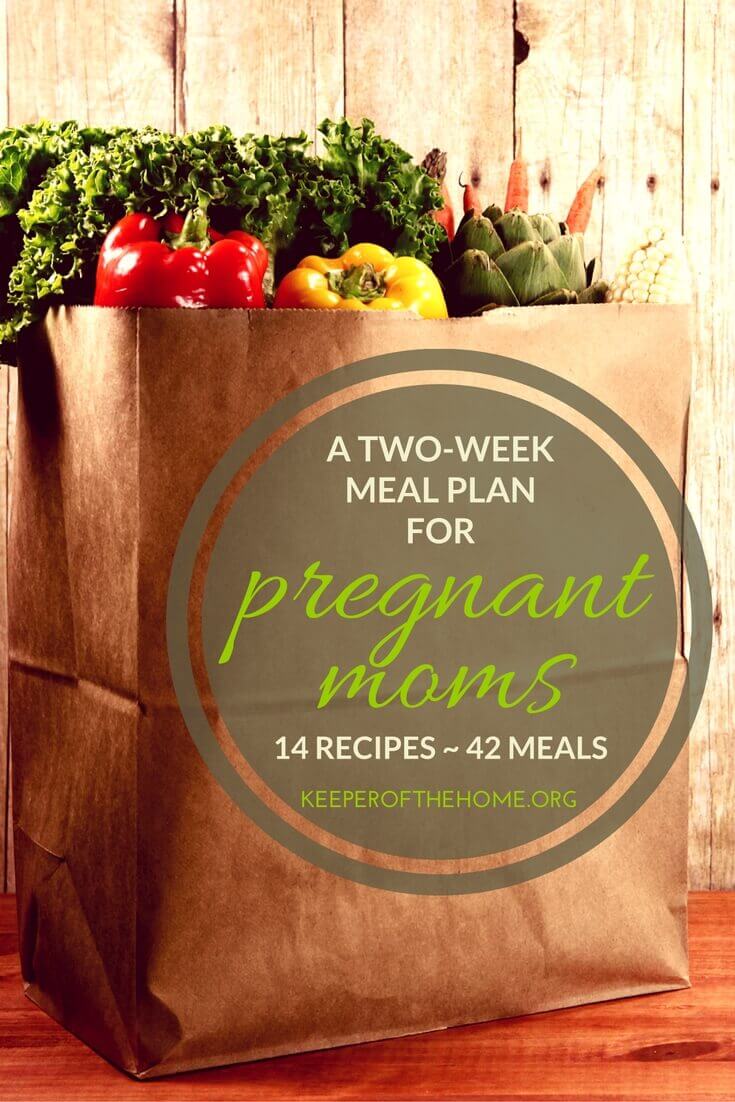 Week 2: Sunday
Brunch: Bacon and Egg Frittata
Dinner: Taco Salad
Recipe for Taco Salad
Begin with as many of these ingredients as possible:
Organic corn chips (organic is important, because corn is almost always GMO as well as extremely sprayed)
Ground beef (or turkey or chicken or even lamb), cooked with Mexican style spices, such as cumin, paprika, garlic, onion, chili pepper, etc.
Cooked beans (such as pinto, kidney, black)
Chopped Lettuce (romaine is nice, as it is so crisp)
Salsa (or diced tomatoes)
Ripe avacados (or even better, turned into guacamole)
Shredded cheese
Sour cream
Any other chopped veggies you'd like- mushrooms, peppers, onions, etc.
Layer everything together in this order:
Crumble a couple handfuls tortilla chips on individual plates
Add cooked meat and/or beans
Add lettuce and any other veggies
Sprinkle with cheese
Top with salsa, avocado/ guacamole and sour cream
Week 2: Monday
Breakfast: Baked eggs
Lunch:  Vegetable Soup, Breadsticks
Dinner: French Toast, Fruit
Recipe for French Toast
Ingredients:
2 large egg whites
1 large egg
¾ cup low-fat milk
½ tsp salt
¼ tsp vanilla extract
2 tsp butter
8 slices firm whole-wheat bread
Instructions:
Preheat oven to 200 degrees.
In a shallow dish (like a pie plate), beat the egg whites, egg, milk, salt, and vanilla with a whisk until blended.
In a large nonstick skillet, melt 1 tsp butter on medium heat.
Dip the bread slices, one at a time, in the egg mixture, pressing the bread lightly to coat both sides well.
Place 3 or 4 slices in the skillet, and cook until lightly browned, 3 – 4 minutes.
Turn over and cook the same on the other side.
Transfer to an oven safe plate and keep warm in the oven.
Repeat with remaining slices of bread. 
Week 2: Tuesday
Breakfast: Pear and Cheese Breakfast Sandwich
Lunch: Crab Salad Sandwich
Dinner: Lentil Soup
Recipe for Lentil Soup
Ingredients:
1 tablespoon olive oil
1 medium celery stalk, small dice
1 medium carrot, peeled and small dice
1/2 medium yellow onion, small dice
3 medium garlic cloves, minced
Kosher salt
Freshly ground black pepper
1 quart low-sodium vegetable broth
1 (15-ounce) can diced tomatoes with their juices
1 1/4 cups lentils (any color except red), rinsed
1 bay leaf
1/4 teaspoon finely chopped fresh thyme leaves
1 teaspoon red wine vinegar or sherry vinegar
2 ounces spinach leaves (about 1/2 a bunch)
Instructions:
Heat the oil in a large saucepan over medium heat until shimmering, about 3 minutes. Add the celery, carrot, and onion and cook, stirring occasionally, until the vegetables have softened, about 10 minutes. Stir in the garlic and cook until fragrant, about 1 minute. Season with several generous pinches of salt and pepper.
Add the broth, tomatoes with their juices, lentils, bay leaf, and thyme and stir to combine. Cover and bring to a simmer, about 15 minutes. Once simmering, reduce the heat to low and continue simmering, covered, until the lentils and vegetables are soft, about 15 minutes more.
Taste and season with more salt or pepper as needed, then stir in the vinegar. Add the spinach and stir until wilted. If you prefer a creamier texture, purée half of the soup in a blender and add it back to the pot.
Week 2: Wednesday
Breakfast: Easy Cranberry Orange Buttermilk Scones
Lunch: Strawberry Spinach Salad 
Dinner: 5 Ingredient Southwestern Enchiladas
Recipe for 5 Ingredient Southwestern Enchiladas
Ingredients:
10-20 small corn tortillas
1 large can of organic chicken or 3 chicken breasts, shredded
2½ cups salsa or salsa verde
1 cup sour cream
2 cup cheddar cheese
Optional: 1 can of black beans
Instructions:
Gather ingredients and preheat oven to 350 degrees.
Cook chicken. Sometimes I like to put all wet ingredients into the Crock-Pot and let it cook for a couple of hours.
Grease a baking dish and line the bottom with tortillas. (A square dish makes enchiladas thicker, a rectangle dish makes them thinner.)
In a small mixing bowl, combine all ingredients (except cheddar and tortillas) and place spoonfuls over the first layer of tortillas thoroughly. Top with cheese.
Repeat steps until you have a final layer topped with cheese (should be about 3 to 4 layers).
Bake for 30-40 minutes or until golden on top.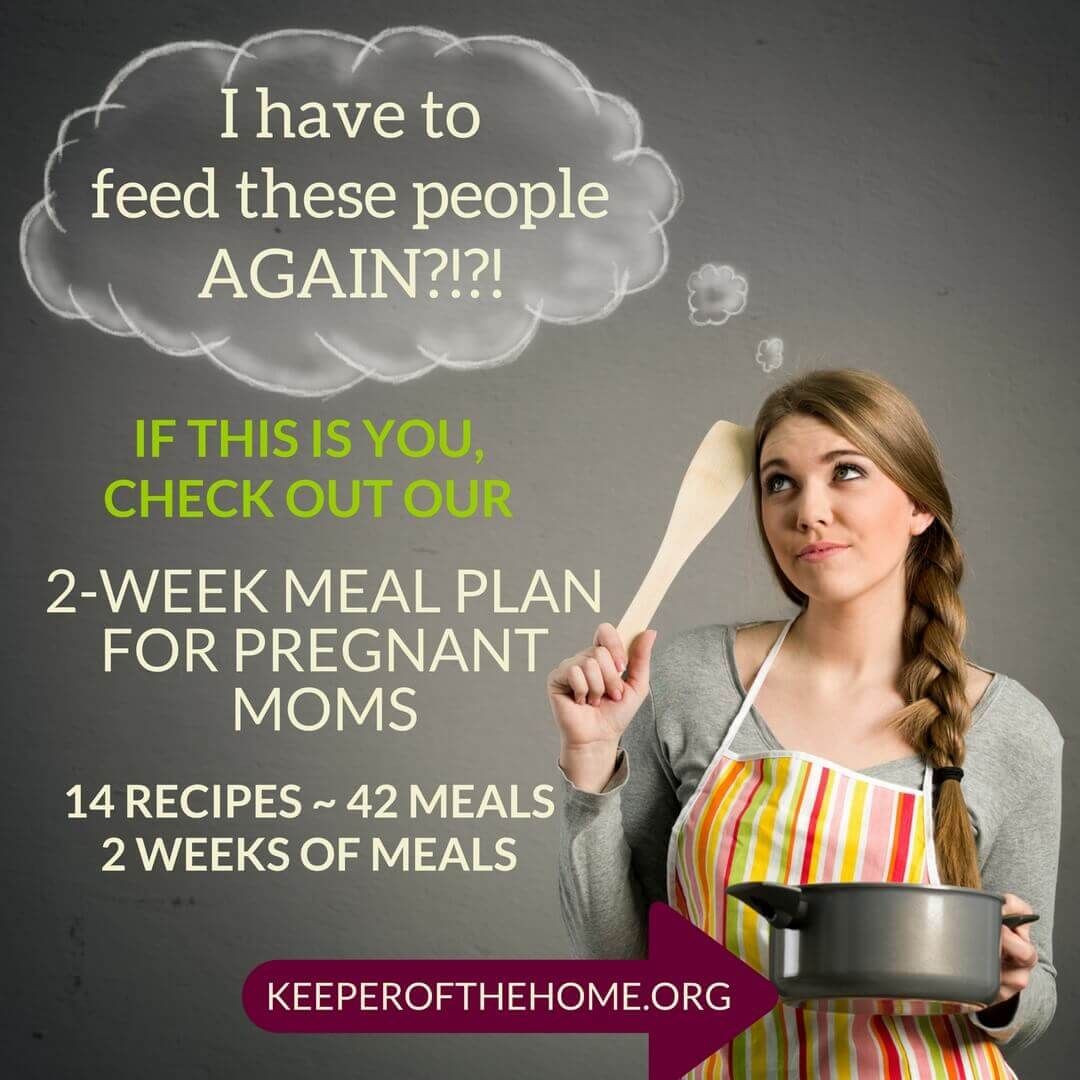 Week 2: Thursday
Breakfast: Blueberry Pancakes
Lunch: Loaded Nachos
Dinner: Korean Beef Broccoli 
Recipe for Korean Beef Broccoli
Ingredients:
1 lb. beef top sirloin or rib eye, thinly sliced
1 heaping Tbl. garlic, minced
2 Tbl. onion, grated
3 Tbl. soy sauce
1 Tbl. sugar
1 Tbl. honey
1 Tbl. sesame oil
1 Tbl. sesame seeds, plus more for garnish
Pinch of freshly ground black pepper
4 cups broccoli florets, halved lengthwise
Water, as needed
1 scallion, sliced into thin strips, for garnish
Directions:
In a large resealable plastic bag, combine the beef, garlic, onion, soy sauce, sugar, honey, sesame oil, sesame seeds and pepper. Seal and refrigerate for 2 to 3 hours.
Steam or boil the broccoli until cooked but still firm. Set aside to cool.
Heat a saute pan over medium-high heat. Add the beef, shaking off any marinade, and cook, stirring frequently, for 3 to 6 minutes, or until done. Add the broccoli during the last 2 minutes of cooking, to heat and coat it with the cooking juices. If the pan gets too dry, add a little water. Garnish with sliced scallions and serve.
Week 2: Friday
Breakfast: Yogurt Parfait
Lunch: Grilled Cheese Sandwich with Tomato Soup
Dinner: Salmon with Sweet Chile Sauce, Steamed Edamame
Recipe for Salmon with Sweet Chile Sauce
Ingredients:
4 (6 oz) salmon fillets, skinned
1 tsp ground coriander
½ tsp salt
cooking spray
2 Tbsp honey
1 Tbsp fresh lime juice
2 tsp low-sodium soy sauce
½ tsp hot  sauce (Sriracha, etc)
4 tsp green onions, thinly sliced
Directions:
Sprinkle fish evenly with coriander and salt. Heat a large nonstick skillet over medium-high heat. Coat pan with cooking spray. Add fish to pan; cook 4 minutes on each side or until fish flakes easily when tested with a fork.
Combine honey, juice, soy, and hot sauce. Drizzle over warm fish and sprinkle with green onions. Serve over noodles or rice.
Week 2: Saturday
Breakfast: Mexican Breakfast Burrito
Lunch: Pizza Panini
Dinner: Easy Chicken Pasta Tomato Cream Sauce
Recipe for Easy Chicken Pasta Tomato Cream Sauce
Ingredients:
4 Tablespoons coconut oil (or 2 Tablespoons olive oil + 2 Tablespoons butter)
1 medium onion, diced
3-5 cloves of garlic, minced
28-30 ounces of tomato sauce of your choice
1 lb. chicken, cooked
Salt and pepper, to taste
Dried basil, to taste (start with ½ a Tablespoon and work your way up)
Dried parsley, to taste (start with ½ a Tablespoon and work your way up)
1 can of coconut milk (or heavy cream if you don't want dairy free, though the coconut milk is delectable!)
1-1.5 lbs of your favorite pasta (spaghetti, linguine, etc. and choose gluten-free if you need to)
Grated Parmesan (optional)
Instructions:
Cook your pasta according to package instructions.
Cook your chicken anyway you like. I used chicken tenders grilled with lemon pepper seasoning because that's what I had on hand. You could also use shredded chicken or pan-fry you diced chicken in a cast iron skillet with a little coconut oil.
Melt coconut oil in large skillet over medium-high heat. Add onion and cook until translucent. Then add the garlic and cooked chicken.
Let your garlic cook for about 30 seconds. Then add tomato sauce, salt and pepper, basil, and parsley to your skillet. Stir to combine.
A note on tomato sauce: You can use whatever tomato sauce you like! You can used canned tomato sauce, jarred spaghetti sauce, homemade spaghetti sauce, etc. It's really up to you. If you do use a plain tomato sauce, you'll want to adjust your seasonings a bit to compensate. Just do some taste-testing as you cook.
Bring the sauce to a simmer. You can let your sauce simmer for 15-20 minutes to let the flavors develop, or you can move right into the next step. I let mine simmer when I have time.
Add coconut milk to your sauce and stir well. Let it heat for a few minutes and then remove from heat.
Combine pasta and sauce into a pot. Serve hot with a garnish of grated Parmesan cheese (optional) and a little parsley (optional).
Some Resources to Help You
Here are a few resources that may help you to tailor this meal plan for your own tastes and needs, keeping in mind what's recommended and best for you as a pregnant mama.
What does meal plan look like when you're pregnant? Where do you find inspiration for your meal plans?
Disclosure: This post includes affiliate links.