5 Easy and Healthy Breakfasts for Busy School Mornings
School mornings can be such a hectic time.
Whether you're homeschooling (as we did for seven years) or your kids to go to school (as ours currently do), most mornings are a bit of a chaotic rush to get everyone properly dressed, fed, packed up and out the door on time (or ready to sit at the table/couch and get started).
I know it can be SO tempting to just pull out the cereal box, or make toast and peanut butter your default, especially as we get this far into the school year and our inspiration begins to run dry.
But it's honestly easier than you think to make healthy breakfasts that are more wholesome, protein and fat-rich in order to keep tummies full, blood sugar steady, and brains fueled for learning.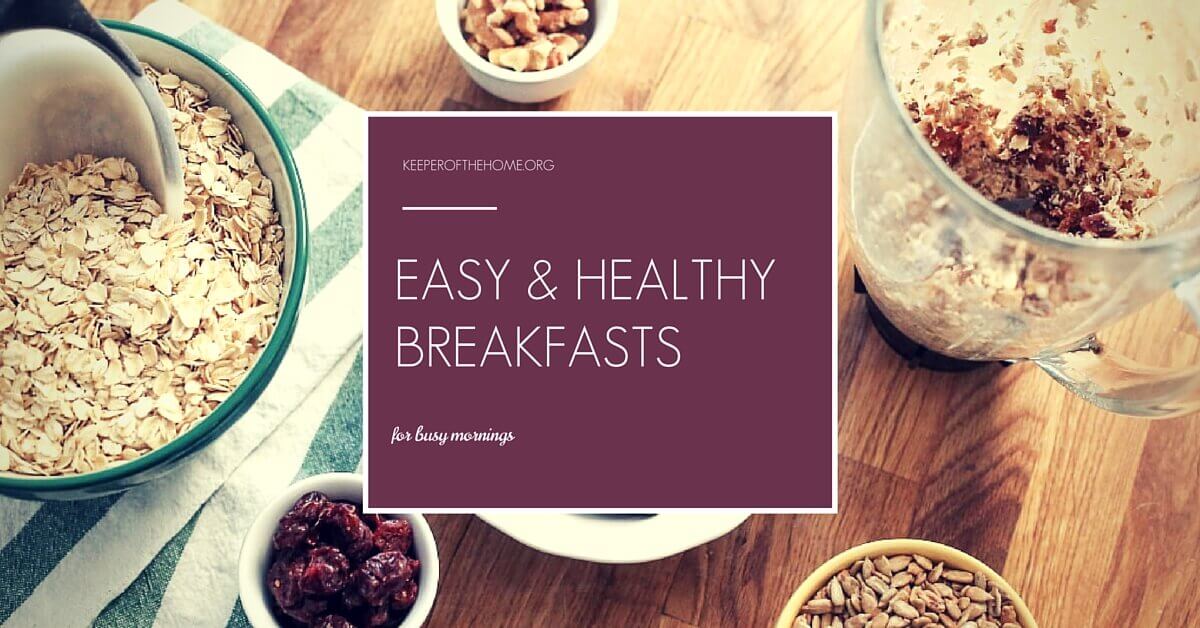 Here are five easy but super wholesome and healthy breakfasts that are perfect for school mornings:
Whatever-you've-got Breakfast Casserole
This is less of a recipe and more of a general method. I came up with this one night when I had leftover roasted potatoes from our dinner (like the photo below) and wondered if I couldn't use them for breakfast more creatively than just making fried potatoes.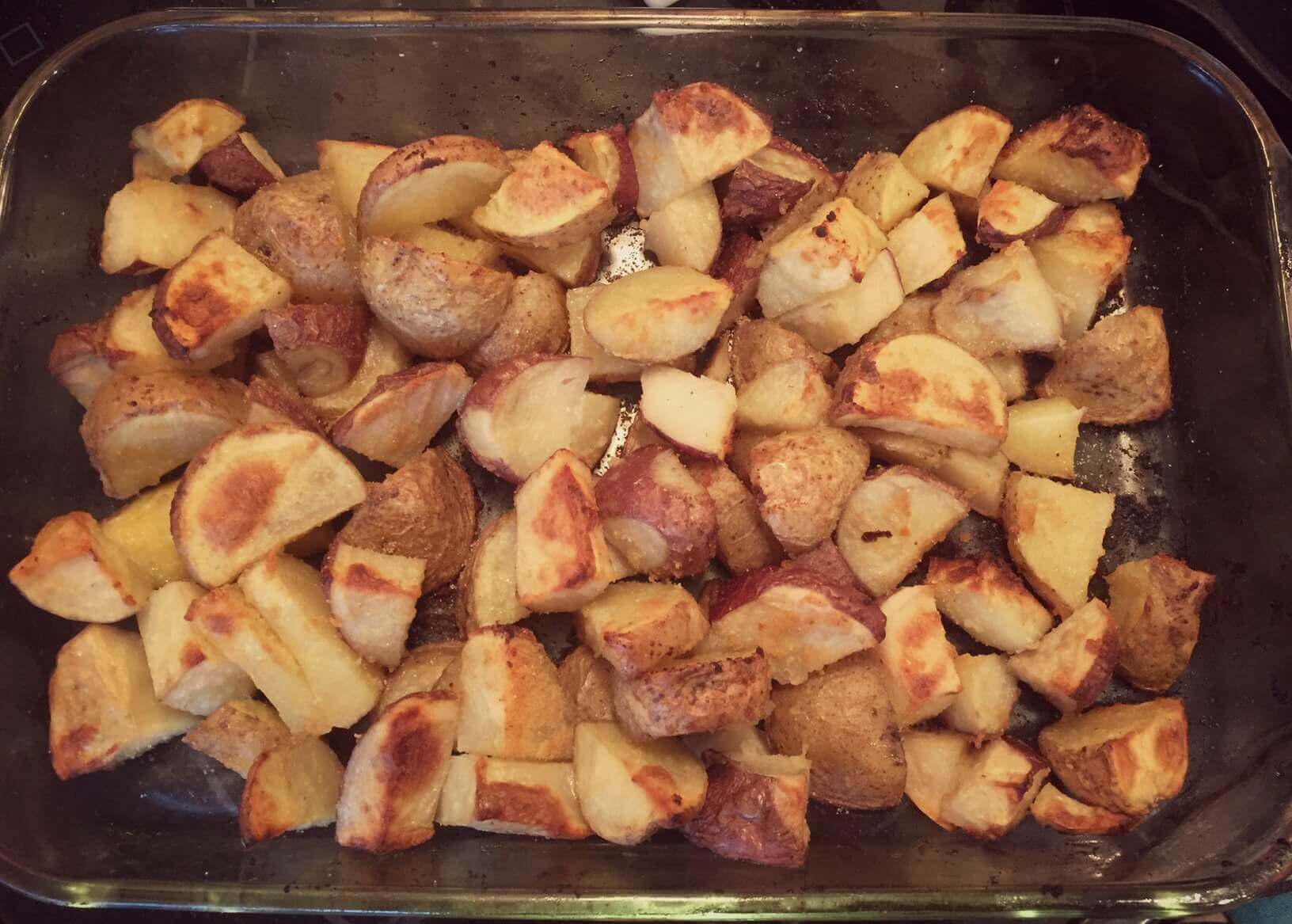 I turned it into this very flexible breakfast casserole "recipe" that uses whatever I have on hand and always tastes delicious! 
Here's how I do it:
I raid the fridge for whatever leftover meat I have (chicken, turkey and ham are all nice), or else I crack open a new package of breakfast sausage and chop that up.
For our family of 6, I mix up about 8-10 eggs with some salt and pepper for seasoning (onion and garlic powder are also nice).
I literally leave the potatoes in the same casserole dish I cooked them in for dinner (unless I'm using baked potatoes in which case I quickly chop them up and toss them with some oil in a clean dish), sprinkle my chopped meat of choice over top, sometimes add chopped veggies (peppers, onions, green onions, mushrooms are all nice- and it's a great way to use leftover veggies, too), and then pour the egg mixture over top.
Finally I sprinkle it literally with shredded cheese and then let it sit covered overnight in the fridge.
The next morning I pop it in the oven while I'm taking a shower or the kids are getting ready. It usually takes about 30-40 minutes to bake at 350 F depending on how many eggs I use (but it's all hands-off time so that's no big deal). If I'm in a hurry, I bump the temp to 400 F and just watch it more closely. It's done when the eggs in the center are cooked and the cheese is a bit browned.
Total time: 12 minutes hands on, but 45+ including cooking. This includes 10 minutes to prep it the night before with my pre-cooked potatoes. 2 minutes to get it in the oven in the morning. 30-40 minutes for it to bake while we get ready for the day.

Fancy "Coffee Shop" Oatmeal
Perhaps your kids are sick of plain old oatmeal. Maybe you are, too.
Fancy oatmeal to the rescue. I came up with this a few years back when my husband and I wanted a way to dress our oatmeal up a little more.
Truthfully, I probably still serve my kids a pot of plain old soaked oatmeal with some honey or maple syrup, a handful of raisins, and raw milk at least once a week. They love it and it's very quick and easy.
But if that's not really your family's thing, why not try my fancy oatmeal variations?
You can make the mixes ahead of time so there's really no more time required than making the pot of oatmeal (which requires less than 5 minutes of hands on time and cooks while you get ready).
These mix-ins take oatmeal to a whole new level and might even help oatmeal find a regular place in your weekly breakfast rotation.
Total time: 10-15 minutes. Oatmeal = 3 minutes to measure oats and water the night before. That morning, 1 minute to turn it on, another minute to stir and turn down the temp when it boils, then 5-10 minutes cooking with a lid on low heat. The mix I make ahead of time and only takes 5 minutes.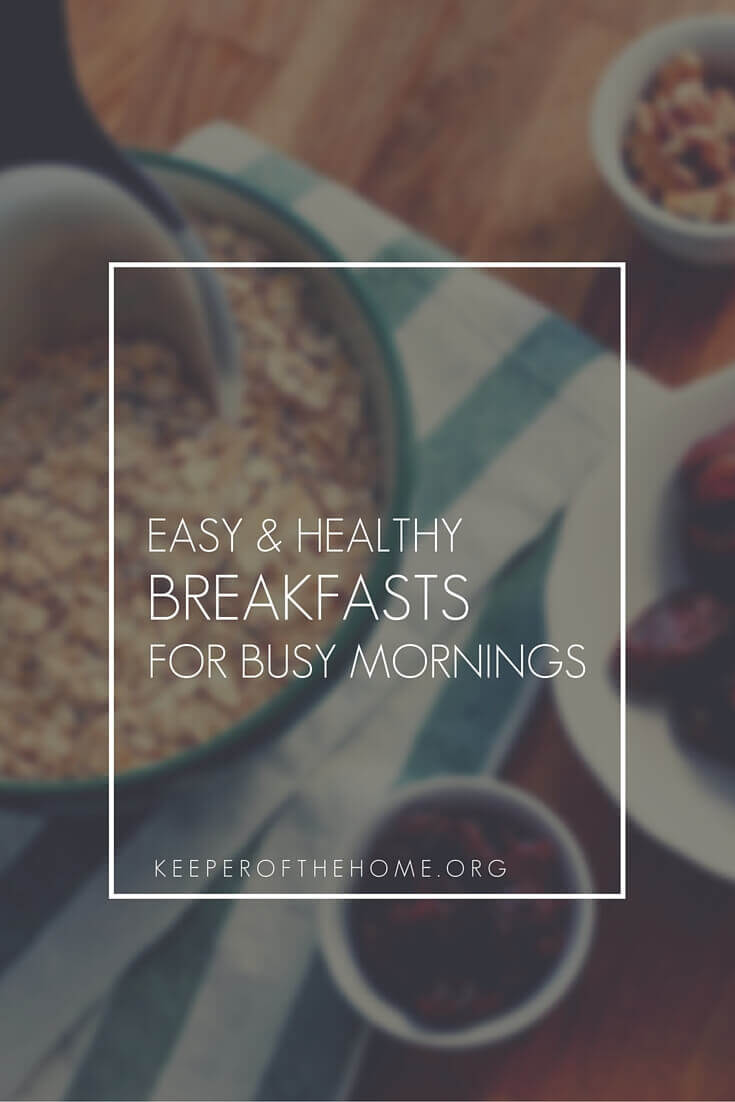 French Toast
When we think of French Toast, many of us think of lazy Saturday morning breakfasts, along with other family favorites like pancakes, waffles or quiche.
But a while back I realized it was actually quick and easy to make and with minimal cleanup, too (one wide, shallow bowl, one fork, one large frying pan, one spatula). Just keep it simple, not gourmet, and I think you'll feel the same way.
Because I'm not a fan of serving carb-heavy toast for breakfast on its own, I really prefer French Toast for its higher protein count. To add even more protein, I usually cut the bread slices in halves or thirds, so that each piece gets more egg/milk coating.
Toppings we like:
classic butter and maple syrup
honey and peanut butter/almond butter (this is a good option if you need them to grab it so you can rush out the door!)
berries and whipped cream (I just thaw frozen berries overnight in the fridge)
Note: For the most easily-digestible grains, it's best to opt for bread that's either sourdough, sprouted or soaked. I often buy double packs of organic sprouted grain bread from Costco to use as a once-in-a-while convenience, as well as gluten bread for a couple family members.
Total time: 15-20 minutes. Depending on how hungry everyone is, I can do it all start to finish in 15-20 minutes and I can often help them with lunches while I'm frying and flipping slices.
Protein-Rich Smoothie
When we've slept in and literally have to get breakfast made and consumed in 10 minutes, this is our go-to.
Here's how I make my smoothies:
Add about 2 cups liquid of choice (yogurt, kefir, raw milk, almond milk, coconut milk, etc.)
Add about 4 cups frozen fruit of choice (we keep a selection in the freezer – our favorites include strawberries, cut-up bananas, blueberries, mango, pineapple, cherries and raspberries, and sometimes I add fresh oranges as well)
Superfood extras – for us these include chia seeds, hemp seeds, gelatin power or collagen powder, Vega protein/green powder (it's made with mostly seed and rice-based protein along with powdered greens and veggies), probiotics, spirulina powder, free-range egg yolks, fresh greens. I just change these up from smoothie to smoothie.
I add the ingredients in this order (liquid, fruit, extras) and then as it blends, I add a little water as needed to keep it blending well.
Another delicious variation is this Peanut Butter Smoothie or the similar Chocolate & Banana Nut Butter Blast (scroll about halfway down).
Want more smoothie ideas? Check out these 31 smoothie recipes.
Total time: 10 minutes. 5 minutes to make the smoothie, 5 minutes to chug it down. 🙂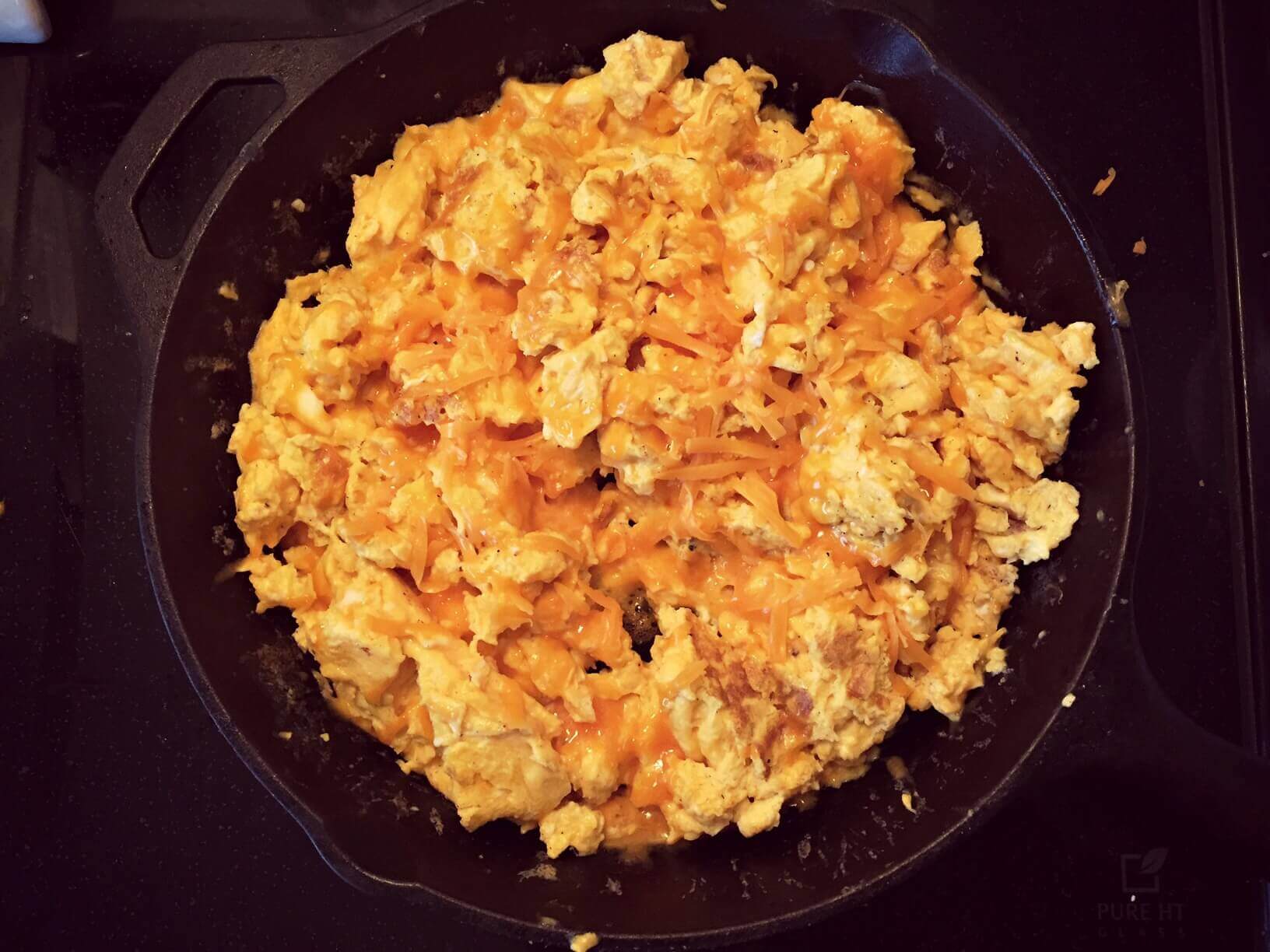 Cheesy Scrambled Eggs
It's hard to get more simple and genuinely nutritious than good old eggs. But to make them a little more interesting, I make them into a cheesy scramble.
I just mix up my eggs with a little bit of milk, salt and pepper, then fry them either in coconut oil, butter or bacon fat in my cast iron pan.
Once they're almost cooked, I turn the pan off to reduce the heat (cast iron pans retain their heat for quite a while still) and then sprinkle about a cup of cheddar cheese on top and let it rest for a few minutes as the eggs finish cooking and the cheese melts.
Then I use my spatula to divide it into pie-shaped pieces and dish it out. If they kids are especially hungry that morning, they can make themselves a piece of toast or grab some fresh fruit to go with it.
Total time: 13-15 minutes. 5 minutes to crack eggs and mix, 5 minutes to cook (pre-heat your pan while you're cracking). I shred the cheese while they're cooking, then let it sit about 3-5 minutes at the end for the cheese to melt.
I hope that gives you some fresh breakfast inspiration for those busy mornings! 
Note from Ann: Stephanie this came at just the right time for me! We started the new school year with fresh breakfast ideas, but over the course of the year we got busy and started to get stuck eating mostly the same breakfast every morning or none at all per teenage kids (cough, cough, ahem), I'm glaring at them over the computer as I type 🙂 New recipe ideas are just the thing to get us back on track especially now that testing and the end of year big projects are all underway. I can't wait to have them try the Protein Rich Smoothie, how can they turn that down!
What do you do when you're feeling out of ideas for meals or just run down?