Making Mealtimes FUN! {5 Super Fun Family Dinner Ideas}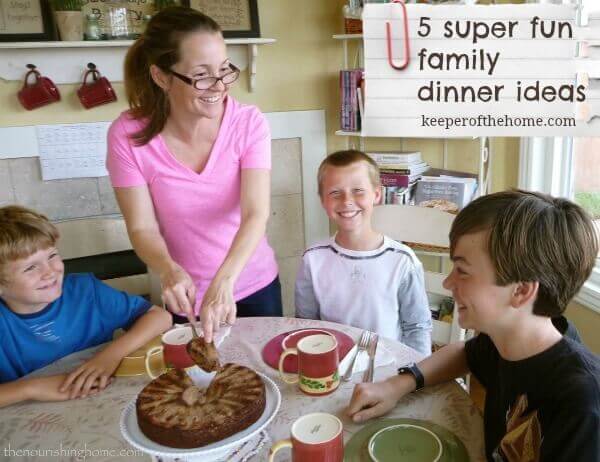 By Kelly, Contributing Writer
Sometimes we get so busy with the demands of daily life that we can easily forget to have some good ole-fashioned family FUN, especially when it comes to sharing meals together.
The remedy? Well, besides the obvious rule of not overbooking our calendars … some purposeful planning may also be in order. Thinking ahead and scheduling a little family fun at mealtimes can reduce the urge to eat-n-run, and instead help to ensure more quality time together!
Here are some fun mealtime ideas I've collected along the way that bring a little pizzazz to the table. Sure, you can't make every meal this exciting, but why not aim to plan something special once a month. These types of family-centered activities not only result in some short-term fun, but also help to build joyful memories that last a lifetime!
1. Schedule a Themed Dinner Night!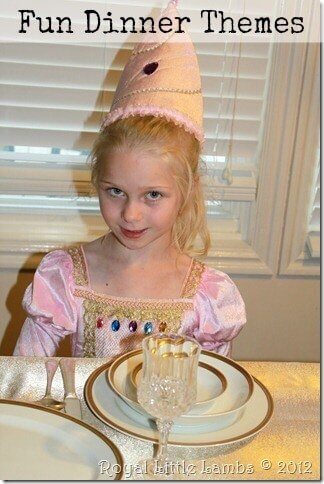 This can be anything from something as simple as a cultural-themed dinner such as Hawaiian Night (or a boy's dream dinner Ninja Night), to a favorite bible-themed dinner series like The Days of Creation Dinner or book-themed meals like Green Eggs & Ham.
Another fun theme is Medieval Times Night. Set the mood by serving grape juice in goblets and have the kids dress up like knights and princesses. And of course, there's our personal favorite – Backwards Dinner Night, where everything is done in reverse!
Looking for a simpler, yet fun dinner theme? How about Breakfast for Dinner – it's another one of our favorites. And it's not just the menu that's breakfast-themed; we are too! Everyone has to come to dinner dressed in their PJs (teddy bears optional). 
2. Host a Banana Split Breakfast Buffet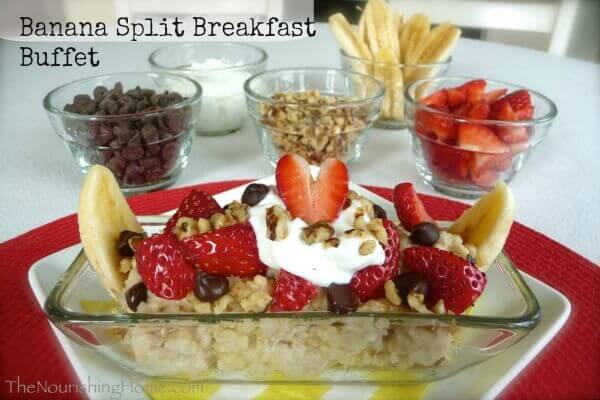 Speaking of PJs, waking up with a Banana Split Breakfast Buffet is such an easy way to make breakfast time fun! There's just something exciting about a build-your-own "oatmeal sundae" that gets the conversation rolling.
And you can certainly run with this idea to create many more build-your-own breakfast ideas, such as a Build Your Own Breakfast Burrito, or dinner-themed buffet-style meals such as a Fully-Loaded Baked Potato Buffet with all the fixins' ready to be loaded-up on a fresh baked potato. And who doesn't love a Make Your Own Pizza Buffet!
3. Plan a Picnic – indoors or out!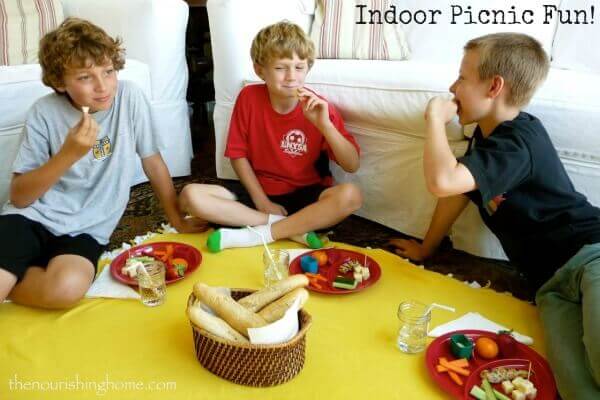 Ahh, the great outdoors! Whether it's the park, beach, woods or even the backyard, there's something about enjoying a picnic amid the beauty of God's creation that really spurs on opportunities for family fun. We just pack some simple chicken salad sandwiches along with a couple of healthy sides and off we go!
And in cases where the weather isn't cooperating, why not set-up a fun picnic area in your home, … just spread a blanket out on the floor, download some nature sounds to listen to and have some fun together enjoying a lovely indoor picnic!
4. Cook with your Kiddos!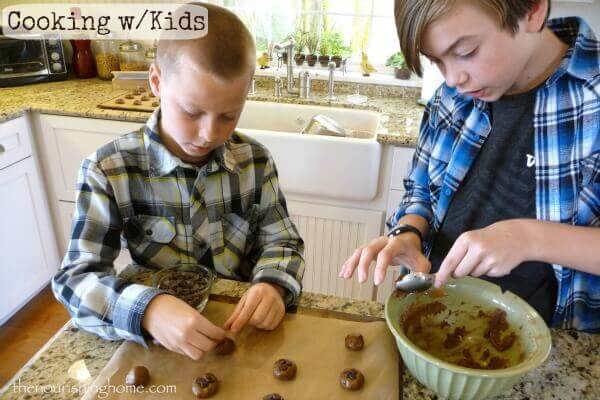 Meals are always more fun when you've spent time preparing them together! That's why I'm such a big fan of Kids in the Kitchen. It's not only a blessed way to spend time together, it's a wonderful opportunity to teach an important practical life skill, as well as the importance of eating healthy! So why not plan a little time to read the classic book Stone Soup together and create a batch of your own.
Short on time? How about baking-up a quick-n-easy dessert together, like Nut Butter Cookies. Then freeze some for use in your kids' lunchboxes throughout the week! And whatever you decide to cook together, be sure to commend your little chef, as you sit down as a family to enjoy his or her special creation!
5. Invite some new friends over to share a meal!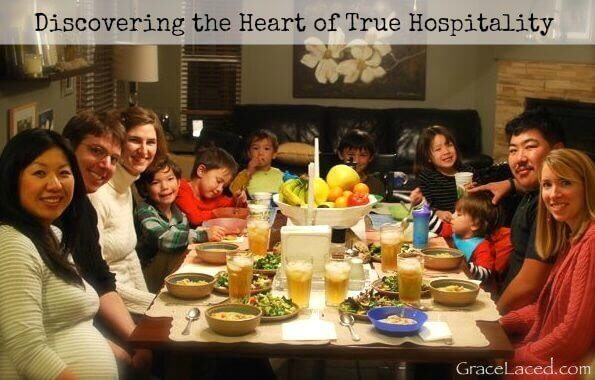 Inspired by my friend Ruth's recent post, Discovering the Heart of True Hospitality, we've been making it a point as a family to put this into practice together at least once a month. Why not invite a new family from church over for lunch after services, or invite a neighbor that you've been meaning to get to know better over for dinner? Remember to keep the meal simple, so you can relax and enjoy the blessings that come from sharing your home and your heart with others.
What are some fun ways you enjoy mealtimes with your family?