Upcoming… Healthy Holidays Eats and Sweets Carnival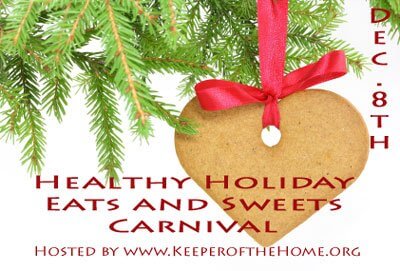 I love Christmas food! Turkey, stuffing, cranberry sauce, sweet or mashed potatoes (or both), hot spiced apple cider, "sugar" cookies…There is something about holiday food that is incredibly festive and celebratory, and so very familar and comforting as well.
Unfortunately, holidays often tend to be a time when many of us fall off of the healthy eating bandwagon. Completely understandably, in my opinion. There are so many yummy and tempting offerings, who can say no? I prefer not to have to!
This year I would like to head into the Christmas season with a wide array of equally yummy and tempting, yet still completely nourishing, recipes for all of our various holiday events! Not only is it possible to create holiday dishes and desserts with real, nourishing foods, but I think that they will ultimately be much more enjoyable to eat as well!
In this spirit, I've decided to host a carnival of recipes for delicious yet still nutritious holiday fare:
The Healthy Holiday Eats and Sweets Carnival!
When: Tuesday, December 8th
Where: Keeper of the Home
What: All types of holiday eats and sweets– turkey recipes, veggie side dishes, stuffing, punch or cider, cookies, pies or cakes, breakfast casseroles, etc. Anything that you like to eat during the holidays is fair game! The only exception is that it should be made with whole, real food ingredients– full fats (not low-fat or imitation fats), preferably whole grains, natural sweeteners, veggies or fruits, etc. The goal is to focus on recipes that are both tasty and nourishing!
Who: As many people as possible! Spread the word! Please feel free to use the carnival image above on your own blog to promote the carnival. I'll be tweeting about it to remind you, so re-tweeting will help to spread the word faster.
And while we're on the topic of the upcoming holidays, I thought this would be a good opportunity to leave you with some getting-ready-for-Christmas links:
A family tradition that we began last year is to have a Jesse Tree. On December 1, we'll be starting this tradition again by doing daily family devotions that prepare our hearts and minds for Christmas and the celebration of the birth of Christ.
Looking for homemade gift ideas? The Nourishing Gourmet just hosted a Handmade Gift Carnival last week with lots of great ideas. On December 10th, Life as Mom will be hosting a special edition of Frugal Friday, with a focus on gifts for $10 or less!
Simple Mom has a great series this year called 12 Weeks to a Peaceful Christmas. Of course, we're past the first 7 of them, but it would be well worth the time to go back and read the previous posts as well as the upcoming ones.
Lastly, a few upcoming posts at Keeper of the Home:
1) Next week, I will be posting about safe and creative toy options for children. A couple of years ago, we became increasingly concerned about the toxins in the toys that are children were playing with (sucking on, biting, licking, etc!). We were also leary of the flashing-bright light-musical toys out on the market and wanted something that would encourage our children to play more creatively and exercise their imaginations. We began to get serious about revamping our own toy collection and have been slowly purging things and using opportunities like Christmas and birthdays to add new and better options. I'm going to share about some better toys to put under the tree, or some lovely playthings that you can make as well!
2) Christmas is a time that makes me realize I need to get more organized. In the next week or two, I'll be posting a review of one fabulous organizational service out there, called ListPlanIt. Just in time for all those holiday lists, or perhaps to start some new habits for the New Year!
3) A dear friend of mine (who is the mother of 4 grown, homeschooled daughters) has written a book called Celebrate With Joy, which walks you through many, many ways to celebrate the Christmas holidays as a family in order to bring much more meaning, depth and joy to this holy season. She recommends using the entire month of December and into the first week of January to spread out the celebration. I am planning to use some of the ideas in her book for our family over these next 5 weeks, and I will be sharing 1 post each week with some of her ideas for Advent devotions and times of family worship, homemade decorations, special recipes, Christmas Eve and Day celebrations, etc.
4) And of course, the Health Holiday Eats and Sweets Carnival on Dec.8th, and whatever yummy recipes I come up with on my own to add to the carnival!
Thanksgiving…
I know that tomorrow is American Thanksgiving, so Happy Thanksgiving to all (us Canadians celebrated way back in October)! In light of the holidays and the fact that most people will be with their families, I will be taking Thursday and Friday off from blogging to spend some precious time with my family and will see you all again bright and early Monday morning!
(But don't forget to get your name in for the Moukisac Reusable Bag System- the giveaway ends on Friday afternoon!)
What are your plans for the holidays (either Thanksgiving or Christmas)? What are you doing this year to prepare for your family's celebration of Christmas?