45 Real Food Snacks for Kids
Previously, Mindy shared some fantastic ideas more specifically for toddlers and for on-the-go eating (no mess!). Now Stacy shares a very wide variety of any age, kid-friendly, whole food snacks for home and for traveling.
Snacks are an important part of a child's day. Kids grow fast and need frequent refueling.
The type of food they consume greatly affects their development, attitude, and feeling of well-being.
The task of feeding them is never ending, isn't it?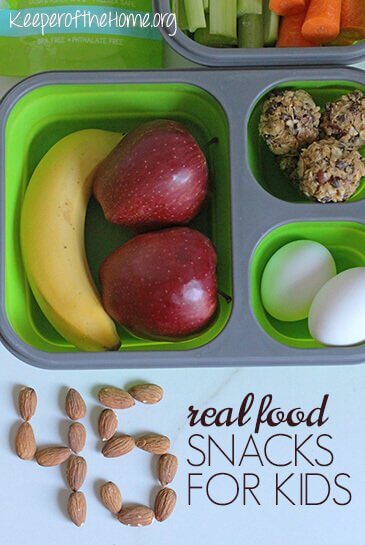 The only way I'm able to respond positively to hearing, "Mom, I'm hungry," over and over and over, is to think and work ahead.
;
Many times I've diligently planned our meals but thought little of snack time. I assumed I could simply throw something together when the need arose. As you can imagine, this hasn't worked very well. My growing children seem to have more hunger pangs than my brain can handle.
While it's not necessary to plan each and every snack, a little forethought before heading to the store, and a few minutes preparing snacks in advance, will enable you and your family to make healthier choices when hunger strikes.
Real food snacks are far superior to the packaged products lining supermarkets shelves. Even "organic" snacks are often highly processed and provide little nutritional value. (Of course, sometimes it is necessary to buy these types of items to maintain sanity! I certainly do now and again.)
Eating whole food as a snack is an excellent way to enhance your child's diet. Keep in mind that variety helps prevent boredom and provides greater nutritional benefits than eating the exact same things repeatedly.
The following is a list of snack ideas than many children will enjoy. Most of these foods could also be served for lunch, too.
I encourage you to make a list of healthy snacks your family likes and post them in an easy to find location such as the inside of a cabinet door or in your home-management binder. Having a list on hand will make life easier when the "hungries" come to call.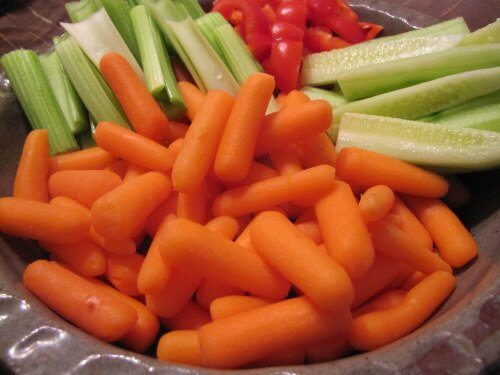 Vegetable-Based Snacks
Carrot sticks and hummus
Veggie tray with hummus or homemade ranch dressing 
Ants on a log – celery filled with peanut butter and topped with raisins
Guacamole and corn chips or pita chips
(Make your own corn or pita chips by slicing tortillas or pita bread into triangles and baking at 350 degrees for 10 to 12 minutes).
Fruit-Based Snacks
Fruit eaten alone is one of the easiest snacks around!
Apple chips (made in the dehydrator)
Dried fruit
Fruit and cheese tray
Bread, Tortillas, Muffins and Bars
Always use bread made with whole grains. Whenever possible, make breads, tortillas, and muffins from sprouted flour or use the soaking method for extra nutrition and easier digestion.
Bread (or toast) spread with nut butter, avocado, or cultured butter.
Mini pizza – Spread an English muffin with tomato paste, sprinkle with grated cheese, then broil until cheese is melted.
PB&J tortilla roll-up – Spread a tortilla with peanut butter and jelly then roll up.
Muffins – look for muffin recipes that don't contain a high amount of sugar. These basic soaked muffins can be customized to suit your families taste. Also look at the Real Food Fundamentals eBook for more ideas.
Sandwiches – Grilled cheese, meat and cheese, meat and veggies, avocado and tomato, and so on.
Quesadillas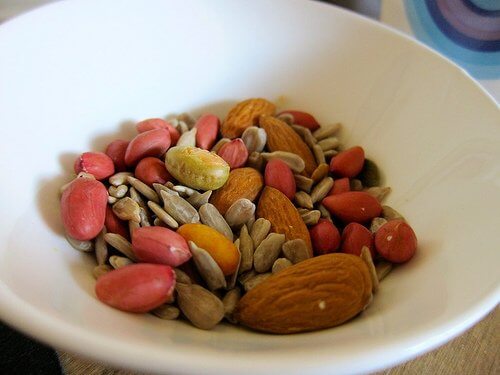 High Protein Snacks
Nuts (a handful of nuts is an excellent source of protein and healthy fat. Lightly toast them for added flavor).
Trail mix – toss your favorite fried fruits and nuts together for a tasty treat.
Hard boiled eggs
Cooked meat chopped into bite-sized pieces.
Mini-Meatballs  – When making meatballs for dinner, prepare some extra and set on a tray lined with wax paper. Place the tray in the freezer. Once frozen, remove meatballs from the tray and store in a ziplock bag or air-tight container. Thaw and heat as needed.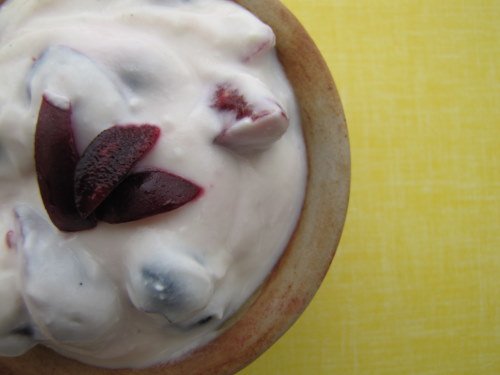 Sweet Snacks
Leftover Breakfast
Frozen Snacks
Drinkable Snacks
Other
Popcorn – the real stuff, not microwave! Prepare in an air- popper or on the stove top.
Snack tray – Prepare your own snack combination by placing a variety of real food items, cut into bite-sized pieces, on a plate or tray. For example: cheese cubes, meat, fruit, and crackers.
Looking for more healthy, kid-friendly snack ideas? One of my favorite resources is the ebook Healthy Snacks to Go, written by another frugal and creative real food mama! Check out the imitation "larabar" recipes… yummy. 🙂
What real food snacks do your kids enjoy?
Top image credit
;