Best Classic Eggnog – Easy, no-cook, refined sugar free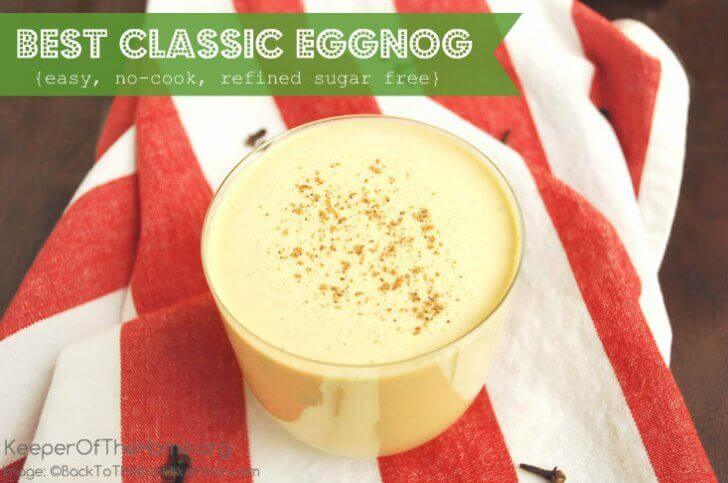 Guest post by Dena Norton
Eggnog seems to be a love-hate thing.
Well, starting now, it's a love-LOVE thing.
This easy, classic eggnog recipe is thick and rich, with the perfect amount of natural sweetness and warm holiday spice — eggnog fans and skeptics alike will find it irresistible!
Real Eggnog
The raw cream and pastured egg yolks give it a beautiful color and creamy texture; the honey
and maple syrup
add it a light, natural sweetness; and the nutmeg
and cloves
bring in just enough warm, holiday spice.
Add all those together, and this truly is the ultimate holiday beverage! (If chocolate's more your style, check out my other favorite holiday drink!)
As a child, I looked forward to eggnog each Christmas season. The funny thing was, I never wanted more than a couple of sips of it. As an adult, I've realized the turnoff is because "eggnog" in the dairy case at the grocery store is overly sweet, artificially flavored, and nothing like the real thing.
In preparation for this post, I bought a carton of eggnog just to give it one more try. The color and flavor was so fake, I could hardly swallow it. And it's no wonder – here's what was on the ingredient list:
Milk, Cream, Skim Milk, High Fructose Corn Syrup, Corn Syrup, Sugar, Egg Yolks, Less than 2% of Natural and Artificial Flavors, Nutmeg, Guar Gum, Carrageenan, Mono- and Diglycerides, Annatto and Turmeric.
In contrast, real eggnog like this one, made with the highest quality wholesome ingredients, is altogether outstanding!

Eggnog is the Perfect (Easy!) Holiday Treat!
The other thing I love about this recipe is that it's so easy, your kids could make it (hey, there's an idea!). Unlike some eggnog recipes, it requires no cooking – just toss everything in the blender
and give it a whirl. I chill it for a few hours in the blender pitcher, then give it another quick blend just before serving.
The end product is plenty thick and creamy for my liking, but you could also whip some extra cream and fold it in just before serving if that's your thing.
[Tweet "If you like seasonal lattes, this stuff makes an amazing eggnog latte — just heat it up, add coffee, and enjoy!"]
If my first batch of eggnog hadn't vanished so quickly, I would have tried some out in the ice cream machine, too. I can't imagine it being anything but fabulous.
I love this classic eggnog any time of day, but it's really wonderful cuddled up by the fire with your husband and a few holiday cookies after the kids go to bed.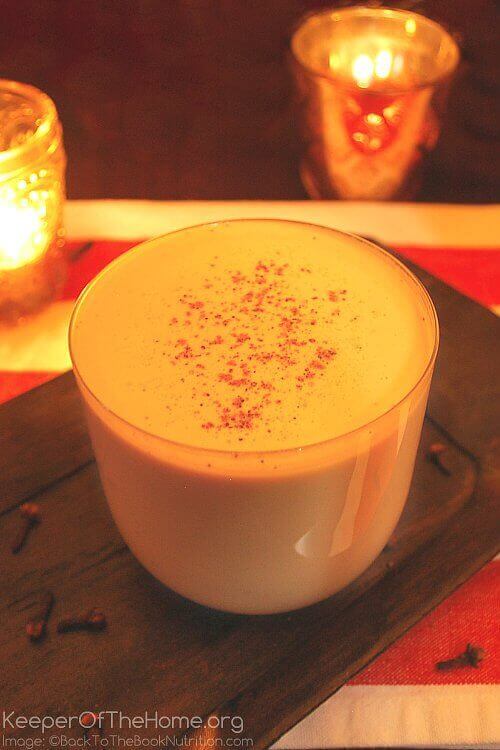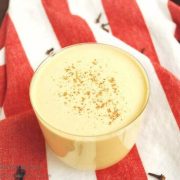 Print Recipe
Best Classic Eggnog (easy, no-cook, refined sugar free)
Ingredients
2

cups

raw cream

or 1 cup milk + 1 cup heavy cream

8

pastured egg yolks

2

Tbsp

pure maple syrup

2

Tbsp

raw honey

1

tsp

pure vanilla extract

1

dash ground nutmeg to taste

plus more for garnish

1

generous pinch ground cloves to taste

pinch

sea salt
Instructions
Blend all ingredients, first on low for about 20 seconds, then on high for another 20 seconds. Chill before serving (I chill mine in the pitcher attachment for my blender, then give it a quick whirl just before serving).

Serve chilled in small glasses with a dash of ground nutmeg on top.
Notes
This recipe makes approximately 30 oz. It's plenty thick for my liking but, if you want to add even more thick, creamy goodness, fold in a bit of whipped cream just before serving.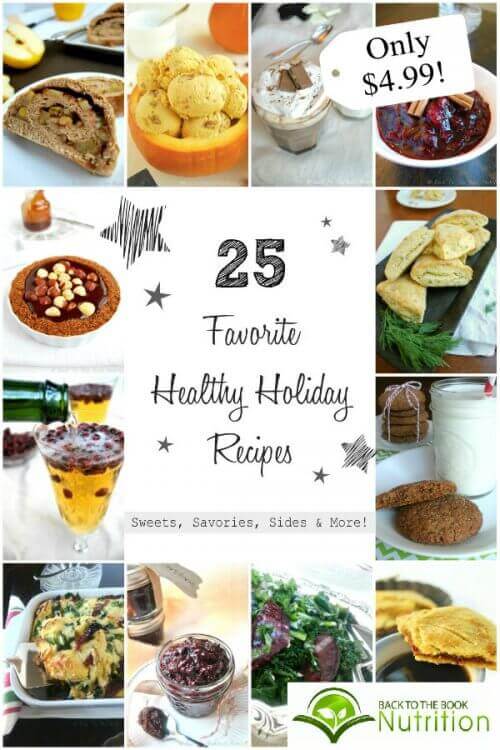 Have you made homemade eggnog? What are your favorite ways to enjoy this classic holiday beverage?
Disclosure: This post contains affiliate links. When you buy through our links, we earn a small commission, which helps to keep this site going so that we can continue to offer free and useful content, so thanks!
This post is sponsored by Plan To Eat. If you know you need to make strides towards regular meal planning and you're looking for a tool to make it easier, I highly recommend you check out Plan To Eat's virtual tour. Sign up for a free 30-day trial to see how it works and then take advantage of their Black Friday sale at the end of November to get 50% off your subscription! Plan To Eat was born from a desire to eat real food — great food — prepared at home, together as a family. Plan to Eat is an online menu planner that uses your recipes, scheduled for the days you want them, automatically generating your grocery list, organized the way you like to shop. Eat well. Eat together.