The Battle for a No-Fail Nourishing Popover
Popovers have become a bit of an obsession of mine. Why? Well, because they are quick, fun and everyone seems to be super impressed with your cooking skills when you make them for dinner parties. The problem arises when one wants to make a nourishing popover that is devoid of refined flour.
In reality, popovers are not difficult to make at all. Follow a few simple rules and you will have lovely popovers that overtake your tins and do not collapse after being removed from the oven. Previous to my real food conversion, I would make popovers with good ol' all-purpose flour. Of course, I don't touch the stuff now.
So what's a real foodie girl to do if she wants to make her famous popovers? I could always just make a whole wheat version and tweak my recipe just a bit, but there was that pesky phytic acid issue. We really do notice a difference when we don't soak or ferment grains. So, I set out to create the elusive nourishing popover.
I have to tell you, I tried. I tried soaking my regular recipe, I wound up with something that resembled hockey pucks. I tweaked the recipe, soaked, and wound up with more hockey pucks. I tweaked yet again, soaked, and wound up with muffin-ish things. For the life of me, I couldn't fathom why this particular item wouldn't work. I've converted plenty of regular recipes into real food recipes for Eat Nourishing and I've made perfect popovers before. After about four attempts, I gave up the soaking method and decided that maybe I would have better luck with my sourdough.
Sourdough popovers? Wouldn't that be awesome? It probably would, but I think they are imaginary. Even after consulting with some of my best sourdough sources, I could not find an answer as to why my sourdough popovers wouldn't "pop." After three sourdough attempts I concluded that a nourishing wheat popover cannot be done.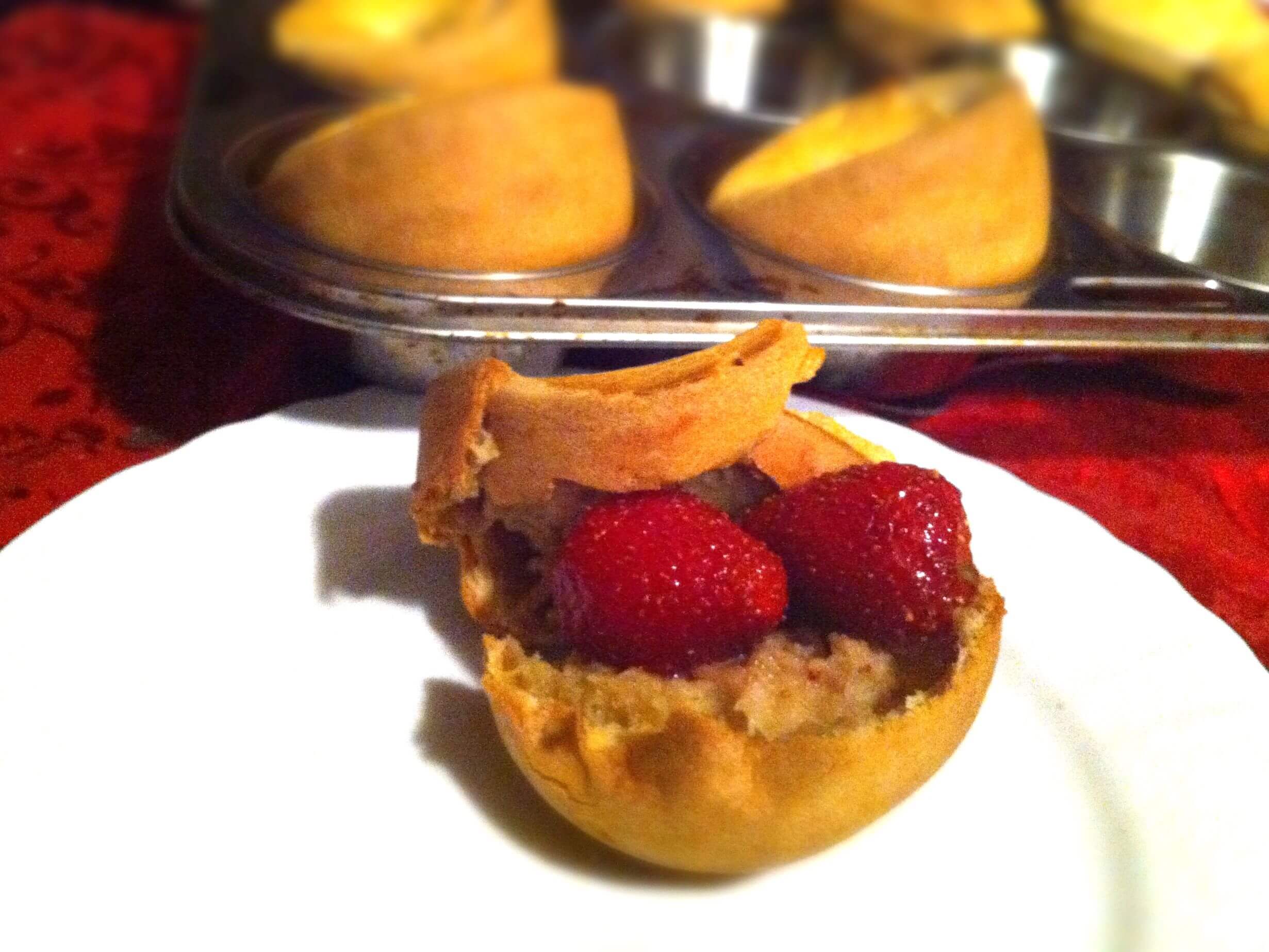 Success- The Nourishing Popover!
But I didn't want to leave you all empty handed without a fun recipe to try. The fact is that a nourishing popover can be done. And you don't even have to soak, ferment or sprout anything. That's right, crusty popovers that you only need to mix and bake.
These no-fail, (fairly) quick, grain-free, gluten-free popovers are made with amazing arrowroot powder. I say amazing because it truly is. I have begun to use this easily digestible ingredient in my kitchen more and more. It does far more than simply act as a thickening replacement for corn starch or an ingredient for baby cookies. Its unique properties give it the ability to act in an almost glutenous way. I've even made grain-free cream puffs with it.
Though it is pure white, arrowroot is not refined. It is simply the tubers  that are pounded to a pulp and the liquid is dried. Be aware though, some arrowroot is not pure arrowroot, but is adulterated with other starches like potato or tapioca. Know your supplier.
Arrowroot Nut Butter Popovers
These make fantastic snacks that you can whip up in about 5 minutes and walk away for an hour. They would also be a fun breakfast item. These popovers are crusty on the outside and have a hollow, chewy center. Serve them up with cream cheese, grass-fed butter, your favorite preserves or fresh fruit.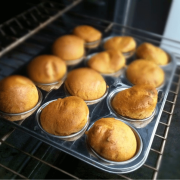 Print Recipe
Arrowroot Nut Butter Popovers Recipe
Ingredients
1

cup

arrowroot powder

1

cup

milk

3

pasture raised eggs

1/2

cup

organic nut butter of choice

I used peanut butter

1/2

tsp

unrefined sea salt

1/2

tsp

vanilla extract

1/2

tsp

cinnamon

optional

Coconut oil or ghee to grease the muffin tins
Instructions
Combine all of your ingredients in a blender. I usually whip it up for about a minute. At this point you can refrigerate the batter until ready to use for about three days if you so desire.

Generously grease a stainless steel muffin tin (you could use a mini if you'd like) and place in your hot oven for about 3-4 minutes (if you have a stoneware muffin dish, place it in the oven while it's preheating) to get hot. Preheat oven to 375 degrees.

Carefully remove the hot pan from the oven and pour the batter into the tins 2/3 to 3/4 full. Place the pan into the oven and do not open it. Walk away, do not peek at all. Bake for 50 minutes. If your oven has an oven light, it's fun to watch them pop through the glass. My kids enjoy watching the popovers bake. 

After 50 minutes, using a sharp knife, make a small slit into each popover and bake them for an additional 10 minutes. This will help the steam escape from the inside and also help the crust to dry out more, giving you a more stable popover.

Remove from the oven. Let sit in tins for about a minute before trying to remove them. Serve warm, straight from the oven. Makes about 10 muffin sized popovers. These can be reheated in the oven, but it's really not the same.
;
Are you a popover fan? What other types of fun breakfast or snack foods do you love to make?