Pregnancy Update: 36 Weeks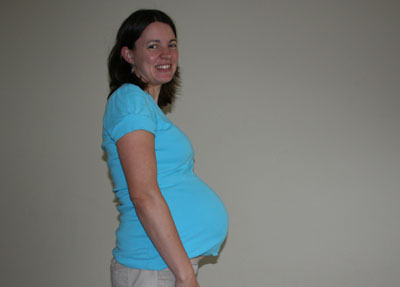 Unbelievable that I am about 4 weeks away, and possibly even less, from meeting our new baby!
And you may be happy to know (just because it proves that I am a real person, just like the rest of you) that I am not a Wonderwoman, either. I have hit somewhat of a wall, and though I still feel well overall and am grateful to be having such a healthy pregnancy, I'm tired. I'm uncomfortable. I'm achy, and not sleeping well. I'm even waddling. LOL! It's all good, though, and so very worthwhile! Pregnancy is a blessing, after all!
Nonetheless, I am grateful to have just a little bit more time before this sweet baby arrives, and am doing my best to finish up preparations, and am currently doing my best not to fall asleep at the computer as I write this blog post. 🙂 I'm actually starting to feel pretty calm and prepared about baby's arrival, which I think is due to the fact that I began preparations so much in advance. I've updated my progress on my lists again- my general to-do and my freezer meal stash.
Baby is definitely in position now (and a good position, at that), and my midwife is guessing about 4/5 engaged. Braxton-Hicks contractions have picked up, and I have more and more of them as each day progresses, especially on days when I am probably working just a bit too hard. Nothing serious, though, and I don't think I'm in danger of having baby arrive too early. Since I have smaller babies (7 lbs 11 oz and 6 lbs 6 oz), I'd like to give this one about another 2 weeks to fatten up, and then it can come whenever it likes. 🙂
One of my major focuses lately has been on preparing for the labor and birth, and though I won't go into it in too much detail (since I'm working on a post on this topic), I'll tell you just a bit of what I'm doing. I've been re-reading my book on Natural Childbirth the Bradley Way, and just refreshing myself on the techniques. It feels good to review it. I've also been reading some natural birth stories on the internet, just reminding myself of all the different ways that births can happen and being encouraged by reading about other women who've had natural childbirth as well.
My goal this time is to just feel more prepared for this birth. Caden's birth, though still a positive experience, was a bit chaotic and harried for several reasons and I was not able to relax very well, either physically or mentally. I would like to have more of a sense of calm and relaxation with this birth, even if it's speedy and intense like Caden's was.
One other thing that I'm trying this time is to use prenatal herbs, specifically Dr Christopher's Pre-Natal Formula
(recommended by Lindsay). I was also considering the Gentle Birth Formula (recommended by Crystal). Both were approved and highly regarded by a midwife/naturopath who works alongside my midwife. In the end, I went with Dr. Christopher's because it came in capsules rather than a tincture and I was worried about really bad tasting herbs. 🙂 A silly reason, but I had to decide somehow! I chose to wait until I hit 35 weeks (rather than 34) to start using them, just because I do have smaller babies and didn't know how my body would respond to the herbs. So far, so good! I've also been drinking a nutrient tea (Red Raspberry, Red Clover, Nettle, Peppermint and Oatstraw) up to this point, but this week am switching over to just Red Raspberry Leaf tea, a really good choice for uterine toning and preparation.
Just a few things left to do… get the pool inflated and our room more set up for the homebirth, buy the last of my homebirth supplies, do some more gardening and preserving, start berry picking and filling up our freezer, among a few other things, but I think it's all do-able!
Thank you so much for all of the sweet offers for guest posts, as well as the many emails and comments that I have received wishing us well with this new baby, and letting me know that you are praying for me. I can't tell you how humbling it is to feel so supported by all of you lovely ladies that I have never even met, but I am grateful for it! 🙂
This will probably be my last pregnancy update until the event actually happens. I'll do my best to let you know just as soon as I can when he/she is here! Once baby is here and I start my "babymoon", you can expect a steady stream of exceptional guest posts on a really wide variety of topics, as well as cute baby and family photos, and little updates or topics of interest here and there as I decide to pipe up (I have never claimed that silence or being concise with my words was one of my strengths! LOL!).
How are the rest of the pregnant mamas doing? I always love to hear how you're doing!