From Chaos to Calm: Finding a Pre-Dinner Routine That Works for Your Family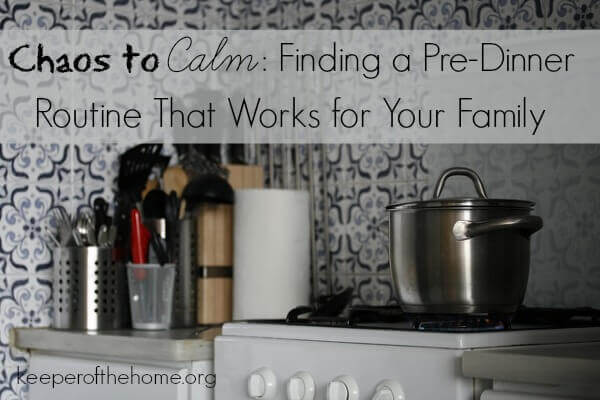 By Emily McClements, Contributing Writer
As we head into fall, one of the things that might need some attention and re-working after a more relaxed summer is your pre-dinner and dinner prep routine.
This can be a time of day where it's hard to find a routine because the kids are tired, hungry, stir-crazy from being indoors when the weather's bad, whiny, clingy and the list goes on.
But, having a routine or rhythm in place can really help to make this time more peaceful and manageable for both you and your kids. When kids know what's happening and what to expect, they can transition more easily into this difficult time of the day.
In Simplicity Parenting (a book I'm in the middle of reading, and very highly recommend!) the author talks about the importance of rhythms and routines for families, and especially children.
"Children depend on the rhythmic structure of the day – on its predictability, its regularity, its pulse. They benefit from dependability and regularity throughout childhood…Rhythms establish a foundation of cooperation and connection." -Simplicity Parenting
I wanted to share some ideas with you for creating a rhythm and routine to the pre-dinner and dinner prep time of day. This is something that our family has been working through recently, and although I've been able to establish some of these as a regular part of our days, there are others that I'm still working on adding, or need to do a better job with planning for, to include them as a part of our routine.
Finding a Pre-Dinner Routine That Works for Your Family
Prep Throughout the Day
I shared a few months ago that this is one of the big things I have been working on to make dinner prep less stressful at our house. When I have a plan for dinner, and I look at the recipe in the morning or early afternoon and take care of a few steps of prep, it helps making dinner go so much faster and more smoothly.
Snack Time
An afternoon snack is essential for tiding my kids over until dinner, and helping them to be less whiny and clingy the moment I step into the kitchen to start making dinner. I'm also hoping to make a regular habit of setting out cut up veggies for the kids to snack on when I first start making dinner, which will help to keep them occupied and hopefully help them to eat more veggies!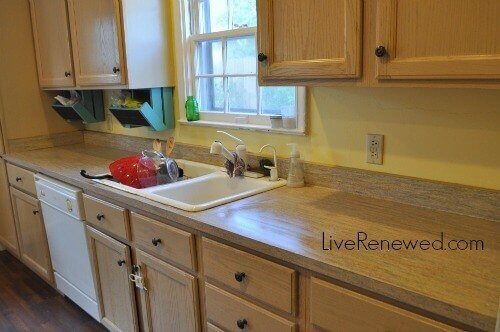 Start with a Clean Kitchen
As a part of our family's simplification process, I recently completely cleared off my kitchen counters. As in, completely cleared off – I don't keep anything out on my counters, and I cannot tell you what a difference this has made for me with dinner prep. Before, dinner time was usually stressful because my kitchen was messy and I had nowhere to cook, and the pans I would need to use were still dirty.
If there are some things in the kitchen that need to be cleaned up before dinner, I use snack time to tidy up and clear off the counters so now it's easy and relaxing to step into the kitchen to start making dinner.
Activity for Kids
One thing that I need to plan for and implement is having a simple, fun activity for the kids to do while I'm cooking. It's easier for me to cook dinner when the kids are not in the kitchen (I spend time with them in the kitchen during other times of the day), so giving them something to do at the kitchen table will really help me and will be something fun for them to look forward to.
Some ideas I have are as simple as a puzzle for each of them on a tray, an I Spy book, crayons and a coloring book or lacing boards–something that's easy to grab and doesn't take a lot to clean off the table when it's time to eat. I'd love to hear what activities you use to keep your kids occupied while you cook.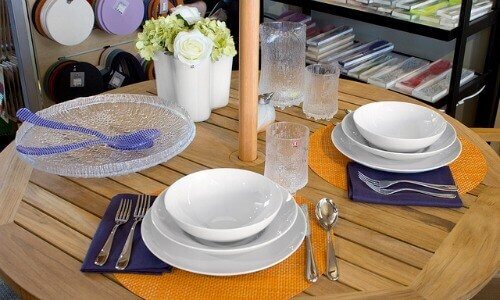 Set the Table
This is something the kids can help with, and it could be a good transition from their activity to being ready to eat dinner, but honestly, I've had a hard time coming up with the best time to set the table.
Ideally, I would like it to be set before the food is ready, so we can sit right down to a hot meal.
But, I've found that once the table is set, my kiddos tend to think it means that dinner is ready right at that moment and will sit at the table waiting, usually impatiently, and end up banging their silverware, fighting or otherwise causing a ruckus and distracting me and stressing me out right when I'm trying to finish everything up and get it on the table.
So, I'm not sure if I should have them set the table earlier, so it's longer 'til dinner's ready and they're not sitting there and waiting, or if I should have them set the table and then somehow send them off to do something else while I finish up? If I send them off, then I often have trouble getting them to come back when dinner finally is ready.
Call the Family to Dinner
Sometimes I get lucky and my kids are off doing other things – playing in the backyard, reading or playing in their room, while I'm making dinner, and once I have everything prepared I need a way to help them transition from what they are doing to getting to the table and being ready to eat. This is especially true when they are playing outside.
I love the idea of the old fashion dinner bell, and I am working on coming up with a similar option that could work for our family.
I could ring a hand bell to signal that dinner was ready and it was time for my family to stop what they are doing and come to the table. This can apply to husbands, too! I'd love to hear your ideas for how you call your family to gather at the table when they are off doing other things.
Creating a pre-dinner and dinner prep routine for the afternoon hours can bring some peace and order to what is often a chaotic and stressful time of the day for families. Helping our children to know what to expect during this time while we need to be busy in the kitchen will help them to transition more easily so that we can all enjoy our family dinner times!
What does your family's pre-dinner routine look like? What have you found to work well for you and your kids? What could you add to your routine to bring more peace and calm so you can get dinner ready and on the table?