Long-Term Storage for Lacto-fermented Veggies?
I've made my own lacto-fermented veggies and condiments and we enjoyed them in the fridge for up to a couple of months.
However, I am unsure of what I can do for long-term storage (since they generally need to be kept cool once the fermentation has taken place, so that they don't over-ferment, leading to soggy veggies, bad taste and possibly safety issues). I only have one fridge and cannot possibly store all of the pickles that I truly want to make this summer with my garden bounty (or anything else I decide to try, like lacto-fermented salsas, chutneys, etc.).
What's a nourishing foodie/frugal food preserver to do?!?
What other options have any of you tried for keeping these veggies when fridge room just wasn't available (and neither is a root cellar- a garage is the best I've got!)?
Along this topic, I am also planning to purchase a book on fermentation and food preserving, so that I have something even more in-depth than the chapter in Nourishing Traditions
(though that is a fantastic place to begin). Here are the two books I'm considering: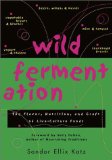 Wild Fermentation: The Flavor, Nutrition, and Craft of Live-Culture Foods
OR
Preserving Food without Freezing or Canning: Traditional Techniques Using Salt, Oil, Sugar, Alcohol, Vinegar, Drying, Cold Storage, and Lactic Fermentation
Any thoughts on either book?
I've heard many rave reviews of Wild Fermenation and it was originally my first choice, although from what I've heard it includes just a little bit too much information on the author's alternative lifestyle. The Preserving Food book also sounds great, though perhaps lacks some detail in it's discussion of preserving safety and in some of the recipes. Other book suggestions (so long as they have plenty of recipes for making use of my garden produce!) would be appreciated!