Homemade Cough and Cold Syrup
Since mentioning and tweeting about this syrup I made, I've had many requests to share the recipe, so here it is!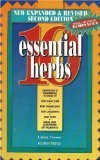 It comes from a book I mentioned briefly before called 10 Essential Herbs by Lalitha Thomas. This is a rare (I believe because it's out of print) book from 1996 that my mother-in-law stumbled upon somewhere. It's very interesting because Lalitha is not a "certified" anything when it comes to herbs, but it's clear as you read through the book that they are very much a part of her daily life and that her own personal study and use of herbs is extensive.
Personally, I'm very happy to read a book by someone who doesn't have letters after her name but has devoted much of her life to learning a craft, and Lalitha is incredibly skilled at communicating how to use herbs in a down-to-earth way for anyone who is just learning. I love this book in particular because it focuses on 10 easily acquired herbs (cloves, chaparral, cayenne, comfrey, ginger, garlic, onion, peppermint, slippery elm and yarrow) and shows you how to treat almost anything with only these 10 herbs. Amazing!
This recipe I'm sharing comes from her chapter on Onion, which I confess I had sort of skipped over at first to read the other chapters on more "interesting and useful" herbs.
The laugh is on me, because when I finally got around to reading about the humble onion, I was astounded at how useful it is!
I made this recipe in 20 minutes yesterday while puttering around the kitchen making other things and Abbie and I have been using it since then. It seems to be keeping her coughing to a minimum, as well as helping to ease my sore throat and minimizing my stuffiness. I feel like it's helping to decongest my sinuses, which is such a relief, even if it means I'm going through tissue by the boatload.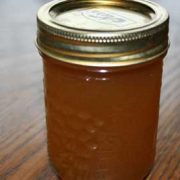 Print Recipe
Cough Syrup Recipe
Ingredients
1

cup

freshly chopped onion

About 1/2 cup raw honey*
Plus any of the following (optional):
**You can include all of these optional herbs, but at a maximum of 2 Tbsp. extra herbs total
Instructions
Put chopped onions and any herbs of choice into a small stainless steel or glass pot (not alumnimum). Add enough honey to cover the onions ( for me, this seemed to be about 1/2 a cup, though I didn't measure exactly).

Turn the pot on low heat and slowly simmer. The honey will soften and become liquidy, and you want to keep the temperature very low while allowing the herbs to steep in the honey. It's best to keep a lid on to help keep all of the medicinal properties of the herbs in the syrup, and just take the lid off to give it a quick stir every few minutes to ensure it doesn't burn at all (though the temp. should be low enough to prevent this).

Give it 20 minutes of simmering, then remove it from the heat. Strain the onions and herbs out and store the remaining honey (which might have flecks of herb in it and this is fine) in a small glass jar with a lid and keep it in the fridge.
Notes
The syrup can be used as often as needed, up to every half hour. Here are the dosages: 1 tsp. for a younger child, 1 Tbsp. for anyone 10 years and older.
*Do not feed honey to children under 1 year old.
While we're on the topic of using onions medicinally, I thought I should mention another use I learned yesterday. A commenter said that when her children are sick, she puts chopped onions in a small bag around their neck when they go to bed and in the morning, they wake up well. First I had ever heard of it, but I've heard stranger things. Wouldn't you know it that later yesterday, as I was reading about onion in the book, I read that breathing the fumes of an onion will help with congestion from a cold or other illness!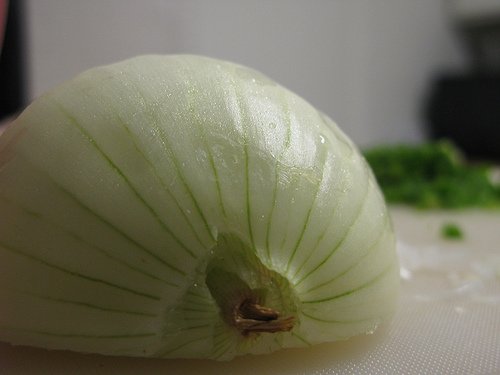 Since both Johanna and I have been plugged up lately (her more at night, me all the time) I decided to chop a large onion into chunks and put it in a bowl on the night table near where we both sleep. I couldn't quite bring myself to actually put it in bed with me, but I could still smell it, for sure! Well, last night was the best sleep I have had in a few nights and the first time that I woke up without feeling all plugged up! Three cheers for the onion!
Has anyone else been using onion as a herbal remedy? How do you use it and do you find it effective?