Tired of Feeling Sick? Try Alternating Hot and Cold Hydrotherapy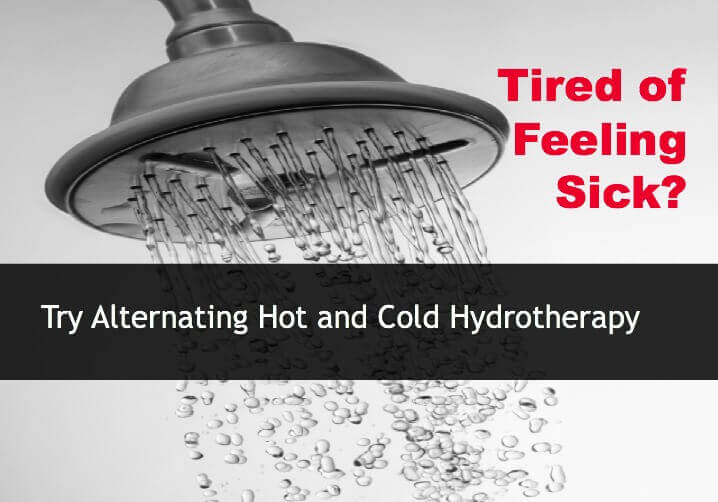 By Andrea, Contributing Writer
It's the time of year when its common for most people to start feeling run down and sick. Regularly detoxing our bodies can help boost our immune systems, warding off illness and contributing to our feelings of well being.
For the last two years, I've been practicing alternating hot and cold hydrotherapy daily. This is really just a fancy way of saying that I alternate between hot and cold water in the shower each morning.
If the thought of a cold shower has you shivering, I can offer my testimony that alternating hydrotherapy has been one of the major contributors to my good health.
I started practicing alternating hot and cold hydrotherapy as a way to stimulate and help flush my lymphatic system.
What is your lymphatic system?
The lymph system is made up of lymph nodes, lymph ducts, and lymph vessels that make and move white blood cells. Your lymphatic system is a major part of the body's immune system.
What does your lymphatic system do?
Your lymphatic system is a circulatory system. When it is functioning correctly, your lymphatic system flushes toxins out of the body and carries immune cells throughout the body to help defend against infections.
Unlike the cardiovascular circulatory system which has the heart to pump the blood, the lymphatic system lacks a major organ to pump lymph. Therefore, any action you can take to help stimulate it helps keep the lymphatic system functioning smoothly.
If you feel run down or experience aches and pains, swelling, inflammation, fatty deposits or bloating, employing alternating hot and cold hydrotherapy can help improve, if not eliminate, these conditions by helping flush your lymphatic system.
Using Hot and Cold Hydrotherapy to Stimulate Your Lymphatic System:
Start with cold water in your morning shower. Cold water constricts the blood vessels shunting the blood to your internal organs. Follow with a blast of hot water. Hot water dilates the blood vessels and helps remove waste from body tissue.
Continue through several cycles to aide your body in stimulating circulation, decreasing inflammation and improving elimination.
That's it. That's how easy adding alternating hydrotherapy can be to your wellness routine. I haven't even mentioned that it is free.
I firmly believe changing this one daily habit has contributed to the fact I haven't been sick since July of 2009.
What daily habit have you changed that has improved your health and well being? Have you ever tried alternating hot and cold hydrotherapy?