Natural Remedies for Travel and Adventures
;
It's that time of year for autumn adventures, such as nature walks, hiking, bonfires, football on the lawn, nighttime stargazing, tailgating picnics, candlelit evenings, and jumping into freshly-raked leaf piles!
Whether you're staying close to home, or planning a trip for the upcoming holidays, make sure you are prepared for the occasional bumps, bug bites, scrapes, tummy aches, and more that tend to arise amid the fun.
Preparing a small natural first aid kit for your home, backpack, or car can help keep some soothing help within easy access. Many options abound these days. If you are looking for some suggestions in creating a kit tailored to your families' typical needs and adventures, I suggest my new ebook, Herbal Adventures: A Pocket Guide of Seasonal Natural Remedies to help you get started.
Herbal Adventures offers over a dozen remedies, plus additional carefully selected alternatives/substitutions, including herbs, essential oils, and homeopathics. A printable supply list included for your use in your planning and shopping, so you can narrow down your favorite options and stay in budget. A symptom index is also available for quick reference.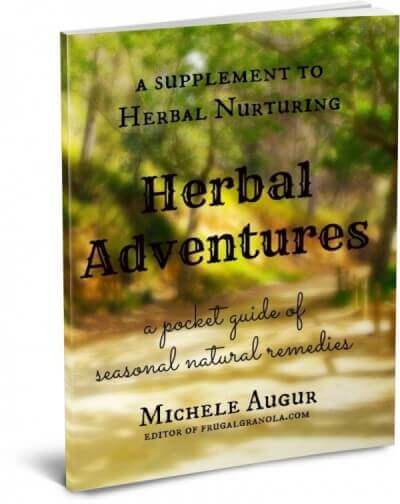 This short ebook can be printed off, and folded in a travel first aid bag for reference on the road, or read on your electronics as a PDF file.
When traveling, ideally, you want to make sure to pack remedies that will not expire (at least, anytime soon), can be shelf-stable in a car or backpack, and are easily dosed/applied away from home. It is also helpful if items are multi-purpose, so you can limit the amount of stuff you have to pack!
I usually pack tiny jars of salves, mini essential oil bottles, and little vials of homeopathics in a small travel bag on our outings, which I can toss into a purse or car, along with the usual bandages. Our family's most-used items on the road are for soothing bee stings (get your free sample of the recipe here), calming excited children (such as with lavender essential oil), and helping with carsickness or bumps & bruises. Burns are also a common risk year-around, whether you're out in the sun or using campfires or candles.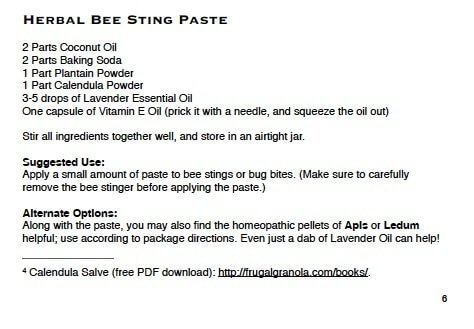 For items such as the teas, you can either pack an insulated drinking bottle/mug, or just pack the dry tea, and find hot water at your destination. The bath salts can be used at home upon your return, in a hotel bathtub, or for soaking your feet at your campsite in a basin/bowl or cooking pot.
With this guide, you can be prepared for:
Bumps/Bruises
Nausea
Food Poisoning
Burns
Bites/Stings
Muscle Aches
Yeast/Fungal Infection
Cuts/Scrapes
Rashes/Poison Ivy
Keep your day on the trail, the long road, or the ball field full of fun, with a few simple remedies! Creating your own first aid kit, whether you purchase ready-made remedies or make your own, can allow you to prepare frugally and respond to needs efficiently. 
 Select from the following:
Natural Bug Repellent
Herbal Vinegar Spritz
Itch-Soother Paste
Herbal Bee Sting Paste
Chamomile Glycerite
Sweet Dreams Spritz
Chai Tummy Tea
Food Poisoning Tonics
Aches & Pains Massage Oil
Ache-Soother Bath Salts
Calendula Rinse
Sunburn Gel
Anti-Fungal Rinse
Nose-Bleed Stopper
Are you wanting to learn more about natural remedies or just hoping to be prepared?