How to Save Money and Score Big At Garage Sales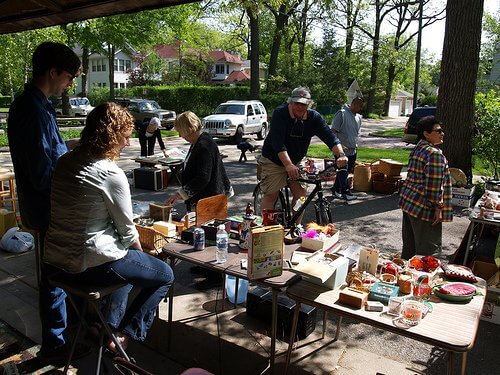 I love garage sales and our house is full of garage sale finds, bought for a song (sorry, no dance).
Frugality is the topic of the month, and I happen to think that buying used is one of the most important strategies for saving money on a regular basis. Not only that, but you can't get much greener than reusing something, saving it from the dump, and not needing to purchase a new item made with valuable resources (and complete with excess packaging).
These are some of my best tips for scoring big at garage sales this summer and saving yourself a ton of money in the process:
Finding sales.
There are lots of good ways to find sales… check Craigslist, look in your local newspaper for sale listings or maps, or simply drive around neighborhoods looking for signs (particulary nicer neighborhoods, as they will tend to have more quality items). If you're looking for certain items (furniture, books, children's clothes, etc.) then you may prefer a resource like Craigslist or one of the links below as the sale descriptions will help you narrow down which sales you should visit.
Three sites to help you locate sales:
Craigslist– On your local page, look under For Sale, and find Garage Sales. Not only will you find where sales are happening near you, but sometimes descriptions of what type of items are for sale are also included.
Yard Sale Treasure Map– I really like this site! You just type in where you live and you can give a mile radius that you want to find sales within. It will show you a google map with all of the upcoming sales pinpointed. If you click on the specific locations, most of them included a bit more detailed info about the sale. For Canada and USA.
Garage Sale Tracker– This seems to be for USA only. Search by zip code or city name.

Map out a route.
You'll save a lot of time, energy and gas by pre-planning the sales that you want to visit and planning a route in an order that makes sense. You can always stop or make a quick detour if you see a sale that you didn't know about beforehand, but a few minutes of planning is well worth it.
Know your area.
Where I live, most sales happen only on Saturdays, from about 8am-2pm, with slight time variations. Some sales also continue on to Sunday, though not all.
But in Washington state, when I garage sale with my mother-in-law, I was surprised to learn that sales are usually held on Fridays and Saturdays. Crystal has mentioned that Thursdays are big where she lives. Find out how the sales generally work where you live in order to make the most of them.
Write a list at the beginning of the season.
Know what you're looking for. It's easy to go to garage sales and come away with junk that you don't really need because "it's so cheap!".
I hate to be a bubble burster, but who cares how cheap it is if you didn't really need it in the first place? The point is to fulfill legitimate needs in a cost effective manner. Knowing what you're looking ahead of time for will help you to maximize the time that you spend, avoid unnecessary impulse buys, and ensure that the things you really need don't slip your mind while you're out shopping.
I do this in particular with my children's clothes, because with 3 kids to shop for, it's easy to get mixed up and forget that the 6 year old needs capris and the toddler needs tee shirts, and not the other way around.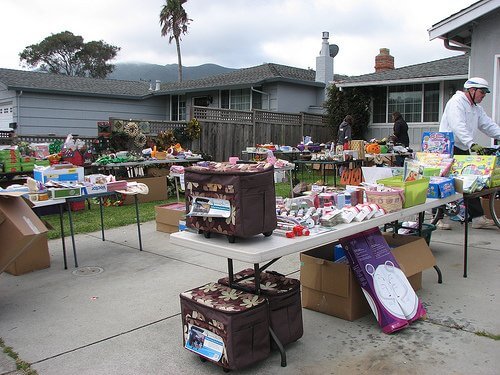 Be prepared to bargain.
Garage sale prices aren't set in stone. Ask them for their best price!
I find it best to group several items together and see if you can come up with discounted price for the whole lot. Don't be afraid to ask. Just ask. The worst they can do is say no, and the best is that they can say yes.
All that said, don't offer an insultingly low price. Think about what would be a win-win situation for both of you. It's nice to get a good deal, but not at the expense of the seller. Bargain, but still be considerate.
Bring cash.
For two reasons, 1) You'll need it to pay for the things that you want, and you don't want to have to run out to get cash from the bank and risk losing an item to someone else, and 2) If you go with a set amount of cash, you're more likely to stick within your budet and spend it more carefully.
I like to use this technique any time I go shopping for used goods, bringing only the cash that I want to spend in my pocket. It just keeps me very aware of how all those "cheap" prices are adding up, and helps me to prioritize what I really do and don't need. As well, it's a good idea to bring most of your cash in smaller bills and some coins, to prevent sellers from having to break large bills and make bargaining easier.
Go early.
The nicest items are usually scooped up quickly. In garage sale shopping, the early bird definitely gets the worm.
Learn what time sales open up in your area (for us it's usually around 8am, but every sale is slightly different). But please, don't be one of those people who come an hour before the sale is even open, while the sellers are still frantically getting set up. Just go at the appropriate time and you'll have plenty of time to snag the good deals.
Go late.
Though a lot of the high quality items may be gone, but the time sellers are getting ready to close up shop, they are far more open to bargaining and giving serious discounts rather than having to deal with all of the leftover items that haven't sold. I've often been offered 50% off at the end of a sale, or sometimes even been told to just take something for free.
Look for free stuff.
Many garage sales put out boxes at the end of the driveway with items that are free for the taking. Keep your eyes out for things that are being given away. I have gotten tomato cages, tons of canning jars, serving trays and other genuinely useful items this way.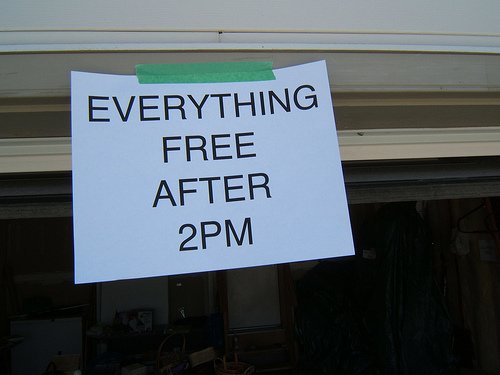 Sometimes it's nice to go by yourself.
Although we find it fun to garage sale together as a family, I generally prefer to go by myself. The main reason is that I can get quickly in and out of a sale if there's nothing good there, rather than taking the time to get 3 kids in and out of carseats.
My kids try hard to obey, but I still find that they get into stuff at sales, since everything is laying right there at a child's level. I also have the problem of sellers oh-so-generously offering my kids free stuff that I don't really want them to have- toys, stuffed animals, random junk that they just don't need and I don't want to add to our belongings.
And if you're a power garage sale shopper (like my mother-in-law!) you might find that you can really power through the sales and maximize your time best if you're not having to worry about mid-morning blood sugar lows, naptimes and that sort of thing.
Group sales are ideal.
If you can find sales that are neighborhood sales, multi-family or church/community center sales, make those first on your list. More items in one place means efficient shopping. As a bonus, these types of sales often benefit non-profit groups or are raising money for great causes.
Go prepared.
Have your cash ready the night before. Bring a bottle of water. Ditto on some sort of snack. If you're shopping for furniture, have measurements on paper and a measuring tape in the car. Have the list of items you're looking for. Bring a map or list of the sales you want to stop at.
Anything you can do to make the experience smoother and more pleasant will make you more willing to take the time and effort in the future, rather than giving up on the potential savings because of a bad experience.
I know I'm not the only garage sale shopper out there. Frugal mamas, tell us how you save money through garage sales!