April Email Giveaway Winners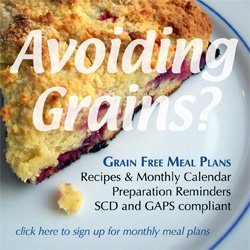 The winners of last month's email-only giveaway of 4-month Grain-Free Meal Plan subscriptions are:
dunnamictrio@
gmawisdom10@
aleash25@
Congratulations!
For those on a grain-free diet (like GAPS or SCD) or those planning for it, these monthly meal plans are so very helpful. Each one includes 3 meals for 7 days of the week, for the entire month. It also includes all of the necessary recipes for the meals included.
A new addition is to these grain-free helps is the ebook "What Can I Eat Now? 30 Days of Recipes and Tips for the GAPS Intro Diet". I know that many of you are interested in doing the GAPS diet but the idea of getting through the Intro in particular is daunting. This book will walk you through the Intro step by step, with recipes, meal plans and helpful information and tips.

This Month's Giveaway- Apple Valley Natural Soap
It has become increasingly important to seek out natural and non-toxic skin care products to use for our families and one of the challenges can be finding products that are both high quality and affordable.
Apple Valley is a small, family-run business making exceptional soaps with only the most pure and soothing ingredients, but at prices that anyone can afford. Their gentle premium Shampoo and Body Bars allow you to do double duty on your hair and your skin, with a wide range of types of oils, scents, and herbal extracts to suit your unique needs. Coconut Milk and Citrus, the MAN bar, Peppermint Tea Tree, Honey and Hops… whether you need something healing, for dry scalp, for healing, for sensitive skin, or for nourishing and moisturizing, they've got an option for you.
We are giving away a $50 package from Apple Valley Natural Soaps (pictured above) for one lucky reader this month! Read more about the giveaway (and get entered) here.
How to Enter These Giveaways
Remember, all you have to do to enter is subscribe by email!
If you already subscribe, you're entered to win each month. That's it! You don't have to do anything else. You can read all the details here.