Giveaway Week: Win 1 of 5 Yearly Subscriptions from Plan to Eat
I love to talk meal planning. I have plenty of reasons why I think that meal planning deserves some time and attention in your weekly or monthly schedule. I've also written plenty of suggestions and tips for how to meal plan(find some here).
Today I want to share with you a fantastic tool that makes meal planning easier, something I think that we can all agree is of interest to us as busy moms and homemakers!
Two things that I think are crucial for simple meal planning:
Some sort of list or easy-to-access directory of your family's favorite and most used recipes.
A calendar system that you like using to plot your meals out on.
Always having been a paper and pen girl myself, I never really thought about the option of meal planning on my computer much. My regular system has been to list out my tried-and-true meals, then plot them into either weekly, bi-monthly or monthly meal plans. Although this works just fine, it does require a lot of writing (both on the calendar and on grocery lists), some flipping through recipes or pulling up online recipes, and can often be tedious.
I was excited to break away from my usual method to try out Plan to Eat last year. This is a really unique program that takes the same basic ideas I mentioned above, and then adds so many more helpful features to simplify the meal planning process.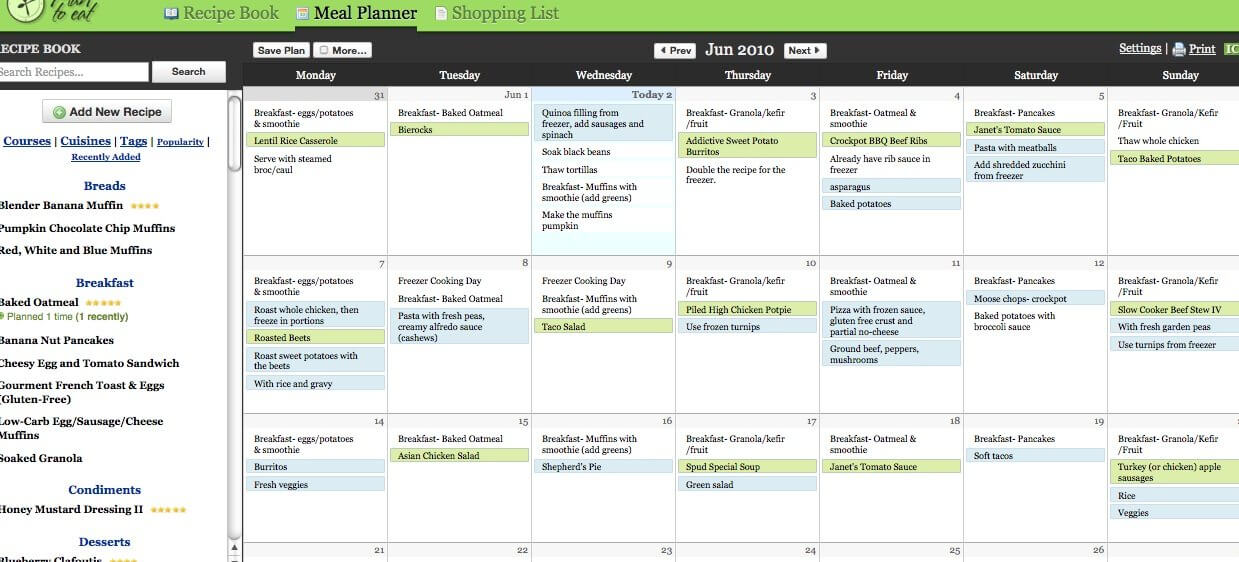 Here are some of the tools it incorporates:
A Recipe Book, which stores your recipes, and allows you to search for them by course (main, breakfast, side), tag (which you can add, like crockpot, fast and easy, etc.), type of cuisine or even popularity. Quickly import or add recipes from your favorite sites.
A Drag and Drop calendar, where you click on the recipe you want, drag it to the day you want to eat it on, and drop it into place. Love it! You can also add notes or events, as well as extra ingredients for each day.
Automatically generated shopping lists, based on the meal plan that you have created.
Save favorite meal plans to use at a future time for incredibly easy planning.
Mobile access. Use your cell phone to have your shopping list and recipes at your fingertips. (What a fantastic new feature!)
Sound helpful? It really is!
See for Yourself
I've written much more extensively about the Plan to Eat system previously and you can read my detailed review here.
Watch me do some meal planning in action, using my Plan to Eat membership in this video.
Want to give it a try for free? Plan to Eat offers a free 30 day trial!
Get entered to win 1 of 5 yearly subscriptions to Plan to Eat ($39 value per subscription)
To enter the giveaway, simply click on the link below to fill out a survey form. Rather than having to leave multiple comments for each entry option, you can just complete the one survey and you're done!
Giveaway has now ended.
This giveaway is sponsored by Saving Naturally, helping you live healthy while spending less.