Make Your Own Chemical-Free Cleaning Products – Quick and Easy!
Making your own chemical-free cleaning products is as easy as filling this gorgeous blue bottle, thanks to the work of the folks at Cleaning Essentials.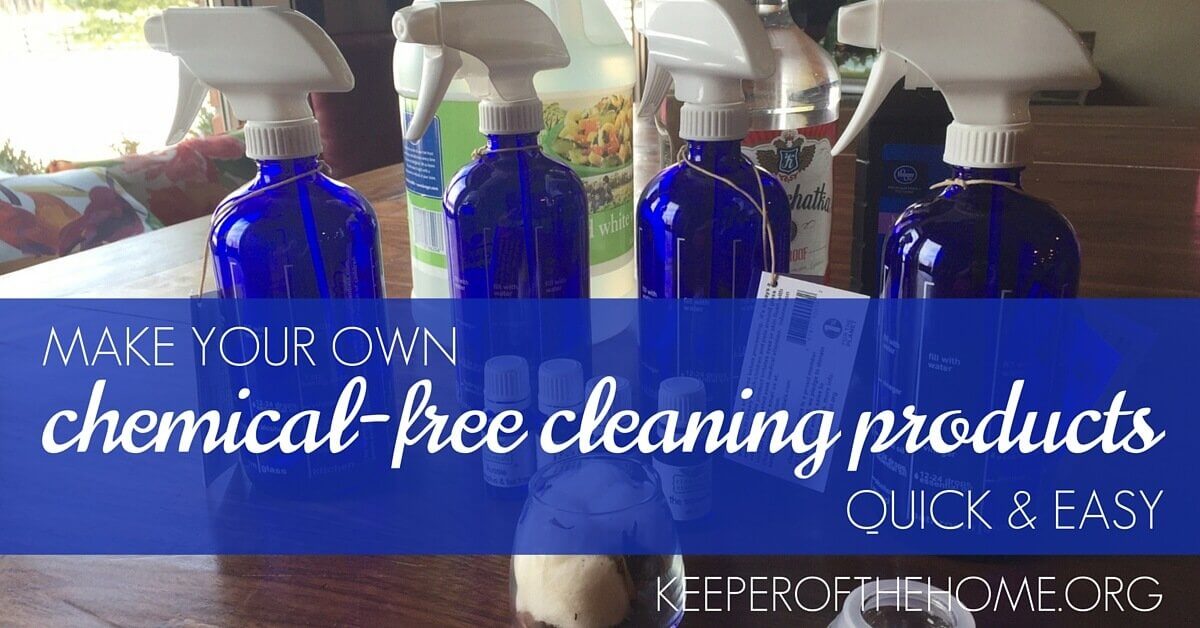 By Ann Timm
I love the idea of natural cleaners and I often make my own from vinegar, alcohol, baking soda, hydrogen peroxide, and sometimes essential oils. They do a great job of cleaning, but often leave behind unpleasant odors and streaks, especially on my glass.
If I'm short of time and don't remember which recipe is best for the particular surface that needs cleaning, then I automatically reach for my go -to, a chemical laden blue bottle that leaves a streak free shine….yes, you know what it is….shameful for a healthy living blogger, right? But it's true, because it does such a great job! On everything!
One of the fun perks of blogging is that every now and then you get a package in the mail with a new product to try and what to my surprise did I find in this package but my new go-to blue bottle!
Cleaning Essentials is the creation of Mike and Martha, urban homesteaders living the small town life in upstate New York with two beautiful children and a backyard full of chickens.
The company came about when Mike, who had been creating natural cleaners for years, and Martha, who wanted to use natural safe cleaners in her home, married their ideas with a blue glass bottle.
Martha, just like you and I, wanted something for her home that was safe for the family, in line with their healthy lifestyle, easy to use, AND effective.
These three things together:
SAFE
EFFECTIVE
and EASY
are ridiculously hard to find.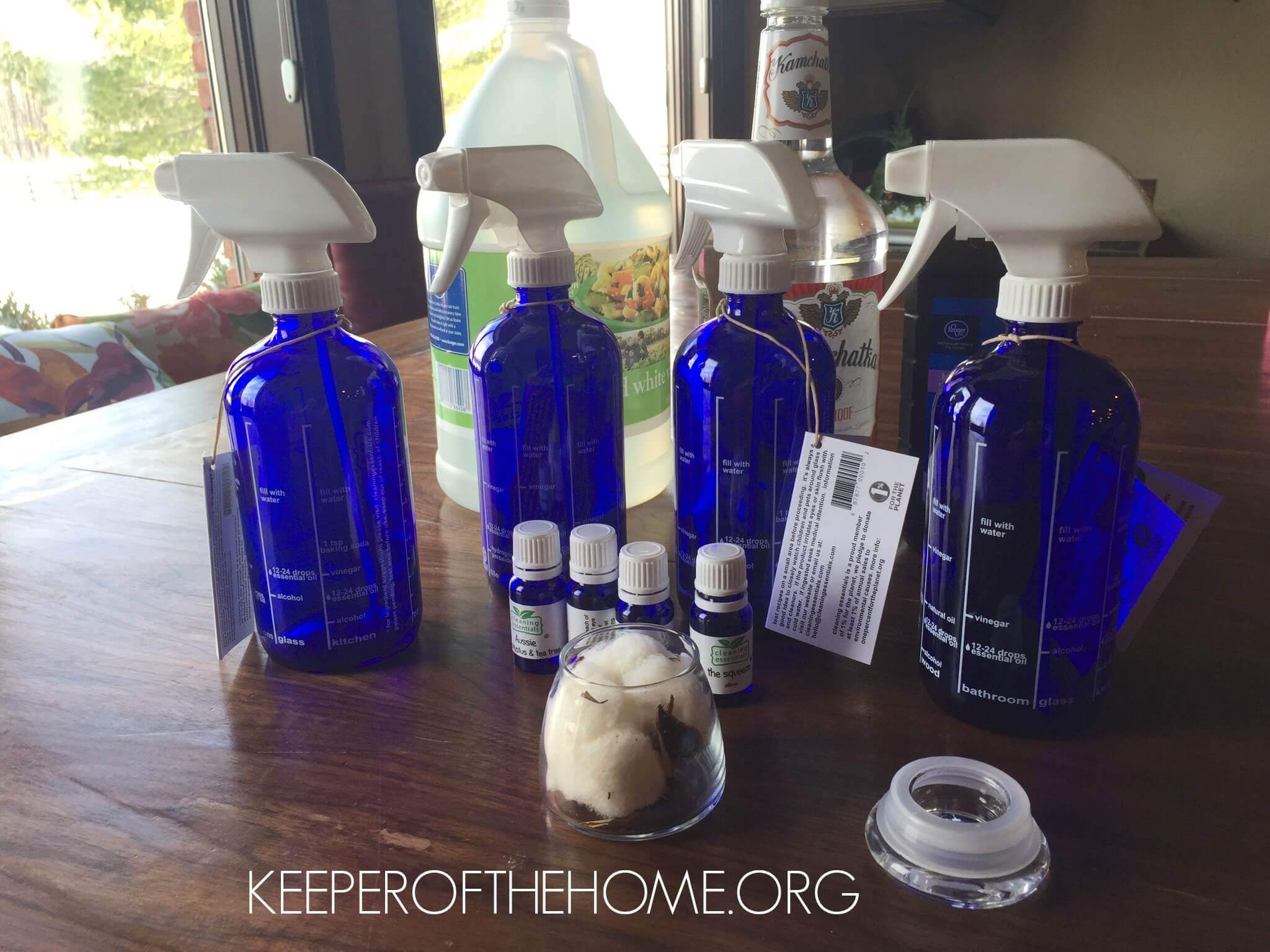 So here's my review of Mike and Martha's Cleaning Essentials and their gorgeous products (if I can say that about cleaning bottles).
This is a new line of products that are:
Eco-Friendly—never throw them away
Economical—only buy them once
Thrifty—use what you already have to clean
Homemade—mix the cleaners with your own stuff
Environmentally Safe—non toxic, chemical free
Easy—to make, to use, to stash
The first thing I noticed when I picked up one of these bottles was how heavy it was. I was a little unnerved at that moment, realizing that they were glass and wondering how my girls might do cleaning with them.
My girls are teenagers, granted, not small children, but I was concerned. I immediately checked out their website and found this description about the bottles saying that even though they are glass, they are quite sturdy. If an accident should happen, you can take a picture, send it to them, and they will replace it.
Plus, I know that plastic bottles leak more of those yucky chemicals into the cleaning products finding their way right onto the surface you are trying so hard to clean with natural non-chemical ingredients.
The bottles are $14 each which seems a bit pricey, but when you take into account that you never have to buy them again, I think it's totally worth it.
The same is true with the sprayer, by the way: if it ever stops working properly, simply send it back and they will replace it, no charge. 
I won't be letting any small children get a hold of these, because I would be too nervous, but the more I handle them, I can feel that they are pretty solid and I'm comfortable with my teen girls using them.
After sorting through the idea of the bottles being glass I noticed the cool chart on the side of the bottle.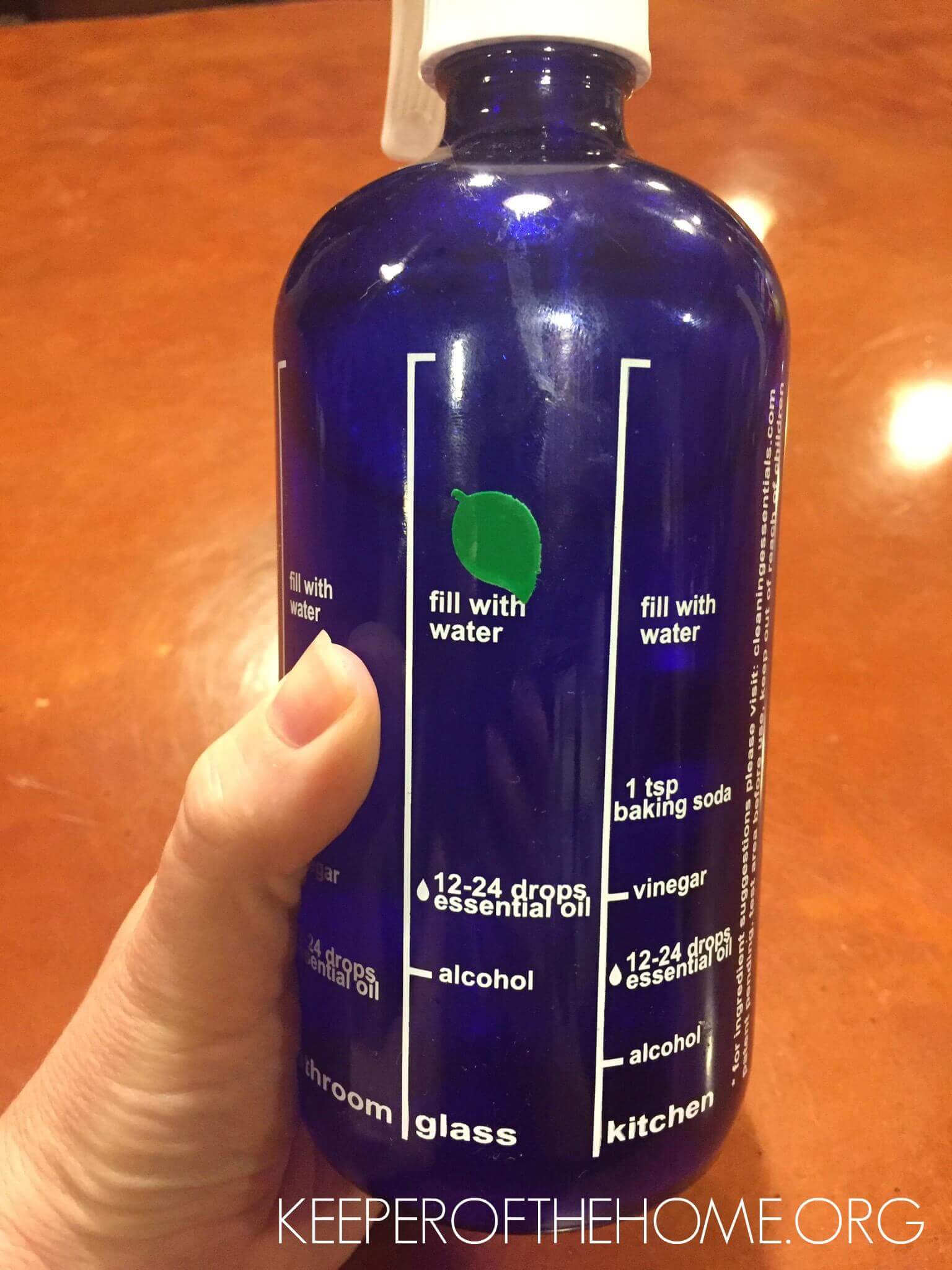 Very cleverly marked going up the side of each Cleaning Essential bottle are 5 recipes. Each one is for cleaning a different surface. No more searching for natural cleaning recipes for me!
The 5 recipes are for:
tile
wood
bathroom
glass
kitchen
Above each recipe name are fill lines and the type of product needed for cleaning.
For example, to clean the kitchen you would:
pour alcohol into the bottle to the first fill line
add 12-24 drops of essential oil
pour in vinegar to the next fill line
add the designated amount of baking soda
then add water to the top fill line
Check out this handy chart: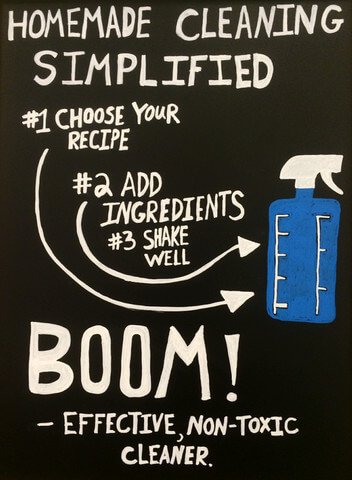 Don't worry about forgetting which recipe you put in the bottle, because each bottle comes with a sticker to mark the recipe.
No more guessing which ingredient is best for the kitchen or for my wooden tables.
No more guessing how much vinegar, oil, or alcohol to add to the water!
Mixing up natural cleaners just got super easy! I don't have any more excuses….
Now that I have convinced you how beautiful and easy it is to fill these blue bottles, l'll get to another important point:
Do they work?
After opening the box and finding the contents, I immediately rounded up all of the needed ingredients from my kitchen and bathrooms and got to work filling all four bottles. I enjoyed the simple act of 'fill to here' and the fresh smells I deeply, without choking on harmful chemicals, inhaled.
I would have to say yes, they were quite convincing! Completely alluring, actually. With the simple, easy method of filling the bottles and the wonderful scents that adorned my now clean house.
Before reviewing Essential Cleaning bottles, I had never thought of making my own wood cleaner. I have used olive oil in a pinch before, but the recipe and essential oils blend that I used on my wood table today worked well and smelled way better!
Surprisingly, even cleaning my glass table passed the test. On the Essential Cleaning site they recommend North Woods blend for glass and I was very pleased with the results. It was a streak-free shine!
Along with the Cleaning Essentials spray bottles, I received four 10 ml bottles of essential oils said to have antibacterial and antimicrobial properties that I could add to any of the recipes:
Aussie – eucalyptus and tea tree oil
Cindy's – lavender and lemon
North Woods – pine and mint (my hubby's fave)
The Squeeze – citrus
They are 100% pure essential oils and are sold for $7 each.
If you are looking for an easy way to begin cleaning your home with natural cleaners and tossing out the chemical store bought cleaners Cleaning Essentials may be for you.
Mike and Martha invite you to explore their website and line of products…and I encourage you to do the same. They're passionate about helping others to live a chemical-free lifestyle, and that's something I'm on board with!
What are your favorite non-chemical cleaners?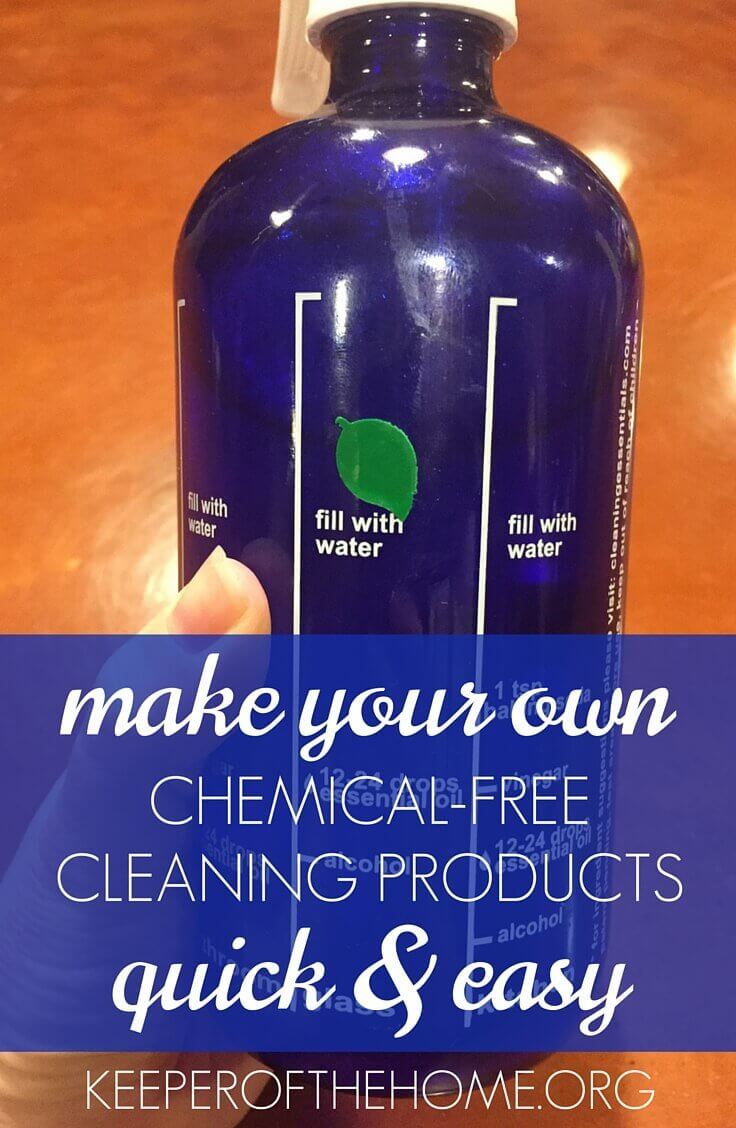 Disclosure: I received free products in exchange for my honest review.