Simplified Menu Planning with Plan to Eat: Review and Giveaway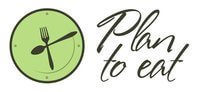 I've been menu planning for many, many years now and I've always been a paper and pen kind of gal. However, when Clint from Plan to Eat asked me to review the site and offer a giveaway to my readers, I was excited to give something new and different a try.
My first impression of Plan to Eat was, "This is fantastic. And it looks so easy. If only I didn't have to spend hours upon hours entering in all of my recipes. Maybe I better stick with my pen and paper and recipe binder."
However, the more that I played around with the site, the more that I realized how simple it really was to get things set up and how much infinitely simpler my menu planning would become once I invested a little bit of time upfront. I decided to really give it a try and spent some time over the course of two evenings (probably about 2-3 hours total) inputting as many recipes as I could.
Plan to Eat has two ingenious features that make incorporating the recipes you already use quite quick and simple:
1) Import a Recipe From the Web
This option allows you to do a web search of a particular recipe name or general search terms like "black bean soup". The search includes many major recipe sites including Epicurious, AllRecipes, RealSimple, Recipezaar, Taste of Home, Food Network and more. Once you find the recipe you're looking for looking for, importing it into your Recipe Book is a click of the mouse and you're done!
2) Bulk Input
This is the method I used the most often, since many of my recipes are either up on my own blog or other real foodie blogs. These cannot be imported with just a click, but I was surprised at how easily it could still be done. I just typed the name of the recipe, and then copied and pasted the ingredients and the directions for the recipe into a form.
The program does a surprisingly good job of converting the pasted text into a correct recipe format and then all I needed to do was select the type of course, cuisine, how many servings, etc. and save my recipe!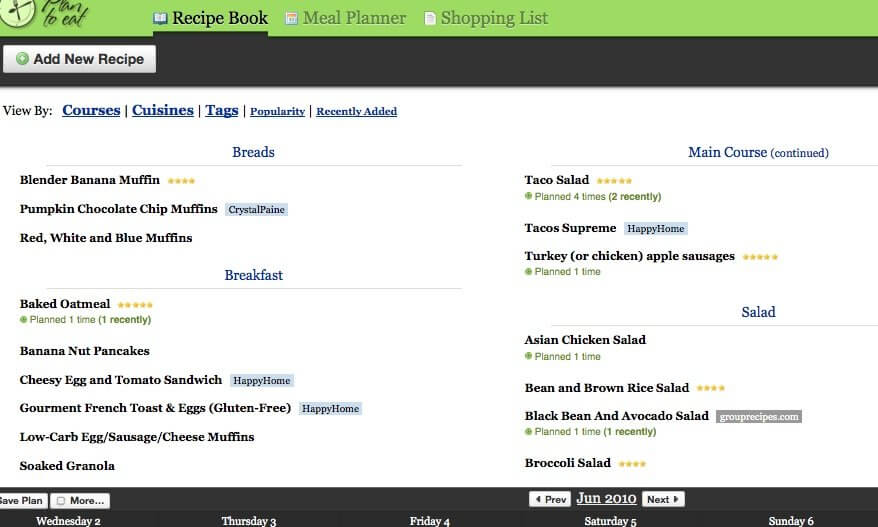 With my small time investment, I now have about 30-40 of my own recipes stored in my account. If there's a new recipe I want to add or a recipe I realize that I'm missing, it now just takes me 1-2 minutes to import it which isn't a big deal at all.
Additionally, there is a brilliant feature where you can share recipes with friends! I have shared recipes with two friends so far and this just helps us all to build up our recipe books faster, as well as try out new recipes.
Drag and Drop Meal Planning
This is really the crux of what makes Plan to Eat so powerful and easy to use. To make my meal plan, I have the current month open with a left sidebar displaying the recipes in my account.
I can find what I'm looking for faster than scrolling through all of my recipes by using the filter options— viewing my recipes by course (main dish, dessert, soup, etc.), by cuisine style (Asian, Mexican), by tag (I added these while uploading recipes- things like crockpot, fast or easy, gluten free, GAPS), or by popularity (based on how often I use particular recipes) .
Once I've decided that on Tuesday night we will eat Cabbage Roll Casserole, I just click on that recipe, drag it over to Tuesday on my calendar and drop it into place. Voila! As I do that, all of the ingredients for that meal are instantly added to my shopping list! If I decide that it would be better to have it on Wednesday instead, I just pick it back up and drag it over to Wednesday.
Initially I wasn't sure what to do with things like oatmeal or smoothies for breakfast, or having a simple steamed veggie or green salad with a dinner. I don't use recipes for those types of things and it seemed silly to make up a recipe just for the sake of putting it on the meal plan.
I realized instead that I could use the "Add Ingredient" or "Add Notes/Events" features by clicking on the day that I am planning. A box pops up, giving me the option to manually add a note or additional ingredient to my meal plan. I can add "steamed broccoli" as an ingredient and then it will show up in my Shopping List.
If I don't care about the list (as with foods I buy in huge bulk, like oats for breakfast oatmeal) then I just add it as a note, "Breakfast- Oatmeal". I use the notes function as well to indicate guests or something noteworthy about that day (an early dinner time, my husband not eating with us, etc.).
Here's a look at my completed June meal plan: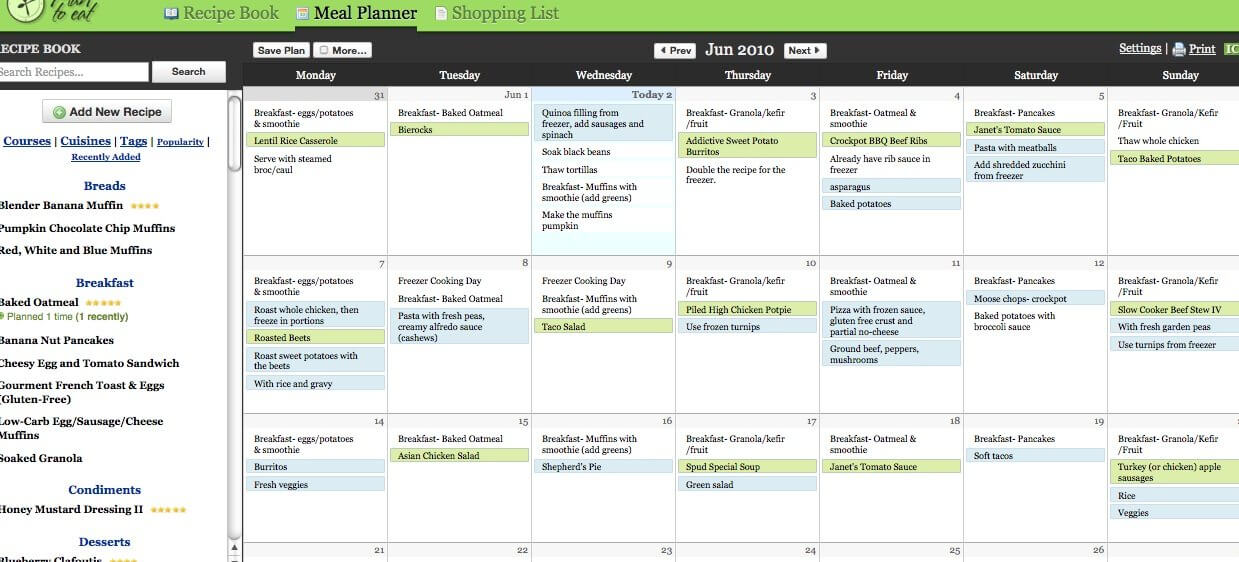 If you'd like to catch a glimpse of Plan to Eat in action, check out this video I did for the Cook More Real Food event, as I share my meal planning process.
I will confess that I haven't yet mastered the use of the Shopping List. Because I buy so much in bulk and keep my pantry/freezer very well stocked, there are sooo many ingredients in my meals that automatically go on my list that I have to spend time removing because I don't need to buy them very often (like spices, grains, oils, meats, etc.). I do still find it handy, though, to glance through and note the produce that I need. I'm sure there is a way to utilize it better, but I'm still a newbie at this and it will come with time! 🙂
Free Trial and Recipe Sharing
For those who think this sounds like a very helpful tool (and it really is in my opinion) but aren't quite sure they'll make good use of their membership, there is a free 30 day trial membership! Give it a go and see for yourself whether this will help to make your meal planning and grocery shopping smoother and easier.
As well, I mentioned above that you can share recipes with friends. In order to do this, you need to send an email to those that you would like to share recipes with. In the Keeper of the Home forum, I have created a topic called Plan to Eat: Recipe Sharing where we can exchange our email addresses in order to add each other as "friends" on our Plan to Eat accounts. You could also leave your email address in a comment, if you are comfortable with doing that and with having others contact you to share their recipes with.
Edit: Clint from Plan to Eat just let me know that you can also use login names. So mine is "keeperofthehome". This is a nicer option than having to share email addresses! For those who would like to, you can just add your login names in your comments, or in the forum topic linked to above.
Would you like to win a membership to Plan to Eat?
I have 2 one-year Plan to Eat memberships up for grabs ($39 value each). Here's how to enter:
(Please remember– leave a separate comment for each entry. Thanks!)
Thanks for entering! Giveaway will end Wednesday, June 9th at 4pm. Giveaway has now ended. Thank you!

Disclosure: If you sign up for Plan to Eat through one of the above links, I will earn a small commission. You are by no means obligated to use these links, but it is one of the ways that you can support this site. Thank you!