6 Steps To a Naturally Clean Home {Plus 48 recipes}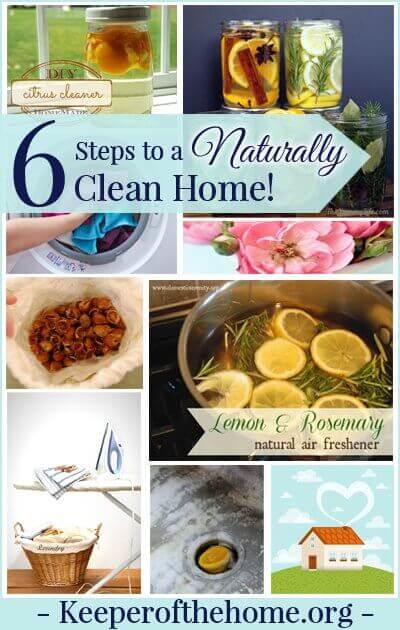 By Jami Leigh, Contributing Writer
When I first began my natural living journey, it all started with food. I was concerned with eating healthy and what I  put into my body. But it wasn't long before I realized that the chemicals, lotions, and cleaners that I used everyday can actually seep into our skin and affect us as much or more than the food we eat.
I began doing research and it didn't take long for me to land on The Environmental Working Group's Guide to Healthy Cleaning. I knew I had to change my cleaning lifestyle and I wanted to jump in with both feet and throw away all my commercial cleaners and toxins – but I knew I had to take it slow.
For the past several years, I've been taking baby steps toward making my home toxic-free by using natural cleaners. I want to share with you some easy steps you can take to naturally clean your home.
6 Steps to a Naturally Clean Home
Commercial cleaners are packed full of allergens, toxins, and irritants. According to the EWG, asthma, cancer, reproductive and developmental problems can be direct results from using and inhaling these commercial cleaners.
1) Start Small
When you first start out on this natural living journey, it can be easy to feel like you want to chuck out everything you own in favor of natural alternatives. But this can be an overwhelming task and can potentially cost a lot of money!
You may not know where to start. Instead of turning over your entire life, start small. Pick one area in your home, or just one cleaner to replace. Get in the groove of using or making that one natural cleaner and once you have that down, move on to the next thing. After a while you will notice that your home is transforming into a natural environment.
2) Don't Buy Expensive "Natural" Cleaners
If you head into a health store or search the "natural" section at your local grocery store, you will probably start to cry at the price of all the natural cleaners. When you first look at those prices, it seems daunting to switch over.
But the good news is most homemade natural cleaners are far less expensive than conventional store bought products. 
3) Make "All-Purpose" Cleaners
With conventional store bought cleaners, marketers make sure you know that you need a different cleaner for each area and item in your house. You have to get counter cleaners, toilet bowl cleaner, shower cleaner, bath tub cleaner, window cleaner, oven cleaner, table cleaner, etc., etc., etc.
But with just a couple good natural cleaners, you will discover that you can clean virtually every surface in your home. No more need for 30 bottles of poison under your kitchen sink.
4) Experiment
The natural cleaners that work perfect for my house and family may not work for you. Experiment with different cleaners and give yourself permission to not like a certain recipe. Experiment and find what is right for you and your family.
5) Give It Time
If you are completely new to natural cleaners, it can take some time adjusting to using them. But slowly, over time, you will get the hang of it. It will become second nature to reach for certain essential oils to add to your cleaner or mix up a batch of homemade laundry detergent.
It can seem like a lot all at once, but do your research, try once recipe at a time and before you know it, it will all become second nature.
6) It's OK to Buy Store-Bought
Wait. Didn't I just say above not to go out and buy a bunch of expensive natural cleaners? Yes. Don't feel like you have to rush out and spend a couple hundred bucks just to get some natural cleaners. There are frugal and easy homemade cleaning recipes out there that really work.
I also know that some times in our lives (when we have a new baby, are working full time, etc.) when we simply don't have the time to make homemade cleaners. When we moved into our first house earlier this year, I was so overwhelmed with all that I had to do, that I purchased some natural cleaners to help clean our old apartment and our new house. They worked great and I didn't spend too much money. Do what you need to for your family!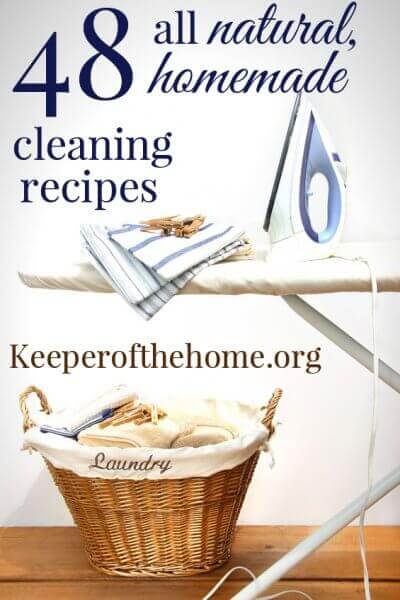 Transforming your house into a naturally clean environment doesn't take a lot of time or money but it does take commitment and a lot of baby steps. To make it easier for you, I've complied this list of 48 natural, easy to make homemade cleaners for you! Pick one and try it out!
A Naturally Clean Home/All Purpose Recipes
Build a Natural Spring Cleaning Arsenal by Richly Rooted
Free Spring Cleaning Checklist by Richly Rooted
Time Saving Tips for Natural Cleaning by Keeper of the Home
Using Essential Oils to Clean Everything in Your House by Purposeful Homemking
Homemade Natural, All Purpose Cleaner by GNOWFLINGS
Homemade Citrus Vinegar Cleaner by Domestic Serenity
Homemade Disinfecting Wipes by Live Renewed
Homemade Non-Toxic Disinfectant by Imperfect Homemaker
Cleaning with Essential Oils by Beauty in the Mess
Two Safe, Homemade Stain Removers by Accidentally Green
Cleaning Without Chemicals – Room by Room Guide by Accidentally Green
How to Safely Wash Your Windows by Accidentally Green
How to Safely Clean Hard Surfaces by Accidentally Green
How to Safely Dust Your Home by Accidentally Green
A Natural Approach to Relief from Allergies and Asthma by Domestic Serenity
Bathrooms
The Safest Way to Clean Kitchens and Bathrooms by Accidentally Green
Homemade Toilet Bowl Cleaner by Simply Rebekah
How to Safely Clean Bathrooms by Accidentally Green
Homemade Bathtub Scrub by Nourishing Joy
A Naturally Clean and Fresh Bathroom by Smithspirations
Cleaning the Toilet Without Harsh Chemicals by Live Renewed
Kitchen
How to Safely Clean Your Refrigerator by Accidentally Green
Crock Pot Cleaner by Stacy Makes Cents
How to Naturally Clean and Deodorize a Stainless Steel Sink by Domestic Serenity
Homemade Liquid Dish Soap by The Humbled Homemaker
Deep Clean Your Oven Without Harsh Chemicals by Creative Green Living
Homemade Produce Cleaner by Live Renewed
Dishwasher
The Best Homemade Dish Washer Detergent by Authentic Simplicity
Homemade Borax Free Dishwasher Detergent Recipe by Ecokaren
Laundry Room
Homemade Powdered Laundry Detergent by Simply Foody
Homemade Dryer Sheets by Live Renewed
Soap Nuts – A Natural, Frugal Laundry Detergent by Stacy Makes Cents
Homemade Castile Liquid Laundry Soap by Stacy Makes Cents
How to Clean your Washing Machine by Keeper of the Home
Homemade Laundry Detergent by Purposeful Homemaking
Using Wool Dryer Balls by The Humbled Homemaker
Why I Don't Make My Own Laundry Detergent by Whole New Mom
5 Ways to Detox Your Laundry Room by Keeper of the Home
How to Do Laundry from Start to Finish Without Any Nasty Chemicals by Red and Honey
7 Fresh, Natural Laundry Room Recipes by Little House on the Valley
Carpets
All Natural, Simple Carpet Freshener by Smithspirations
All Natural Carpet Stain Remover by The Humbled Homemaker
Homemade, Non-Toxic Carpet Cleaner by Modern Alternative Mama
Natural Homemade Carpet Freshener by Keeper of the Home
Making the House Smell Nice
DIY Natural Air Freshener: Lemon and Rosemary Simmering Pot by Domestic Serenity
DIY Natural Room Scents by The Yummy Life
5 Natural Aroma Simmering Pot Recipes by Little House on the Valley
4 Natural Fresh Scent Bathroom Solutions by Little House on the Valley
Resources for learning more
The Naturally Clean Home by Karyn Siegel-Maier – This is a small book with a powerful message. Karyn gives you the research and practical recipes to transform your home into a natural environment.