Organization in the Real Food Kitchen: Menu Planning
Of all of the things that I spend time planning, the one that I feel probably has the biggest payoff in saving me time, frustration and even money would have to be menu planning!
I've been menu planning faithfully for about 3-4 years now. Every once in a while I briefly slip up and go a week or two without proper plans in place. I always, always regret it and wished I had taken the time to plan.
Life has been moving at an even faster pace this year, with the addition of a 3rd baby, a new business, more homeschooling, etc. I needed to figure out some ways to streamline my meal planning even more than before. Here are a few of the things I've been trying out that are really working for me.
1) Creating Organized Lists of Meals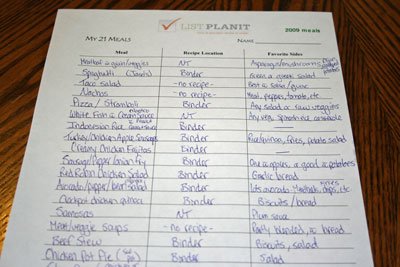 This is my list of 21 meals, downloaded from my ListPlanIt membership. Apparently most cooks/families have about 21 meals that they go back to over and over, so it only makes sense to make a list like this one for easy reference. I tend to cook with a bit more variety than that, so choosing my 21 meals was hard (which would explain why I chose 22), but at least now I have a list of our favorites for easy reference when I'm short on time and creativity!
The other thing I'm doing is something I've done and recommended doing before, but now I'm doing it in a much more organized manner. I will show you pictures tomorrow when I highlight the ways I've been revamping my recipe binder. Basically, I have made themed lists of our favorite meals/recipes, using themes like Meats- Main Dish, Chicken- Main Dish, Vegetarian, Soups/Stews, Salads, Veggies, etc.
What I love about making lists like these is that they provide me with such a quick reference for remembering meals that fit a certain need. Maybe I've already got beef on the menu 3 times in a week and I really need to go with poultry. Maybe we've been eating a lot of meat lately and I feel like we could use some good vegetarian proteins and fiber, or simply some more cost efficient meals. Maybe I've got my main dish selected, but am stuck on a side dish to make with it. Just a quick glance at the appropriate list and I can make a simple choice of a recipe that will work. They're also perfect if you like to do your meal planning with themes, like Monday is beef and Tuesday is soups/salads. More on these lists tomorrow!
2) Monthly Meal Planning
This hasn't always been the way that I prefer to do things, but in recent months it has really worked for me to have an entire month's worth of meals mapped out all at once. It takes a little longer up front, but only a little bit, and then it's completely done!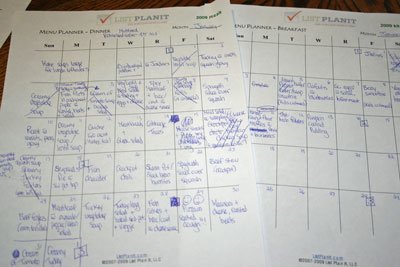 Here's my monthly plan for January dinners, and next to it my breakfast plan (again, both from ListPlanIt). You can see that I've already crossed things out, moved things around. I tend to do that and I don't think there's anything wrong with it. My meal plan serves me, not the other way around. I keep this up on my fridge and it keeps me right on track.
Though I don't usually, I've also been adding in a breakfast plan this month. We are currently on the Maker's Diet yet again, and I find that the way to survive on special/restrictive diets is to plan, plan, and plan some more. Normally breakfast feels like an easy thing to do, but on this diet, not so much. Having a breakfast plan just adds to the ease in my kitchen that my dinner plan creates. Note that I only did a 2 week plan because our diet will change again in 2 weeks and I ran out of time to come up with more ideas for the change in foods that we are allowed to eat. So next week, I'll sit down and finish up the month's planning.
3) Try a Seasonal Plan
If you don't like the idea of planning everything out for your entire month at once, or you'd really like to focus on eating seasonal foods but without coming up with new ideas constantly, then making a Seasonal Meal Plan might appeal to you.
I did this back in the late spring, when my husband was on a special diet and I was getting ready to have a baby, and I just needed something that really took the pressure off me for meal planning. I used Passionate Homemaking's method to make a list of 3-5 meals for each weekday, based on themes (chicken, vegetarian, Ry's favorites, ethnic, etc.). Then each week I only had to glance at what I had around, choose meals from the list that appealed to me and worked with what I had on hand, then write a short grocery list with the missing items. Sometimes I did it 2 weeks at a time, which was even easier.
For a few other ideas/methods of meal planning (including another method of mine), see my Healthy Homemaking: Meal Planning Primer.
What's working for your menu planning in this season of life? How have you streamlined your process?