Giveaway Week: Naturopathic First Aid Kit Package ($99.95 value)!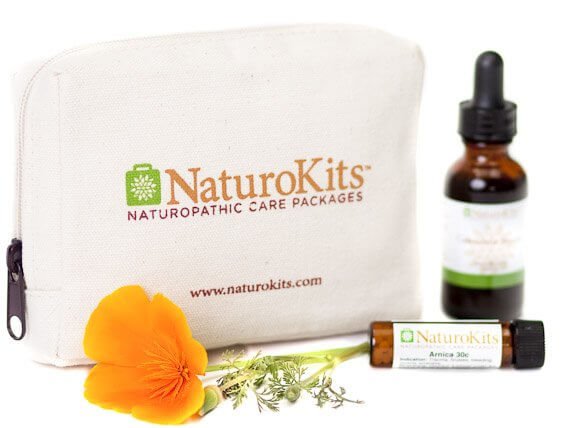 Quick… your 3 year old just fell off his bike and scraped up his knee on the gravel really badly. He's bleeding, he's screaming and you're not really sure what to do. You wish you knew of some natural remedies to help stop the bleeding, ease his pain and prevent infection, but in that frazzled moment the best you can come up with is cleaning the wound with water, getting out the bandages, and hoping some hugs and a popsicle will do the trick.
Scenario #2. You're out in the woods on a family hike one beautiful summer day. Suddenly your 7 year old daughter shrieks in terror as she falls, landing on a log with a beehive underneath it, and you see 3 angry-looking red bee stings swell up on her face. What do you do?
Until I began to familiarize myself with simple homeopathic and herbal remedies and started keeping them around my home, I wouldn't have known how to treat these scenarios either.
One resource that I have begun to be particularly grateful for is my NaturoKit, which does the thinking and the work for me in these stressful scenarios, offering me natural but effective remedies to apply in most first aid situations.
I open my trusty NaturoKit and pull out the helpful paper with an alphabetized list of conditions and the appropriate remedies to use in each situation. Let's apply it to the scenarios above:
Scenario 1: Take Arnica (for pain, bruising and bleeding), Calendula Success (apply topically for bleeding), and later use Wild Weed Salve to help facilitate healing of the wound.
Scenario 2: Take Apis (for stinging and swelling, including allergic reactions), apply a charcoal poultice topically (to draw out the toxins from the bite), and give Crisis Calm to help with fear or anxiety.
An Inside Look at a NaturoKit
Combining 9 different homeopathic, herbal and dietary remedies, here's what each kit includes:
Nine naturopathic remedies: Activated charcoal, Apis 30C, Arnica 30C, Calendula succus, Cantharis 30C, Crisis Calm, Hypericum 30C, Ledum 30C, Wild Weed Salve
An attractive, zippered, cotton canvas bag
Full instructions for use with a detailed description of each remedy
An alphabetical list of conditions – quick and easy to reference when you're in a hurry
The pouch is about the size of 1/2 an egg carton, or a small paperback book (just a bit smaller than most novels). It fits easily in your suitcase, in a backpack, a diaper bag or a glove compartment. I personally keep mine in my "alternative medicine" cabinet in the kitchen, but try to remember to bring it along when we go on major outings or trips. The times when I haven't, I've often found myself wishing I had!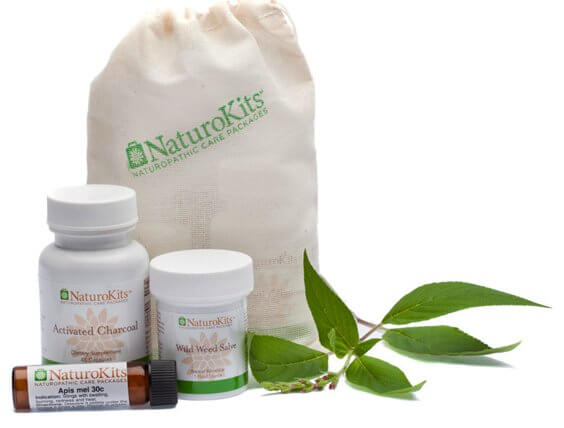 For those wanting something even smaller and more simple, there is a First Aid MiniKit, with the 3 most essential remedies. It's small enough to keep in your purse at all times.
After owning a NaturoKit for about 4 months now, I can readily say that I think it's a valuable tool that every family should have on hand. It helps me to treat our family's owies and illnesses that much more easily and effectively, giving me a nice variety of tools to work with, and prevents me from taking the time to go to the bookshelf and start flipping through herbal and natural remedy books while a little one is already writhing in pain and needing my constant comfort.
I'm happy to announce that we have an amazing package of a Basic First Aid NaturoKit, a First Aid MiniKit and a bottle of Crisis Calm to offer to one reader (a $99.95 value)!

To enter the giveaway, simply click on the link below to fill out a survey form. Rather than having to leave multiple comments for each entry option, you can just complete the one survey and you're done!

Giveaway has now ended.
NaturoKits has also kindly offered an exclusive coupon code for Keeper of the Home readers. Use code "DCKOTH" for 10% off any purchase through March 15th!
Disclosure: This giveaway is sponsored by Saving Naturally, helping you live healthy while spending less. It also includes some referral links, where I earn a small kickback if you make a purchase through  my links. You are not obligated to use these links, but when you do, it helps to support this site, so thank you!