Healthy Homemaking: Meal Planning Primer
Baby Step 8- Meal Planning Primer
What this baby step is all about:
To make a meal plan of your dinners for the next week (if you already do this, you could try planning breakfasts or lunches if you don't already).
Why this step is important:
I think that most women, if asked about cooking dinner for their family, would say that they wanted to be able to make affordable and healthy meals that are delicious, simple and as quick to prepare as possible.
I find that meal planning is one of the major tools that I use in order to align my cooking with those very same wishes (because no, I don't like spending hours on dinner, and yes, I'm super frugal and want it to be as nutritious as possible!).
Meal planning helps me to be purposeful about what my family is eating. I am able to be more intentional about meeting my family's nutritional needs by including a wide variety of foods and by seeing where I can improve our menus.
It helps me to keep costs low, by reducing waste, planning ahead, taking advantage of sales and seasonal deals, etc.
It saves me time and effort – I don't have to start wracking my brain in the middle of the afternoon for what I could possibly make for dinner. Knowing what I am making ahead of time allows me to prepare by taking the meat out of the deep freeze, soaking my grains or beans the day before, making sure I have all of the ingredients, etc.
How to get started with this step:
There are probably as many variations on meal planning as there are homemaking blogs, but allow me to share with you some basics of meal planning, as well as my particular method.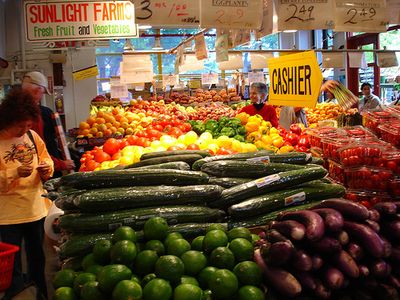 Make a plan before you go shopping. The idea is to have a fairly firm list, so that you will be less tempted to buy extras at the store, and so that you will know that you are coming home with the right ingredients to make actual meals (and not have to make an emergency run to the store mid-week).
Look at your calendar as you are planning- you'll want to know if there's a night when dinner needs to be really fast because of evening plans, or if you've been invited over to a friend's house (or vice versa, are having company over!), or if there's a special occasion, such as a family birthday.
Know that your menu plan does not have to rule you. Though I make a plan religiously each week, it almost inevitably gets switched up at some point during the week. I'm not in the mood for a particular dish, or it's been a hectic day and I'd rather make the simple dish planned for Thursday and switch the more time-intensive meal I had planned for that night, or I made far too much of a dish and we just need to ditch the plan and polish off some leftovers. Life happens, and the menu plan is there to serve you, not the other way around.
As for how I do my meal planning in particular, here are the steps that I follow:
1.   Take a quick inventory and put first things first. I glance in the fridge, pantry and freezer to jot down some of the things I have that I need to use up, especially any produce, dairy or meat that is at risk of spoiling.
2.   Sit down with my planner and look at my week.  I like to get a basic idea of any nights that we'll be out, or having guests, etc. This gives me an idea of the types of meals that I need to be thinking about.
3.   Use my favorite meal list. This is one of the best things I have done for my meal planning. I made my first list almost 3 years ago, and just updated it a few months ago. It is an extensive list of our favorite meals and specific recipes, organized into sections such as Red Meat, Chicken, Vegetarian and Fish Main Dishes, Soups and Stews, Salads, Veggie Side Dishes, Grain Sides (includes rice, bread, biscuits, etc.), as well as a list of our regular and favorite breakfasts. I also had my husband rate the meals, on a scale of 1-10, so I know which are his favorites (and the ones that he's not so into). This helps me to serve him and keep him in mind as I plan.
4.   Have a basic schedule for each week. This is a skeleton plan that I use for helping me to select my recipes. Mondays are chicken, Tuesday vegetarian, Wednesdays red meat, Thursdays fish, Fridays Ryan's favorites, Saturdays quick and easy, Sundays crockpot or make ahead meals. I love how this simplifies the choosing process and helps me to just slot in meals, as I find a chicken dish for Monday (off my handy dandy list, of course).
5.   Use a 2 week rotation. This may be an aspect of my planning where I differ a bit from others. Here's how it works… the first week, I don't have a lot of food in the house, so I plan whatever I feel like planning, make my shopping list, and go to the store.
While there, I will make substitutions if I need to (if I discover that there is no asparagus available, or that the price of peppers is ludicrous), but generally, I will buy what's on my list. However, I also look around for deals on items that are seasonal, on sale, discounted items (that are near expiry, perhaps). I also buy more than I need for week 1 (ie. if I need 3 carrots, I'll buy a whole bag). The end result is that I come home with enough food for two weeks.
Week 1, I stick to my pre-planned menu, but Week 2, I have a different strategy. As I go to plan my meals for that second week, I will take a careful inventory of what I have left and what needs to be used up, and I will choose my meals based on what I have. Although I occasionally need to do a very small, supplemental shopping trip, my goal that week is to avoid the store if at all possible!
This does several things: it helps me to maximize my grocery shopping money (by being able to stock up on deals), it helps me to carefully use up everything that I buy so that I am not wasting food, and it encourages me to be creative and to try out some new recipes as I seek to use the sometimes-random foods that I have remaining (it's not usually too random, but some weeks… it keeps me on my toes!).
Online Resources:
The Ultimate Guide to Meal Planning
The Nourishing Gourmet- Meal Planning 101 series
Meal Planning and Keeping a Stocked Pantry
Are you a meal planner? What are some of the ways that you make meal planning work for you? Share your method and tips with us!