Floral Body Scrub (plus gift ideas & DIY links for Mother's Day!)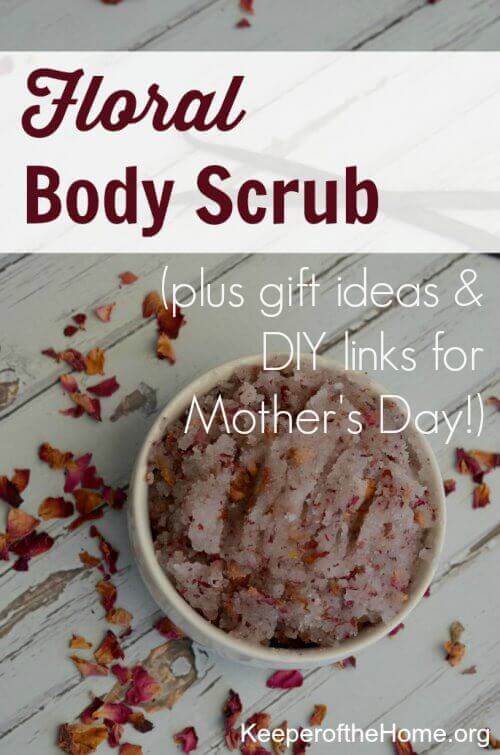 By Stacy Karen, Contributing Writer
After the depths of winter have passed, skin is often dull and dry. Heated indoor air and lack of moisture are two of the main culprits in creating such thirsty skin.
Thankfully it's quick and easy to get skin soft, smooth, and vibrant again. A gentle exfoliation via a simple body scrub will usually do the trick. Scrubs made with sugar are quite effective in removing dead skin cells, and revealing fresh, glowing skin beneath.
You are likely aware of how simple a homemade body scrub is to make. Just mix sugar and oil and you're good to go! But, today we are going to add a few extras to take our floral body scrub to the next level.
Coconut oil is added for extra moisture and actually makes the scrub have a creamy consistency. Dried rose petals lend a luxurious feel. It's a real treat for the skin!
Floral Body Scrub
The high amount of coconut oil in this scrub leaves a nourishing layer of moisture on the skin. The rose petals and ground lavender add color, extra exfoliation, and a delightful scent.
Ingredients

3 tablespoons dried rose petals

1 teaspoon ground lavender

3/4 cup sugar

1/3 cup coconut oil, melted

1/4 cup almond oil

Yield: approximately 1 cup
Method

Crush rose petals in a mortar and pestle or food processor. If using a food processor, be careful not to let the roses form a powder.

Place crushed rose petals and sugar in a bowl then add the ground lavender. Add melted coconut oil and almond oil. Stir to combine.

Package in a pretty jar and label.
Note: If the rose petals are too large, they could cause the drain to clog when using in the shower. To avoid this, make sure the petals are broken into small pieces, or reserve the scrub for use on the hands where the scrub can be washed off over a kitchen sink with a garbage disposal.
Variation: For a stronger floral fragrance, add 5 drops rose geranium essential oil
.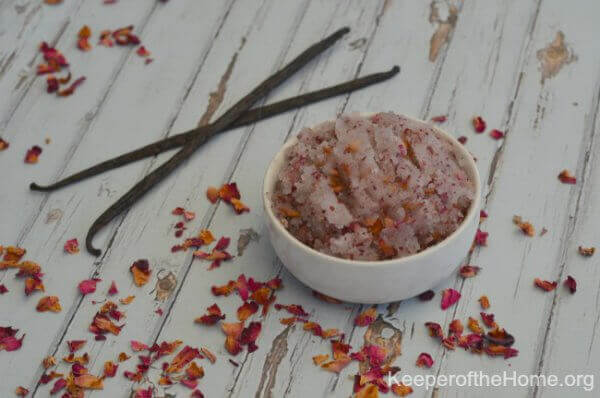 This recipe was adapted from one found in my newly update and revised eBook, Simple Scrubs to Make and Give. 
Have you thought about what you're doing for Mother's Day yet (coming up on May 10th!)? This Floral Body Scrub would make a lovely gift!
Here are some other homemade gift ideas for Mother's Day:
;
If you make your own body scrubs, what are your favorite add-ins?
Disclosure: This post contains affiliate links. When you buy through our links, we earn a small commission, which helps to keep this site going so that we can continue to offer free and useful content, so thanks!