DIY All-Purpose Cleaning Solution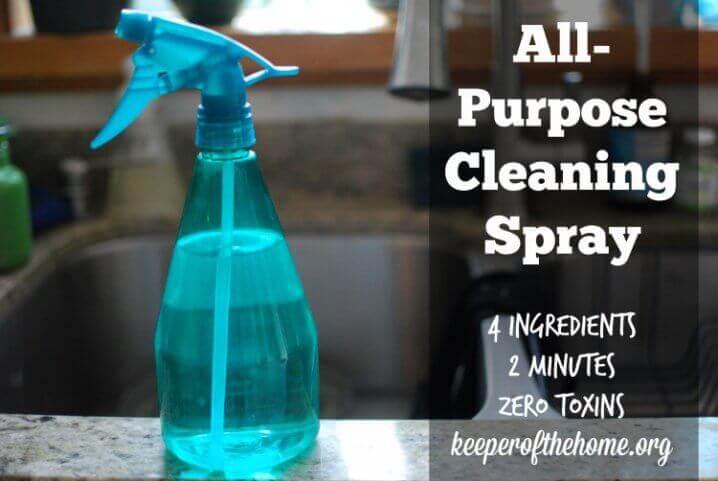 By Beth Ricci, Contributing Writer 
Switching from mainstream cleaners to natural alternatives is honestly one of the easiest possible baby steps toward a greener, more natural life. Throw a few ingredients in a spray bottle and toss your Mr. Clean in the trash. It's pretty much that simple, and the benefits far outweigh the 30 seconds of your time that it takes.
In our home we don't buy commercial cleaning products for anything (except for a natural dish soap). We make our own – and we reduce toxins in our home and save lots of money while doing so.
This may sound over the top if you're accustomed to regularly inviting Mr. Clean into your home. Or maybe your favourite alternative brand with the word "natural" slapped across the label alleviates some of your residual worry about what those crunchy folks are going on about.
Are the ingredients in conventional cleaners really all that dangerous? I mean – really?
As the David Suzuki Foundation explains,
"Yes! Cleaning products aren't required to disclose ingredients. Phthalates, chlorine bleach, ammonia, sodium laureth sulfate, ethoxylated alcohols and fragrance are all commonly found in household cleaners and linked to a range of health issues including asthma, cancer, allergies and multiple chemical sensitivities. Repeated exposure to small amounts of these chemicals can cause long-term health problems. Kids are especially vulnerable."
Clearly there is enough doubt cast on the safety of these products that most of us are willing to step back and ask questions. So what now?
DIY, of course!
The most valuable and often-used cleaner in my arsenal is definitely my All-Purpose Cleaning Solution. It is always near by, especially with a cat and three kids aged five and under! It is cheap, safe, and effective. What more could you want, right?
This recipe uses baking soda, but for a slightly different recipe, plus links to more DIY cleaners, check out this All-Purpose Cleaner from Red & Honey.
All-Purpose Cleaning Solution

Ingredients

1 tablespoon baking soda
1 teaspoon castile soap
3-5 drops tea tree oil
Water

Method

Add the baking soda, castile soap and tea tree oil to a spray bottle. Fill the rest of the bottle with water. Shake or stir to combine.

The baking soda is a great degreaser, the castile soap has excellent cleaning power, and the tea tree oil is a natural disinfectant. It's a simple but super effective combination that works!
It's simple and quick – mix some up today and ditch the store-bought stuff. Baby steps toward a greener, cleaner, and healthier life are a beautiful thing!