What Can You Actually DO with all those Fresh Spring Greens?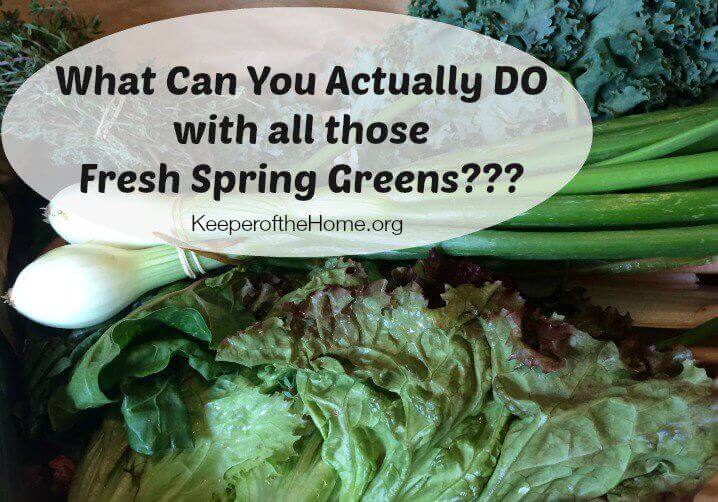 Guest Post by Krissa Jeldy
One of the things I love about getting a CSA box is getting introduced to all kinds of vegetables that (if I'm honest with myself) I probably wouldn't pick up on a regular basis at the grocery store. At this time in the year my CSA box is filled with tons of fresh spring greens: spinach, kale, chard, collard greens, all varieties of lettuce, and more!
Leafy greens are well known for their health benefits. Loaded with vitamins, fiber, and nutrients, spring greens are perfect for doing a little spring cleaning of our bodies and helping us detox from the heavier winter fare.
Some of the greens I have an easier time with. If I get a head of lettuce, we make a salad. Spinach and kale usually gets tossed into smoothies or juiced. But sometimes I start to want a little more variety.
Fresh salads
Most of the various lettuces that show up, we use in salads. I had never tried kale in salads though until recently, and it's my new favorite way to eat kale.
Want to know the trick to making a salad with kale? Massaging the kale first. That's right!
It may sound strange, but if you massage the kale by taking bunches of kale in each hand and rubbing them together, it will make the kale less bitter and perfect for a spring salad.
Try one of these salads featuring kale: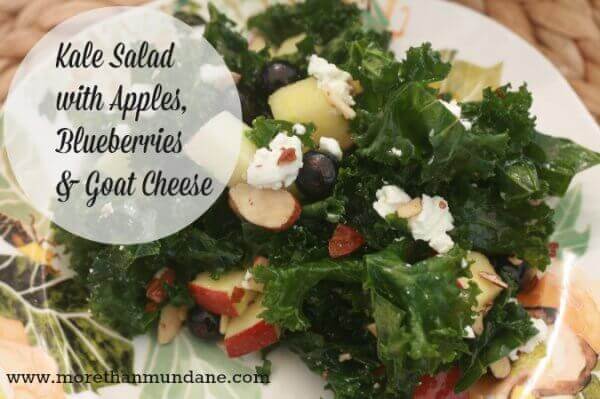 Kale Salad with Apples, Blueberries & Goat Cheese
Bacon Butternut Squash Kale Salad
I also love throwing some of the greens that aren't as familiar to me in with my regular salads to add a little something extra.
Mache is a tender green that when added to your salad gives it a sweeter taste. Arugula and watercress will add a little zest and spice to your salads. Experiment with mixing your lettuce greens for lots of different flavors and textures.
Smoothies & Juices
My favorite greens for smoothies and juices are spinach and kale. When adding greens to smoothies I find it helpful to start with whatever liquid you are using along with the greens, blend that up first and then add in the rest of your ingredients and blend to combine.
If you've never added spinach or kale to your smoothies, you must try it! This is one of my #1 ways to get some greens into my super picky 4-year-old.
Here are some great smoothie recipes featuring fresh spring greens: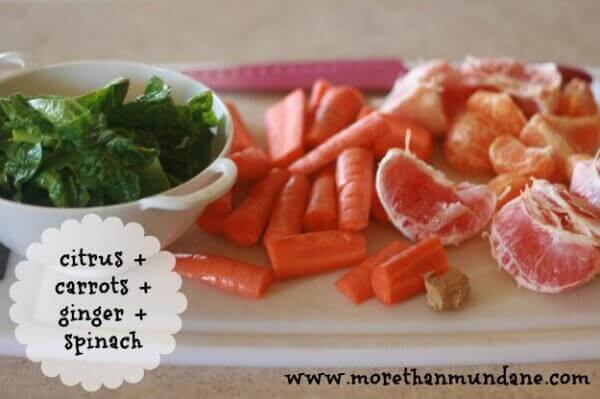 A Beginner's Guide to Green Smoothies
Morning Glory High Protein Smoothie
Kale Spinach and Pear Smoothie
I also love adding spinach and kale to my juices, like this one (ingredients pictured above).
For breakfast
Spring greens are great added to an omelet, frittata or quiche for breakfast or brunch.
Sweet Potato Crusted Spinach Frittata
Saute or steam
Sauteing or steaming greens is a quick and easy way to make a delicious side dish. Try one of these recipes:
Sauteed Kale
Sauteed Chard with Onions and Garlic
Use as a wrap
Apart from standard lettuce wraps, I love this idea of using collard greens or chard as a wrap. Ditch the tortilla, and use a large leafy green in its place.
Make pesto
Wild Leek and Swiss Chard Pesto
In main dishes
Sausage and Kale Italian Zuppa
Pasta with Spinach and Mushrooms
Raspberry Spinach Turkey Wraps
What's your favorite way to use spring greens? Share your favorite recipes with us in the comments!
Krissa Jeldy is a busy mom of two who, since starting a family, has become passionate about learning all she can about living a simpler, more natural lifestyle. She enjoys discovering new home remedies to try, greener products to make and use, and real food recipes to nourish her family. She juggles her time between her job as an educational specialist, homeschooling her second grader, and chasing after her preschooler. In her free time she blogs at More Than Mundane. You can find her on Facebook here.