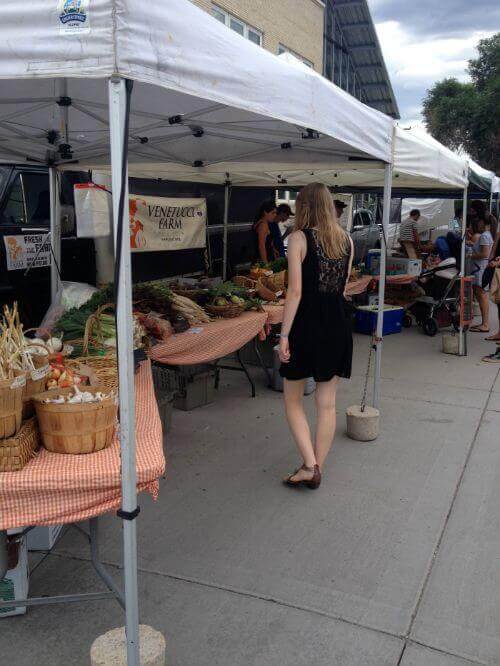 With spring just around the corner, that means it's time for outside activities! Gardening is a big one we've been talking about in the last couple of weeks.
But maybe, for some reason, you aren't planning a garden. Maybe you don't have the space, or the time. I understand that! I'm having a baby in early August, right in the middle of "harvest" season, so gardening isn't exactly my first priority this year, either.
But just because you're not gardening doesn't mean that you can't take advantage of the fresh, local produce this summer! There are many great ways to take advantage of the bounty without having to do it all yourself – even if you want to do a lot of preserving!
Farmer's Markets
One great way to meet up with the local farmers in your area is to check out the local farmer's market. If you've never been, it's awesome. They're commonly held on Saturday mornings, but they can vary by location, so check! Where I am, there are a few held Saturday mornings, but there's one within driving distance almost everyday of the week.
Farmers (usually 10 – 30, depending on the size) will go out into their fields and pick whatever is ripe. Then they will immediately drive it to the market to sell. It's about as fresh as you can get without having your own garden!
This is a good time to chat with a farmer a little and ask some good questions, if he's not too busy. If he is busy, ask if you can come and visit his farm later. Pick farmers who have great-looking produce that's pesticide-free and what you want. Make sure you ask if it's pesticide-free! Not all local produce is. Get a feel for the farmer from his answers. I've found a few to be quite defensive about their use of pesticides, and I refuse to give them my business (even though I might have otherwise; it was the attitude that turned me off).
Ask the farmer if he ever does bulk purchases. You may be able to make a deal with him if you want 50 or 100 lbs. of produce. You may be able to make an even better deal if you're willing to take some that's not quite as fresh and on the edge of going bad (of course you'd have to process it very quickly for freezing or canning!). I know Stephanie did this last year to get a great deal!
Drive or Ask Around
If you don't have a farmer's market near you, there are still ways to find farmers. You can always ask around locally – do any stores or restaurants ever feature local produce? If so, they might be willing to share their source (grocery stores maybe more than restaurants, but you never know). Do any of your friends or neighbors buy from farms? Ask them for help too.
If you're in the mood for a drive, why not take one out into the country? Many farms will put up signs in the summer, saying things like "Fresh tomatoes, 5 minutes to left" or things like this. Follow them and see what you find! We saw tons of this last year as soon as we got out of the city.
You can also check Pick Your Own or Eat Wild for local farm suggestions. Just look up your state and county to find farms near you. You may need to drive, in some cases. For example, I live in Ohio. While we (surprisingly) have a lot of farms very close to me (I live in a major city), there are more options and better prices an hour or two away in Amish country. I've had a lot of trouble finding unsprayed berries close by, but I have found some options in Amish country.
If possible, email or call these farms (especially if they are not close to you) to ask questions. If you can work out a deal, then you will only need to make one trip to get a large haul. Not bad!
Finally, check your local health food stores. Not only might they have local produce available (and be willing to share farm contacts with you…I'd say a health food store would be more eager to share than a regular grocery store), but they might even work out deals with local farmers for preservation. Last year a locally-owned health food store in my area hooked up with a local organic farmer to bring tomatoes in 25-lb. boxes for canning. I ordered 125 lbs.! (And no, it wasn't enough…we ran out at the end of February.)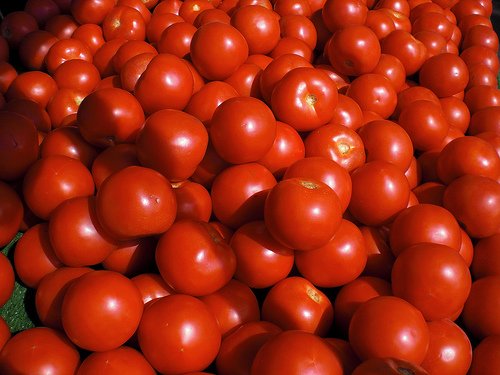 Developing a Relationship
Once you've found a farmer, it's important to develop a relationship with him. Go back to him again and again for your produce or other products. Talk to him, ask him questions, get to know him and his farm (and family, if he has one). This will work in your favor when it comes time to make deals.
However, farmers work very hard and deserve our respect. Don't try to talk him into an unfair price for his products. Typically, what you pay a farmer goes directly towards his livelihood, and if you try to get a deal that is unfair, you're directly affecting your farmer's ability to make a living. Don't do that! In fact, don't be afraid to give him a little extra sometimes. When we buy from our farmer, I often just round the total up to the nearest dollar or five dollars and give him that and don't ask for change. Recently my farmer asked if I had a SCOBY around (I did) and if he could pay me for it – I said no! It's a small way I can give back.
You might even be able to find a really awesome deal if you develop a relationship with someone, that benefits everyone. I've heard that there's a local, small Amish farmer around here who grows a fair amount of blueberries each year. She will let anyone who wants come in and pick anything they want, for free – all they need to do is leave half of what they pick with her! Everybody wins.
(Side note: in many cases, you-pick is cheaper than pre-harvested since the farmer didn't have to pay for labor. Remember that and be willing to work with it if you want the best deal! You can even offer to help pick to get a deal even if the farmer doesn't officially offer you-pick because you would be helping the farmer out. Not all would be open to this, but some would.)
Finally, it's important to remember that buying from farms is not like buying from regular stores. You need to wait until certain things come into season, and the weather and many other variables can affect when that happens. Depending on demand, the farmer may run out of something sooner than anticipated – and he can't just call his "supplier" and get more, he has to wait until his field produces more (or maybe he's just out for the season). I wrote a post on this last year, How to Buy from a Farm.
And…in case you're already thinking about fall preservation (which you should be as you're planning a garden – or your future farm purchases!), check out my Fall Preservation Guide to help figure out what you really need and how much you might need to spend!
You might also be interested in:
How to Find Local Sources of Raw Milk
How to Find Local Sources of Meat
Understanding Community Supported Agriculture (CSA's) and Their Benefits
How have you had success in finding local farmers?