Simple and Healthy Protein Smoothie Recipes the Whole Family Will Love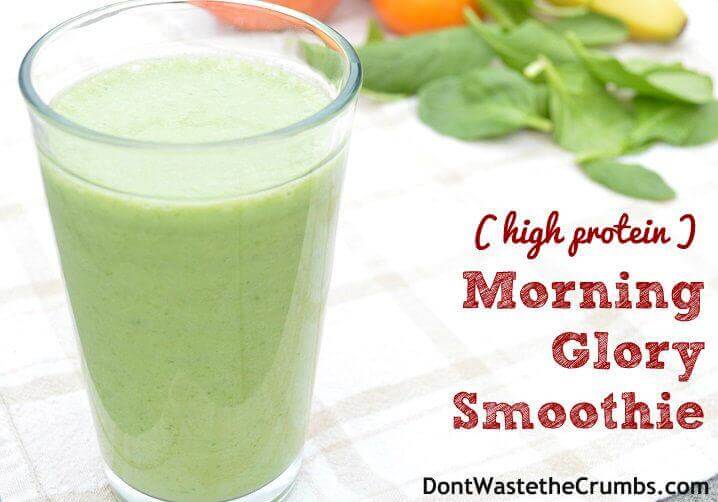 Guest Post by Tiffany
Sometimes we real foodies make healthy eating way more complicated than it needs to be.
I completely understand the confusion (and sometimes frustration) of trying to eat healthier foods, especially when you're trying to eat real food without going broke. But I think it's fair to say that all real foodies can agree on one thing:  Fruits and vegetables are good, and the more we eat the better.
That's why I love smoothies. Fresh seasonal fruit blended with a handful of spinach and homemade yogurt means the whole family gets a healthy dose of probiotics, plus a few servings of fruits and vegetables in one fell swoop, and in just one glass!
The only problem I've run into so far with smoothies is the lack of protein. Every cell in our body is made up of protein, and our diets must contain enough of this nutrient so that cells can repair themselves and the body can function properly. Plus, eating protein tricks the brain into feeling fuller longer. This means parents are less likely to hear the inevitable "I'm hungry" chant from the kids if smoothies contained a bit more protein.
There are numerous protein powders available on the market, but to be honest, they're powders and I'm skeptical. From what I've learned in our adventures of healthier eating so far, real food – in nature – is not usually a powder.
So I did a little bit of research and a lot of experimenting and found a way to turn an ordinary smoothie into a nutritional powerhouse packed with protein. These new creations still contain fruits, vegetables and healthy probiotics, but now they offer enough protein to rival commercial powders AND are still 100% real food.
How is it possible?
The secrets are in my new eBook, High Protein, No Powder:  Protein Bars and Smoothies Made with Real Food.  It's the only eBook that explains the hidden dangers of commercial protein supplements and teaches how to make protein bars and smoothies at home using only real food. Plus the book contains 34 tried and true real food recipes that don't require expensive or exotic ingredients, making it suitable for any size grocery budget.
Flavors like Apple Pie, Banana Bread and Strawberry Cheesecake make smoothies for breakfast fun! My personal favorite is Peach and Blueberry and my husband likes Mango Tango, but the Morning Glory smoothie is perfect for colder months when quality fresh fruit is harder to find. Apples, bananas and oranges are easy winners among kids, and you would never guess it contained cottage cheese! Swap flax seeds for chia seeds if you don't stock chia in your pantry, and add another ½ cup of fruit to create limitless flavor combinations!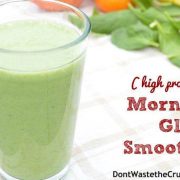 Print Recipe
Morning Glory High Protein Smoothie
Ingredients
1

cup

kefir

1/4

cup

full-fat cottage cheese

2

Tbsp

chia seeds

1

cup

loosely packed spinach

½

cup

banana

½ medium

½

cup

apple

½ medium

½

cup

peeled orange slices

½ medium

¼

cup

coconut water or whey

optional
Instructions
Add the ingredients in the order listed to a blender and blend on high for one minute. Repeat if necessary.
High Protein, No Powder is allergy-friendly, so even families with sensitivities to gluten, soy, corn and dairy will be able to fuel their bodies with protein, WITHOUT having to rely on expensive processed powders.
Eating healthy doesn't have to be complicated. Take a simple step in the right direction and add high protein smoothies into your meal plan for 2014!
What is your favorite protein smoothie recipe?