Simple Homemade Ranch Dressing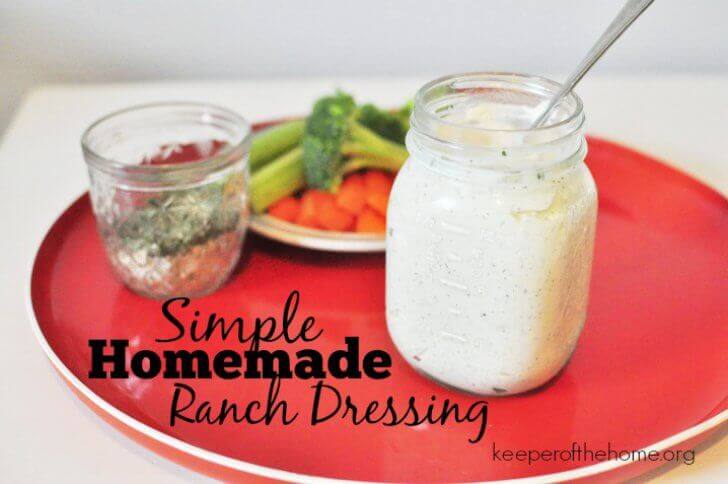 By Emily McClements, Contributing Writer
Whether a topping for salad, a dip for crudités, or a way to get your kids to eat something they might not otherwise eat, ranch dressing is a staple for many families.
But as those of us who have been around the real food/natural living world for more than a few weeks know, the ingredients in most store bought ranch dressings, like soybean oil, MSG, sodium benzoate, and others, are not something we want our family to eat on a regular basis.
I grew up eating a well known brand of ranch dressing and loved it on everything. I would cover my salads with it, dip everything from carrots to chicken nuggets to pizza into it, and even mix it with salsa for a chip dip or taco topping. I loved ranch dressing.
Then when my family began moving toward more real, whole foods I knew my love affair with this ranch dressing was going to have to end. I searched for a more natural brand of ranch dressing with ingredients I was okay with, but they didn't taste the same and some even tasted flat out bad to me. I found recipes on Pinterest for homemade ranch dressing and tried several different ones, still they were not quite right.
So I gave up on ranch for a while and tried to replace it with other kinds of homemade dressings and dips, but I was never completely satisfied. I definitely missed my ranch dressing.
One more time I scoured Pinterest for homemade ranch recipes. I had an idea of what I was looking for, based on my previous attempts, as I looked through dozens of recipes. After testing and tweaking a few different recipes, I finally settled on a homemade ranch dressing that I really love and that tastes even better, in my opinion, than the kind I grew up with!
Here's what I love about this Homemade Ranch Dressing:
1. It's made with a spice mix, so you can make up a large batch of the spice mix and then just mix up a smaller batch of dressing when you need it. That way the dressing doesn't go bad if you don't eat it all right away.
2. The dressing uses ingredients I always keep on hand, and that have a longer shelf life in the fridge, meaning I don't have to make a special trip to the store just to make the dressing. Many of the recipes I had tried originally called for buttermilk and that's just not something that I usually have in my fridge.
3. You can use the spice mix in recipes that call for a packet of ranch dressing mix, so this recipe does double duty!
4. A simple measurement adjustment to the recipe gives you a thicker dressing you can use for dips, which my kids love!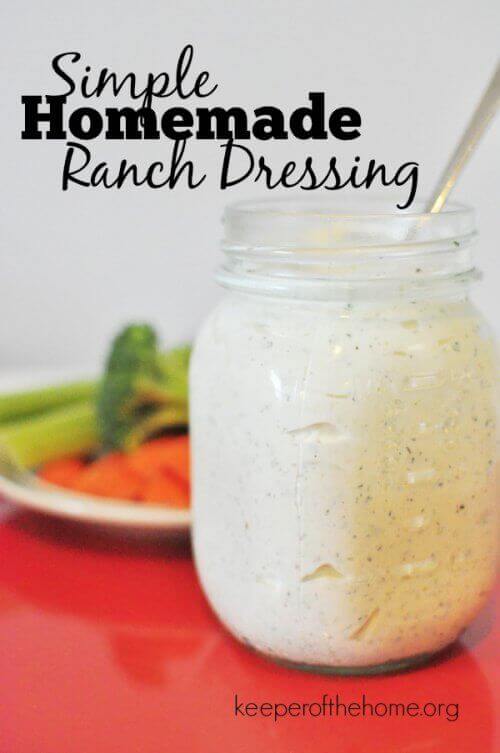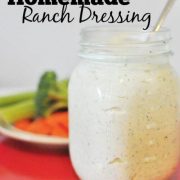 Print Recipe
Homemade Ranch Dressing
Ingredients
1/4

cup

mayo

You could use homemade mayo or a natural brand; I use Hain Safflower Mayo

3/4

cup

sour cream

1

tsp

lemon juice

1

tsp

olive oil

1

Tbsp

ranch spice mix
Instructions
Mix the ingredients together with a blender or immersion blender. I use an

immersion blender

and feel like it does a great job and I have less clean-up than if I used a regular blender. Taste and adjust the ingredients or spices if needed.

For a thicker ranch dip, use 1 cup of sour cream and add a little more spice mix if needed.

This should keep in the fridge as long as any of the ingredients would keep on their own. Use your best discretion.
Enjoy this healthy and easy homemade ranch dressing whenever you need a delicious topping for salads or dip for the kiddos. Who am I kidding, I eat this as a dip almost more than my kids do!
What was one of your favorite conventional foods you felt like you had to give up when you switched to a real food diet? Have you been able to find a homemade replacement you enjoy even more?
Disclosure: This post contains affiliate links. When you buy through our links, we earn a small commission, which helps to keep this site going so that we can continue to offer free and useful content, so thanks!