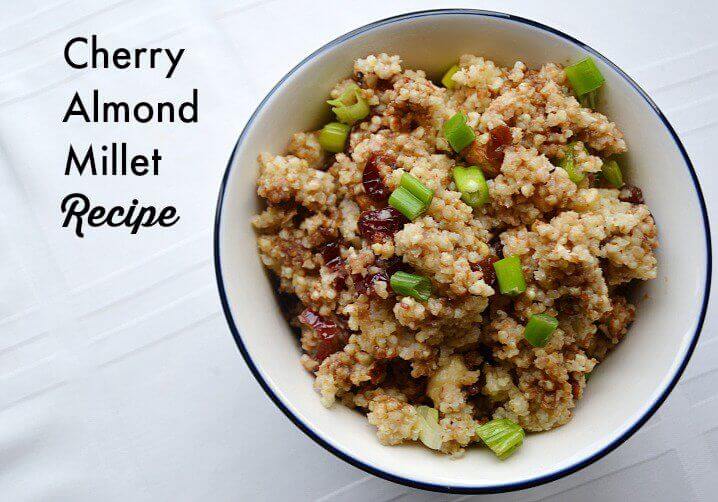 By Andrea Green, Contributing Writer
This cherry almond millet recipe is a quick and easy dish to prepare. It's also versatile. Serve it as a side or as a main dish.
Are you new to millet? It is a must try, particularly if you are looking to get more whole grains in your diet. The taste is milder than quinoa but nuttier than couscous.
One of the benefits of millet is it is not only a high protein grain, but it happens to be gluten-free.
Cooking millet is simple. The key is to avoid overcooking it. Otherwise, it can turn mushy. I'd recommend printing out How to Cook Grains and keeping it inside your cabinet door so you can quickly reference how to cook it!
As with most whole grains, millet benefits from a quick rinse under cold water before cooking. This removes some of the starchiness and creates a fluffier dish in the end.
You can serve this cherry almond millet recipe hot as a tasty side dish to chicken or pork.
I actually like to serve this dish cold. Since I am anti-sandwich for lunch (I just don't like them!), I make up the recipe at the beginning of the week, then I help myself to this healthy grain dish for lunch.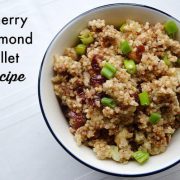 Print Recipe
Cherry Almond Millet
Ingredients
1 1/2

cups

millet

3

cups

water

3/4

cup

dried cherries

pinch

of sea salt

3

tablespoons

extra virgin olive oil

4

tablespoons

balsamic vinegar

3/4

cup

roughly chopped almonds

3/4

cup

chopped green onions
Instructions
Rinse and drain millet. Heat a large pan over medium heat. Add the millet and toast for 3 to 4 minutes, or until all the water evaporates.

Add 3 cups of water, the dried cherries and a pinch of sea salt. Bring to a boil.

Cover, reduce heat to low and cook for 25 minutes or until all water is absorbed.

Remove from the heat and allow to sit for 5 minutes before removing the lid.

Combine olive oil and vinegar. Pour over millet. Fold in almonds and green onions. Fluff with a fork and serve.

Have you given millet a try before? What's your favorite way to serve it?