Why Quinoa Deserves a Permanent Spot in Your Diet (with recipe links!)
It was the year 2001. I was a high school kid on a short-term missions trip to Bolivia. We were doing a touristy day trip to Lake Titicaca, and I trepidatiously boarded a sketchy looking boat to go out on the lake for a little tour with my trip mates.
What I didn't know at the time was that I was in the very place where quinoa first originated thousands of years ago! I'm not sure my 18-year-old self would have found that little factoid as fascinating as my 30-year-old self finds it, but nonetheless, I'm definitely holding on to this little fact for bragging points among my crunchy/foodie friends.
Most people's first question about quinoa is "how the heck do I pronounce it?!" The answer is: "KEEN-wah." Say it with me, now. All the cool kids say it with a little gusto, by the way. It's a fun word, so roll with it.
Nutrition & History
I love quinoa. It's an ancient superfood that is packed with nutritional benefits, and it's even gluten-free! It's technically a seed, but functions like a grain. It's better for you than the more starchy grains like rice and oats, however, because it is very high in protein, and low in starch. It also has a low glycemic index, which means that it won't spike your blood sugar like wheat and other starchy grains, and is very high in essential vitamins and minerals.
As I mentioned above, it originated in Bolivia, where it is still grown to this day. It is said that it was a superfood for Inca warriors, and gave them stamina and strength.
Personally, I am pretty sure that I basically turn into an Inca warrior when I eat it. Like a transformer, basically. I'm certain that eating quinoa builds up my muscles and is basically the exact same thing as a heavy workout. Right? (Just nod and smile, okay?)
North Americans have only been growing this superfood since 1982, but the Incas have known how amazing it is for thousands of years. The Spanish conquistadors nearly wiped it out by making it illegal to grow, but thankfully they did not succeed. It was later brought to North America to grow in the 80's, and has surged in popularity since then.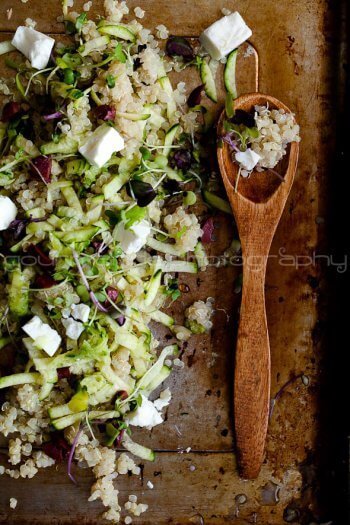 Bitter Saponin Coating
The outside of quinoa is coated in saponin – a bitter substance that actually helps protect it from being eaten by birds while it is growing. According to one article I read, scientists decided at one point to try to modify it to grow without the saponin, and – of course – the birds ate it all.
Isn't that the way it usually goes? God designed our food in certain ways for good reason, and when we start messing around with it, it doesn't usually end well. (Ahem – GMO's, anyone?)
Because of the bitter saponin, it's really important to be sure to rinse your quinoa under cold water really well before cooking. This will remove the bitter taste.
More about quinoa
There are several different varieties and colours
Quinoa flour is a great flour for gluten-free baking
You can even pop it like popcorn!
Quinoa can be sprouted for better nutritional value
It was called considered sacred by the Incas, and called the Mother Seed
Recipe links
So now that you know just how amazing it is, here are 20+ of the most mouth-watering recipes I could find that use quinoa!
Grilled Chicken Quinoa Salad with Fresh Herbs and Goat Cheese
Mediterranean-Salmon Quinoa Salad
Quinoa Stuffed Vegetarian Cabbage Rolls
Homemade Sushi Nori Rolls with Quinoa
Chicken, Broccoli, and Quinoa Salad
Easy Quinoa with Corn and Cilantro
Zucchini Quinoa Salad with Microgreens
Soaked Gluten-Free Whole Grain Flatbread
Quinoa Chocolate Streusel Muffins
Do you love quinoa? What's your favorite way to eat it?