Best Summer Slaw with Kale, Brussels, Apples & Almonds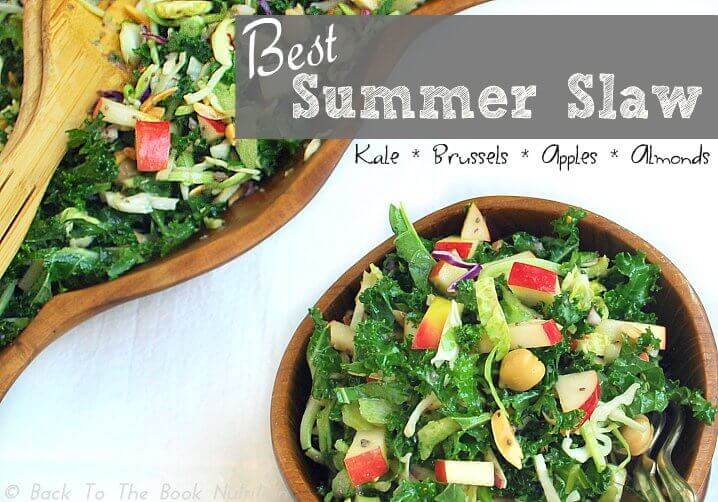 Guest post by Dena Norton
Happy Memorial Day! Guess who's coming to my picnic today? This slaw, that's who.
I like traditional cole slaw, but I love this recipe – as in, LOOOVE it.
It's perfect alongside a Memorial Day burger and some oven fries, but it's also simple enough to throw together for a weekday lunch, and pretty enough to serve when guests come for dinner.
I've dubbed this slaw, "The Salad of Summer 2014" and have already decided we will be eating it almost every week for the next three months.
And why not? It's easy, it can be made ahead, it's refreshing, beautiful, full of insanely healthy ingredients straight from God's creation, and my entire family raved about it on it's recent debut – toddler, included.
It sure made this mama smile big when the little guy demanded seconds on the salad!

What You'll Need
All it takes is a little elbow grease to chop the apples, onions, and greens if needed (that totally qualifies as exercise at our house, by the way!), one big bowl to mix everything in, a quick whisk of dressing ingredients, and then pour, baby, pour.
For the base of the slaw, I use a bagged mix of "Cruciferous Crunch Collection" from Trader Joe's. However, chopping some kale, Brussels sprouts, and cabbage yourself would only take a few extra minutes. I've included both options in the recipe below.
Of course, the mix-ins are entirely flexible as well. Sub in your favorite fruit, nuts, seeds, and beans to give the recipe a twist of your own. But the dressing – please promise me you won't mess with the chia and Dijon vinaigrette dressing, 'kay? It's just perfection.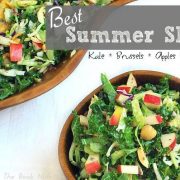 Print Recipe
Best Summer Slaw with Kale, Brussels, Apples & Almonds
Ingredients
Dressing Ingredients
3

tablespoons

apple cider vinegar

3

tablespoons

raw honey

2

teaspoons

Dijon mustard

1/4

cup

finely chopped red onion

1 1/2

tsp

chia seeds

1/2

teaspoon

house seasoning

I use a 4:1:1 ratio of sea salt:black pepper:garlic powder

1/4

cup

extra virgin olive oil
Slaw Ingredients
1

10 oz. bag of Trader Joe's Cruciferous Crunch Collection (or roughly 5 cups chopped kale leaves, 2 cups shredded or finely chopped Brussels sprouts, 1/2 cup each: chopped green and purple cabbage)

1

large apple

I like the tart-sweet varieties like Jazz and Pink Lady

1/2

cup

toasted slivered almonds

1/2

cup

chickpeas
Instructions
In a small bowl, mix all dressing ingredients except oil. Drizzle oil gradually while whisking constantly to form an emulsion. Set aside.

In a large bowl, toss all salad ingredients, then pour dressing over all before giving it another good stir.
Notes
This salad can be eaten right away, but is ideal if allowed to rest for an hour or so in the fridge prior to serving. It can be stored for a few days in the fridge, but will lose some of it's crunch over time, similar to traditional cole slaw.

Ready?
Starting now, exactly 97 days of splendid summer remain  – anyone care to join me in my resolve to slow down the pace, soak up the extra sunshine, work less and play more, swim, picnic, vacation, and eat the very Best Summer Slaw as often as humanly possible?
If you try the Best Summer Slaw with Kale, Brussels, Apples & Almonds, what do you think of it?