5 Ways to Eat Kale You (Likely) Haven't Thought Of Before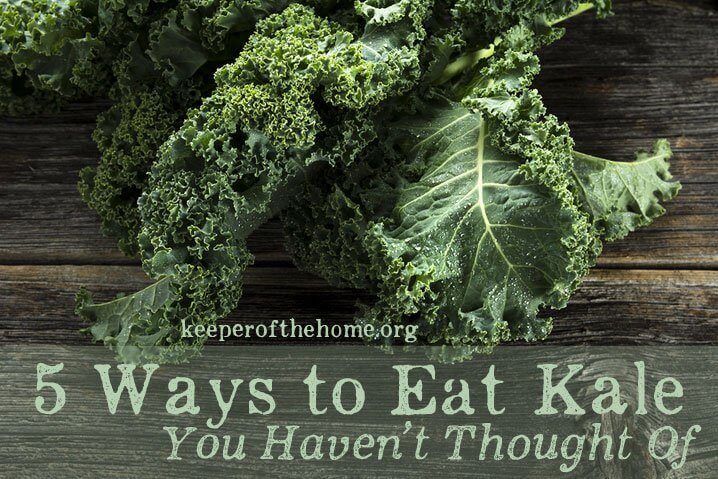 By Kresha Faber, Contributing Writer
In my final year of university, all graduates were encouraged to attend a multi-course dinner hosted for the sake of teaching its graduates some basic etiquette. This wasn't an act of compassion for society at large, per se, but specifically for the reason that the powers-that-be at the university wanted to give us the tools we needed to succeed in business – including business lunches.
Toward the end of the first course, I began demurely munching on the kale set on the plate. The host stopped his lecture mid-sentence to call across the room and remind me that the kale was merely decoration and was not to be touched.
In the years since that dinner, kale has most definitely moved from the limelight into the spotlight. While it's still used as culinary decor, these days kale is added to everything from smoothies to power drinks and in my local grocery store, there are more than five brands of kale chips offered as a substitute for potato chips (and they're easy to make at home, too). And just last month, another contributing writer here at Keeper of the Home posted this photo just to show how trendy kale has become:

Photo credit: Andrea Green, contributing writer
However, there's a lot more to kale than meets the eye and there are about a bazillion ways to enjoy it beyond just in smoothies and as a crispy snack.
First of all, when most people hear the word "kale," they think of curly kale, which is the type that's pictured at the top of this article. However, Cornell University lists 48 different varieties that provide an entire range of textures, colors, and flavors that range from purple to pink to white to deep dark green. Personally, I only have regular access to three varieties: curly, Red Russian, and Lacinato, so most of my recipes and tips deal with these three.
Also, kale – in all its varieties – is packed with nutrients, so the fact that the trendy reference to it as a "superfood" isn't far off the mark. According to WHFoods, kale provides noticeably high levels of Vitamins K, A, C, and B6, as well as the minerals manganese, copper, iron, and a number of others.
(Of course, while most of us don't run the risk of eating too much kale, do keep in mind that both your colon and your thyroid will thank you for eating generous but well-balanced portions of kale. In other words, it's a superfood only when consumed as part of a diet balanced with other nutrient-dense foods. See more about why kale is a goitrogenic food.)
Kale also tends to be fairly inexpensive (especially the curly variety), so it can be a great way to pack a punch with your grocery dollars.
Okay, with all of that, how can we go about increasing the amount of kale in our diets without drowning ourselves in smoothies or making kale chips every day?
5+ Creative Ways to Eat More Kale
Here are 5 creative ways (plus one not-so-creative idea!) for adding kale to your family's menu:
Basic sauté of kale and feta
This is the not-so-creative idea, but my family eats this as a side at dinner at least three times a week because it's so yummy, so this list would be incomplete without it.
Merely chop one bunch of kale (any variety) into 1-inch strips, then sauté it over medium heat in either butter or olive oil, turning frequently, until it's fully wilted. Crumble 1/2 cup feta cheese over the top and serve hot.
Substitute for spinach in your favorite dish (spanakopita, lasagna, etc.)
Spinach makes its way into lots of baked entreés – spanakopita, lasagna, quiche, omelettes, gratins, fritattas, Eggs Florentine, and spinach & artichoke dip, just to name a few.
Little known secret: kale works just as well in all of them. Prepare the kale as you would the spinach in any recipe, but keep in mind that kale is slightly more fibrous, so you may need to sauté it a bit longer than you do spinach. Other than that, it can be a simple switch.
Kale also works beautifully in pretty much any dish that features beans, bacon, or sausage, plus softer baby kale is lovely on a Margherita pizza. Go ahead – try it!
My favorite baked spinach dish that kale transforms is Mushroom & Spinach Lasagna. Scrumptious!

Photo Credit: Andrea Green, contributing writer
As a salad
Most people don't think of kale as a salad green because it's not as soft and delicate as typical salad greens, such as lettuce, mizuna, or spinach. But try making a salad with Lacinato kale (also known as Tuscan kale or Black kale) or with baby kale, which has a softer texture and a milder flavor, tossed in a creamy dressing.
My favorite creamy dressing for a kale salad has an avocado base and you can find it in my book, The DIY Pantry, but unless you're standing in a bookstore as you read this, a faster and more comprehensive recipe comes from Heidi Swanson at 101Cookbooks. She has an absolutely swoon-worthy kale salad with an avocado-based dressing that I've made numerous times. Try it. You won't be disappointed.
You can take the salad a different direction too, if creamy doesn't suit you. This Cranberry Apple Kale Salad with a Lemon Vinaigrette offers just the right perk every time.
In Brownies…
This is the totally legitimate way to hide greens in your brownies (and other chocolate goodies).
The next time you mix up a batch of brownies, toss in about 1/4 cup of very finely diced raw kale. (If your recipe uses any liquid, you could also place the kale and that liquid in a blender and pureé it to make it smooth.)
Bake as normal and enjoy fully.
… and in Fudge Pops and Chocolate Pudding
Speaking of chocolate – which will hide pretty much anything, by the way – add a bit of pureéd kale to your next batch of fudge pops or chocolate pudding. I use about 1 tablespoon of pureé per fudge pop, so that works out to about 1/2 cup of pureé per 4 cups of fudge pop mixture or chocolate pudding.
In Sandwiches and Burgers
When you're layering your favorite bun for a sandwich or burger, use a kale leaf instead of lettuce. Non-curly varieties work best for this, such as Red Russian or baby kale. If your family won't stand for such an option, consider adding chopped, sauteéd kale into the meat mixture before you shape them into patties. (They'll never know!)
Print Recipe

Kale Pesto

This pesto is fabulous tossed with pasta, spread under a burger, dolloped on top of salmon, or any other way you love pesto.

Ingredients

1

bunch kale

any variety, stemmed and chopped

3/4

cup

walnuts or pecans

chopped

1/2

cup

grated parmesan cheese

1

clove

garlic

chopped (more if desired)

1/2

cup

extra virgin olive oil

2

tablespoons

lemon juice

1

pinch

each salt and pepper

to taste

Instructions

Blanch chopped kale in boiling water for 30 seconds, then drain and set in a prepared bowl of ice water. Dry thoroughly.

In a food processor, pulse together kale, nuts, Parmesan cheese, and garlic until coarsely ground. With the motor running, slowly pour in the olive oil, lemon juice, and pepper until finely chopped. Add salt as needed.

Store in the refrigerator for up to 1 week.
How you do eat kale and other leafy greens? Any creative tips to share with our other readers?