How to Make Slow Cooker Pumpkin Butter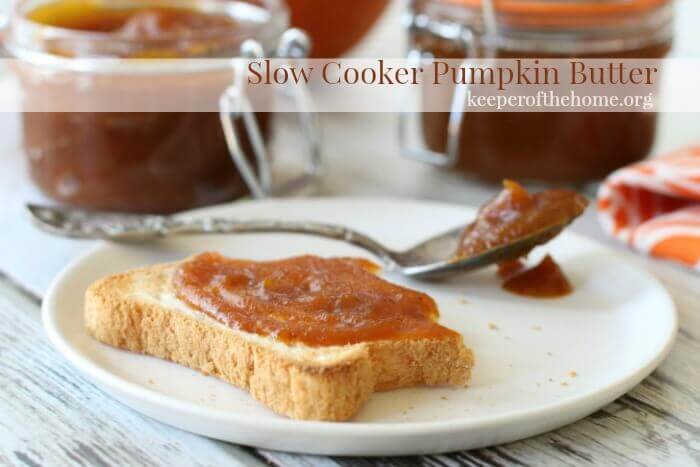 By Kelly Smith, Contributing Writer
If you're a pumpkin pie aficionado, you're going to fall in love with this delightful pumpkin-spice spread that captures the delicious flavors of fall with every smooth and creamy bite!
This spread also makes a thoughtful gift! Simply spoon it into adorable little mason jars and add some pretty ribbons or twine for a sweet, wholesome gift everyone will love!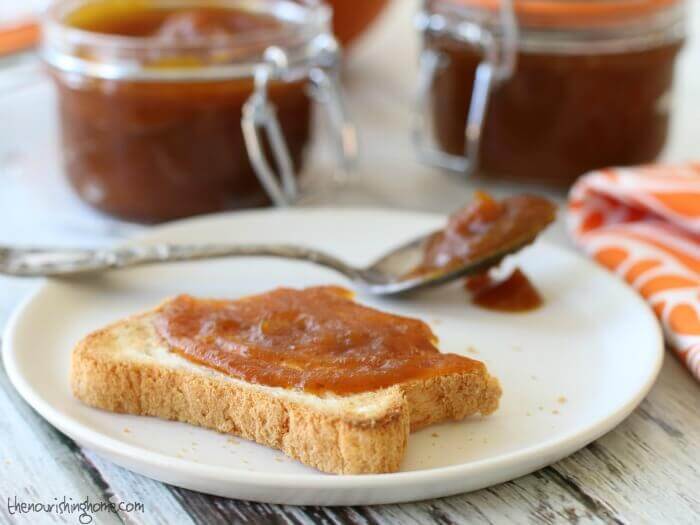 Lest you think pumpkin butter is merely for spreading on toast, below you'll find some of my favorite drool-worthy ways you can tantalize your taste buds with the ultimate pumpkin-licious treat!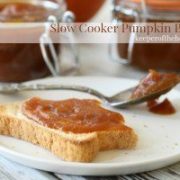 Print Recipe
Easy Slow Cooker Pumpkin Butter
Ingredients
6

cups

of homemade pumpkin puree

or three 15 oz. cans

1 1/2

cups

<a href="http://www.amazon.com/s/ref=as_li_ss_tl?url=search-alias%3Dgrocery&field-keywords=pure+maple+syrup&sprefix=pure+maple+syrup

aps,170&linkCode=sl2&tag=keeofthehom-20&linkId=721fe22f8363e72fbc4abe224b2a2d0f" target="_blank" rel="nofollow">pure maple syrup

1 1/4

cups

<a href="http://www.amazon.com/s/ref=as_li_ss_tl?url=search-alias%3Dgrocery&field-keywords=unfiltered+apple+cider+vinegar&sprefix=unflitered+apple

aps,169&linkCode=sl2&tag=keeofthehom-20&linkId=bf1aeda77d408e43fc9b98c69f7de51f" target="_blank" rel="nofollow">unfiltered apple cider

1

tablespoon

pure vanilla extract

2

tablespoons

pumpkin pie spice

2

teaspoons

ground cinnamon

1/8

teaspoon

sea salt
Instructions
Place all of the ingredients into a 4-quart slow cooker and stir well to combine. (If using canned pumpkin, be sure it's pure pumpkin and not pumpkin pie filling.)

Cover and cook on low for 5 hours, making sure to stir mixture halfway through the cook time to prevent burning since some slow cookers run hotter than others.

After 5 hours of cooking, remove the cover, stir the mixture and then set the cover back on slightly ajar, so some steam can escape during the remainder of the cooking time. Continue to cook the pumpkin butter on low (with the cover ajar) until it's dark brown and thick (about 2 hours).

Turn off the slow cooker, stir the pumpkin butter and allow it to cool to room temperature. Then, transfer it to mason jars or other airtight containers.

Makes 12 half-cup, or 6 one-cup jars. (Store in refrigerator for up to two weeks or freeze up to one year.) Enjoy!
Our Favorite Ways to Enjoy Pumpkin Butter
This scrumptious pumpkin butter not only tastes amazing as a spread on your favorite breads, muffins and scones, but you can also use it to add a burst of fall flavor to your other favorite dishes.
Stir it into homemade oatmeal and top with raisins and pecans.
Layer it with homemade yogurt and nutty granola for a yummy autumn-inspired parfait.
Serve it with fresh fruit for some tasty fall-dipping fun!
Enjoy a delicious pumpkin butter latte by adding a couple of spoonfuls to warmed milk, whip well, and top with dark roast coffee or espresso.
Swirl into vanilla ice cream and top with a drizzle of hot chocolate sauce for the ultimate fall-flavored dessert! 

Are you a fan of pumpkin butter? If so, what's your favorite way to enjoy this delicious fall treat?
Disclosure: This post contains affiliate links. When you buy through our links, we earn a small commission, which helps to keep this site going so that we can continue to offer free and useful content, so thanks!