12 Simple Homemade Spice Mixes
The first time someone asked me if I made my own spice mixes, I was kind of taken aback. To be honest, it really hadn't occurred to me to do it.
I guess I figured that was maybe a job for professional chefs and food science experts; how was I supposed to know what portions to mix together to get the perfect blend?
Well, it prompted some research on my part, and lo-and-behold, homemade spice mixes are within any cook's (and Keeper's) reach! Seriously, we're talking so simple your preschooler can help mix them! (Well, maybe not chili powder.)
To be clear: I'm not talking about making my own homemade anise or marjoram (though I suppose that is possible!) but about making spice blends to use in recipes – like allspice, or taco seasoning, or lemon pepper.
Homemade Spice Recipes
Aside from the fact that it's really easy to make these, and that you'll feel kind of like Martha Stewart when you do, there are some compelling health reasons to avoid pre-packaged spice mixes.
While you'd think spice mixes contained, well, just spices, in actuality there can be lots of other ingredients thrown in: modified food starch, partially hydrogenated oils, MSG, and other crazy chemical preservatives. No, thank you.
So, it's easy; it's healthier, and did I mention you'll save money, too? You'll be able to buy your ingredients in bulk, mix up the blends, and have enough to last for a Very. Long. Time. Or you might give some away as gifts!
Ready to do this? Of course you are!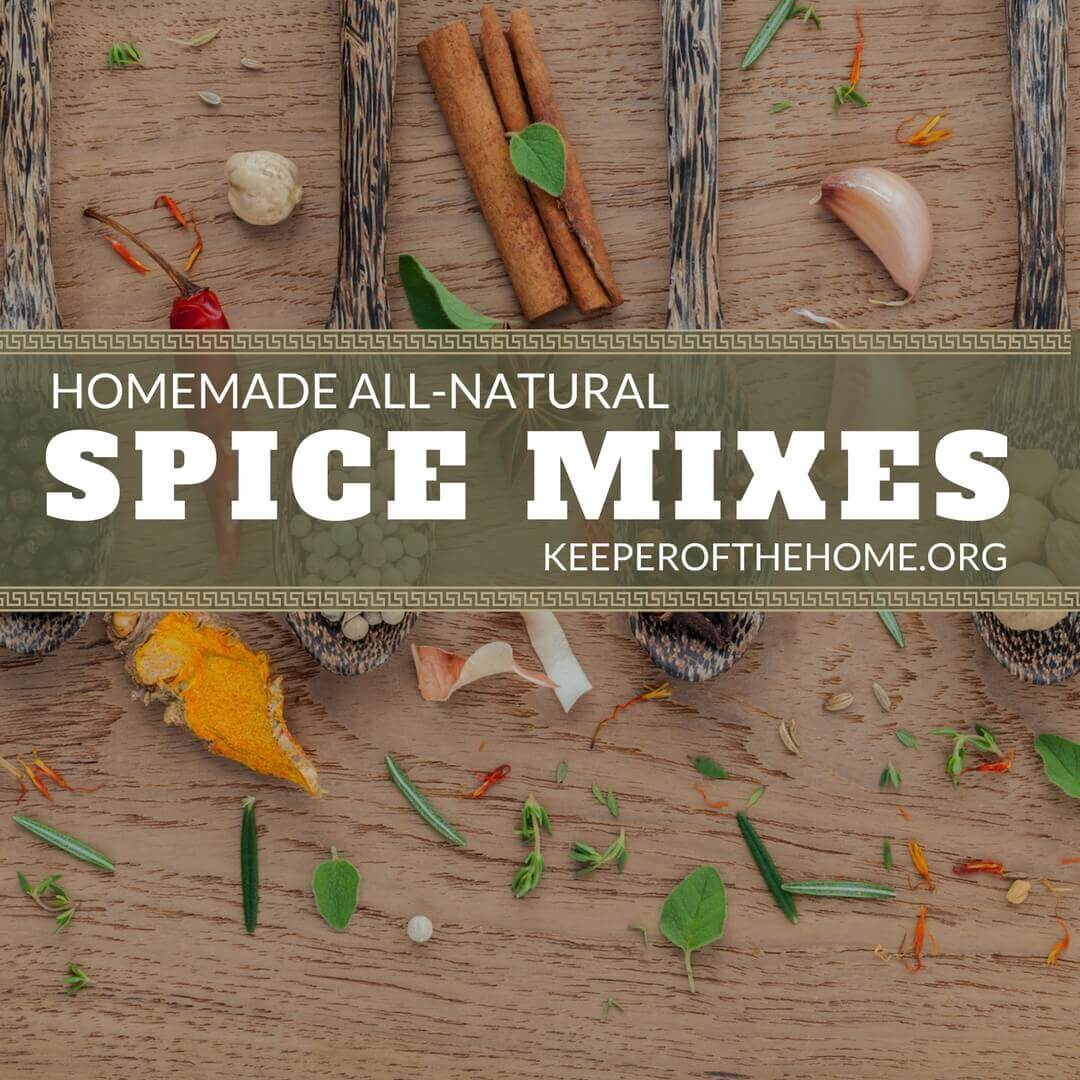 First you'll want to find a place to purchase your spices in bulk, such as local grocers like Whole Foods and Earth Fare.
You'll also need some jars.
Baby food jars are actually perfect, if you have them or know someone who does. Small canning jars work too, or you can actually order empty glass spice jars for a great price from various online outlets like Mountain Rose.
If you've got your set of measuring spoons ready, then you're good to go!
For each of the following recipes, you simply combine the spices/herbs in the jar and shake to combine. I told you it was easy!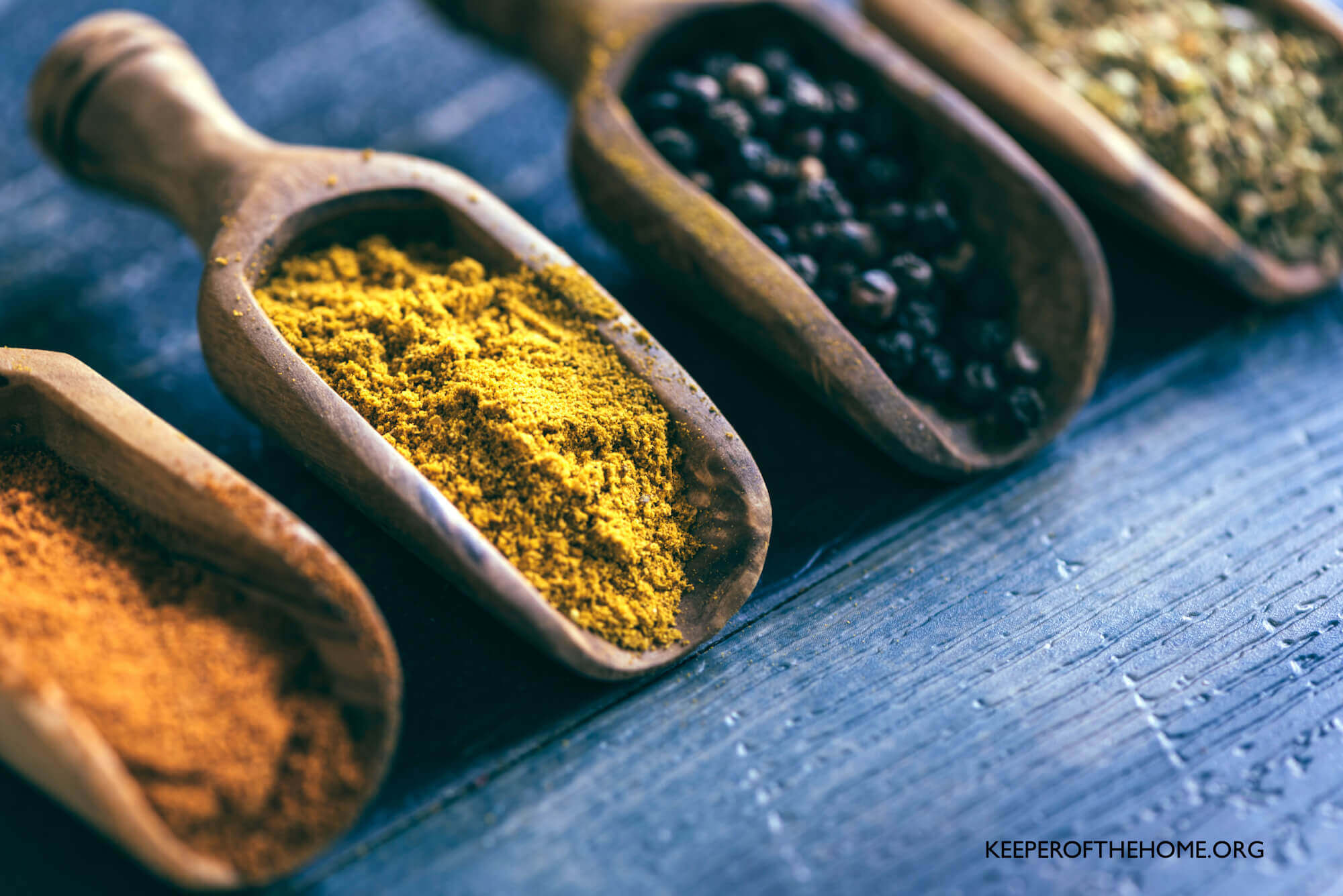 Homemade Seasoned Salt
8 Tbsp salt
½ Tbps onion powder
3 Tbsp pepper
½ Tbsp garlic powder
2 Tbsp paprika
Homemade Lemon Pepper
2 Tbsp lemon zest
3 Tbsp ground black pepper
1 Tbsp salt
Homemade Italian Seasoning
¼ cup dried basil
2 Tbsp dried thyme
2 Tbsp dried marjoram
2 Tbsp dried rosemary
2 Tbsp dried oregano
2 tsp garlic powder
2 Tbsp dried coriander
1 tsp sugar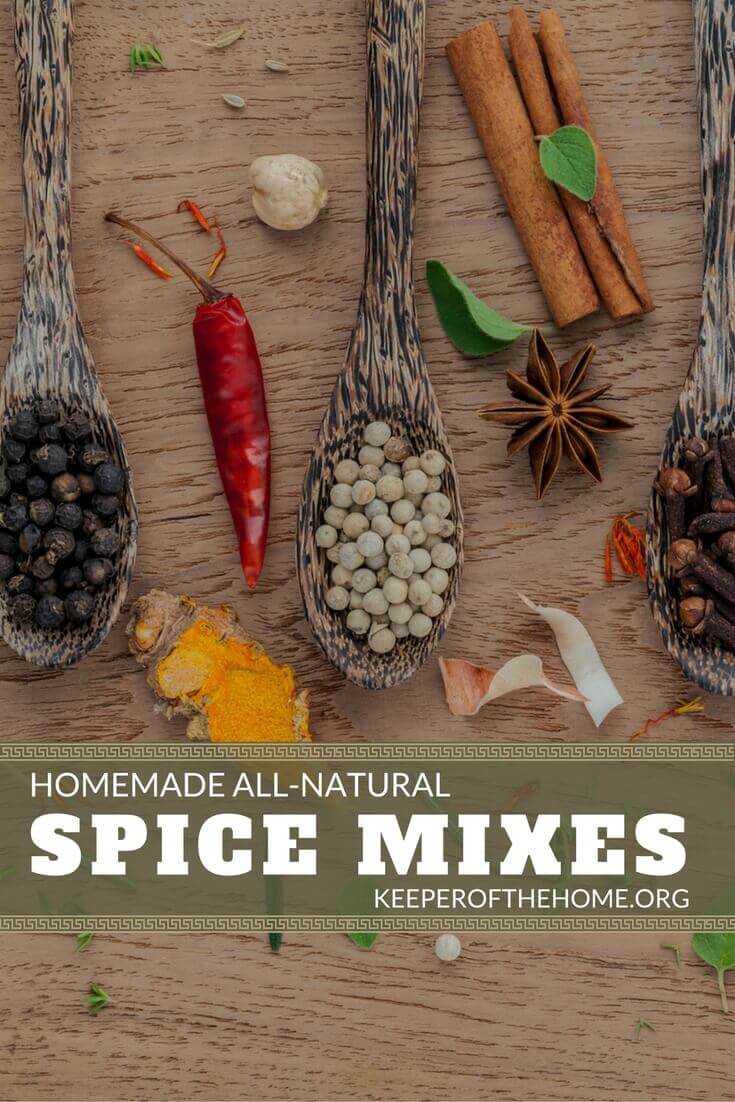 Homemade Poultry Seasoning
2 tsp sage
1 ½ tsp thyme
1 tsp marjoram
¾ tsp rosemary
½ tsp nutmeg
½ tsp black pepper
Homemade Taco Seasoning
6 tsp chili powder
4 ½ tsp cumin
3 tsp onion powder
2 ½ tsp garlic powder
5 tsp paprika
¼ tsp cayenne pepper
¼ tsp oregano
Note: You can use a little less of this than store-bought seasoning, as it is a bit more potent.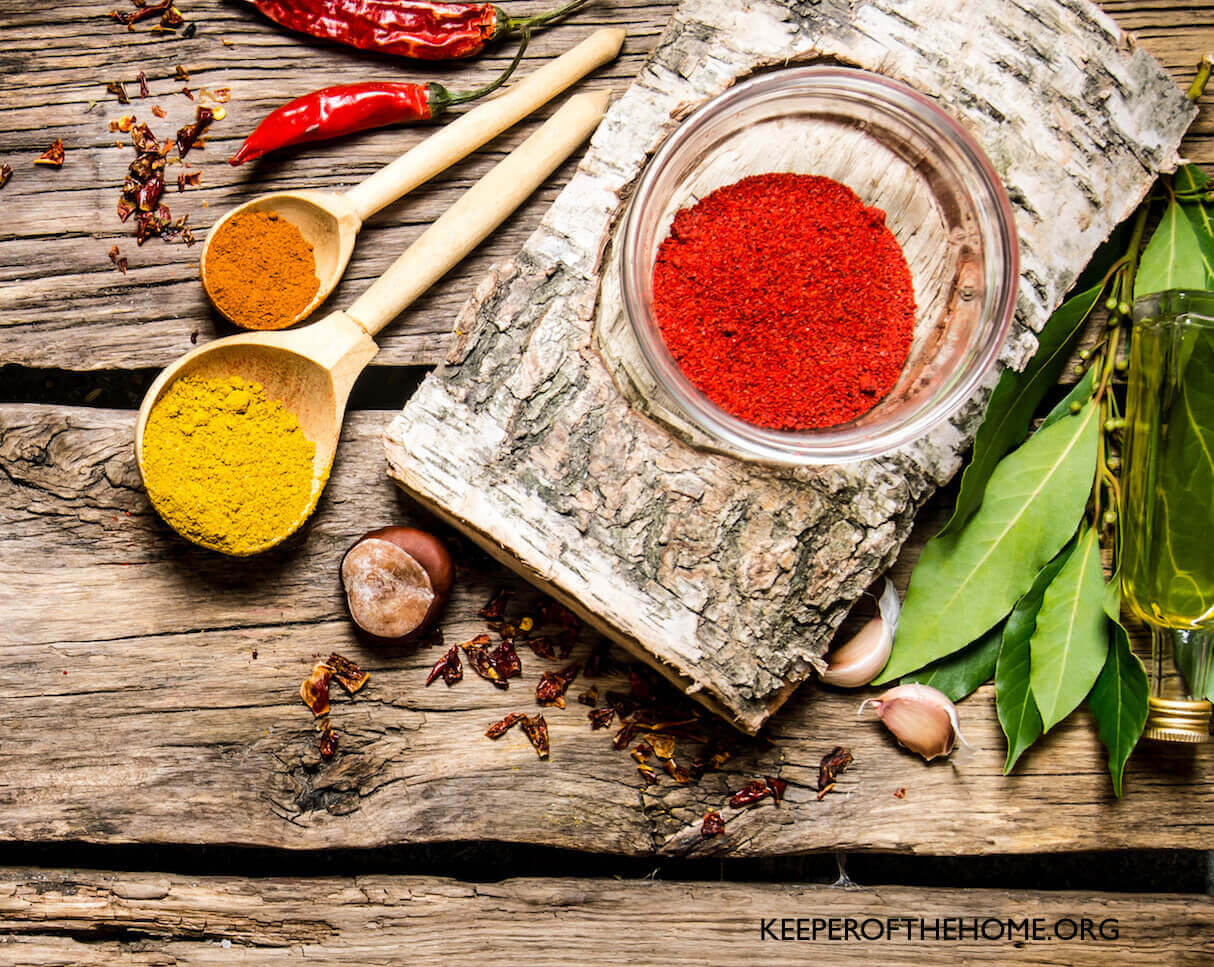 Homemade Pumpkin Pie Spice Mix
1 tsp ground cinnamon
¼ tsp ground nutmeg
¼ tsp ground ginger
1/8 tsp ground cloves
Homemade Apple Pie Spice Mix
2 Tbsp ground cinnamon
½ Tbsp allspice
1 tsp nutmeg
1 tsp ginger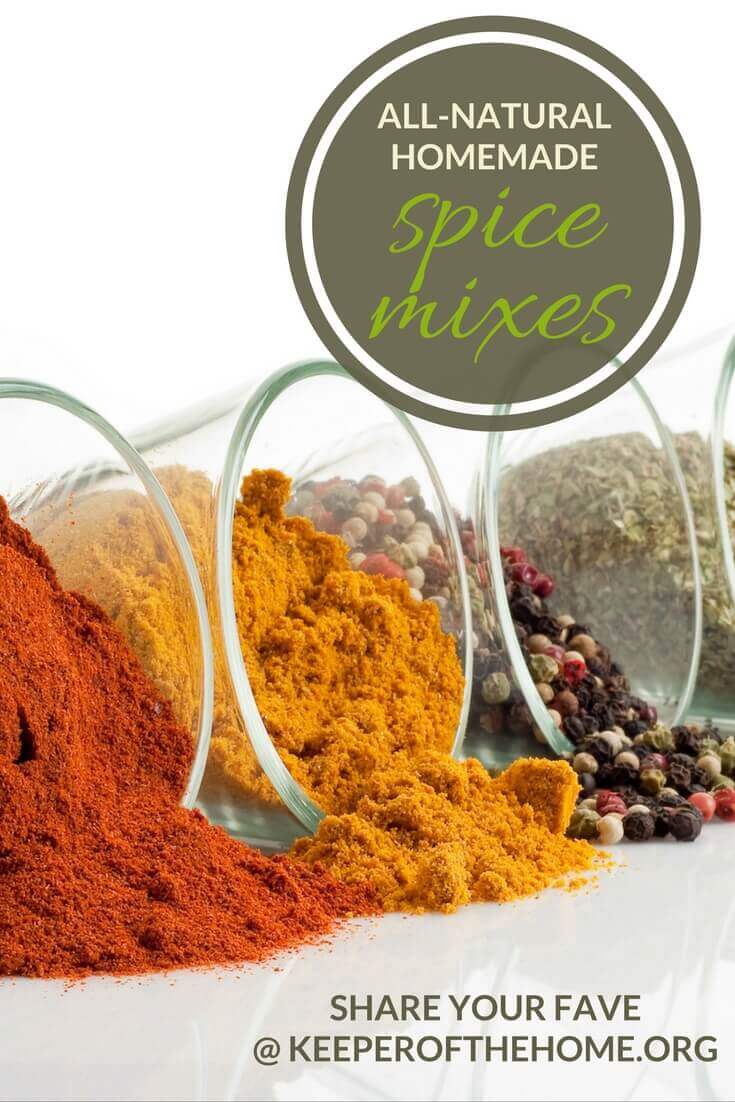 Homemade Barbecue Rub
½ cup brown sugar
½ cup paprika
1 Tbsp ground black pepper
1 Tbsp salt
1 Tbsp chili powder
1 Tbsp garlic powder
1 Tbsp onion powder
Homemade Ranch Dressing Mix
½ cup dried parsley
1 tsp garlic powder
4 Tbsp onion flakes
1 tsp paprika
1 tsp onion powder
½ tsp cayenne pepper
Homemade Cajun Seasoning
2 ½ tsp paprika
1 ½ tsp chili powder
¼ tsp cayenne pepper
¼ tsp pepper
¼ tsp oregano
¾ tsp thyme

Homemade Curry Powder
3 tsp turmeric
2 tsp coriander
1 ½ tsp cumin
1 tsp cinnamon
1 tsp ginger
¾ tsp dried mustard
½ tsp cardamom
½ tsp cloves
1/8 tsp cayenne pepper
¼ tsp ground black pepper
Homemade Chili Seasoning
1/2 cup chili powder
¼ cup garlic powder
3 Tbsp onion powder
¼ cup oregano
2 Tbsp paprika
¼ cup cumin
1 Tbsp thyme
What are your favorite homemade spice mixes?
Read other posts in the Real Food Made Simple series:
Real Food Made Simple: A Beginner's Guide to Eating Better
Cutting Your Kitchen Prep Time in Half — Or More!
Confessions of a Formerly Picky Eater
The Grain Controversy: Should We Eat Them or Not?
Second Steps Towards Eating Real Foods: Switching Your Food Sources
Sweeteners: How They Affect You, Which Ones are Best, and How to Use Them
Simple Steps to Begin Cooking Homemade: Pantry Staples
5 Strategies to Help Your Husband and Kids Transition to Real Food 
Finding Real Food in the Grocery Store
20 Easy Real Food Switches and Substitutions {with Free Printable Chart}
First Steps to Eating for Fertility
Keeping Costs Down in a Real Food Kitchen
5 Ways to Get More Fruits & Veggies into your Diet
Food Is Not Cheap: 4 Steps to Budgeting in Real Food
Simple Steps to Begin Cooking Homemade: Baked Goods
Simple Roast Chicken (And Fabulous Side Dish Recipes!)
5 Ways Green Living and Real Food are Connected
Simple Steps to Begin Cooking Homemade: Soups, Sauces, and Simple Dinners