Last Friday, we had an exciting morning- we planted the first of our little seedlings, set to go in our garden sometime next month!
A good friend and her son joined us, as they don't have their own garden but are eager to keep up the skills they have and get in more gardening practice, so you might see them around in my garden photos this summer. 🙂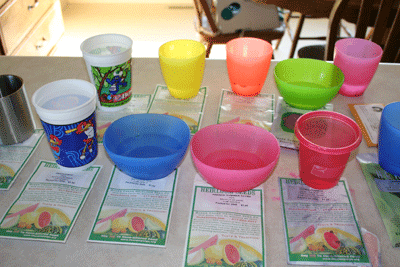 Here are all the seeds, soaking the night before. I like to soak my seeds before I plant them, as this helps them to germinate a bit faster (good for impatient gardeners like myself!) and I also wonder if it helps us to achieve a higher germination rate (this part is merely speculative). It does make them a bit more difficult to handle when putting into the pots, but I still feel like it's worth it.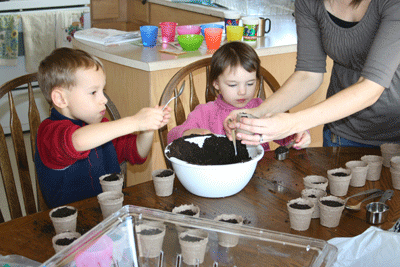 I got my peat pots and starter soil from Walmart, and though I know there are cheaper options out there (like toilet paper rolls, newspaper, egg cartons, etc.), it was still very cheap. About $2 (Can) per package of 20 or so pots (depending on the size- small or large), and then just over $2 for the bag of soil that should easily handle the bulk of my many seedlings. $10 was a small price to pay for the convenience!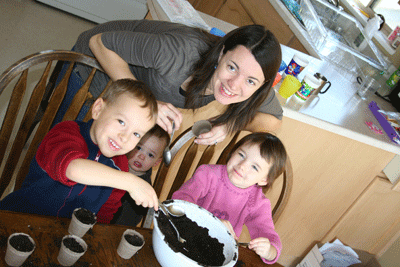 Oh look, Caden even found his way into the picture (he did not, however, think that planting seeds was fun. We'll give him another year.)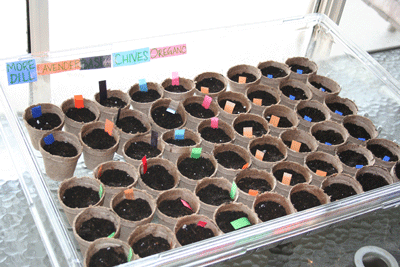 Look at the beautiful, colored coordinated arrangement my friend came up with! The other seed labels are along the front, which you'll see in the next picture. What you see here is two rows each of broccoli and cauliflower, plus about 8 different herbs (this year I'm doing lavender, dill, basil, oregano, chives, cilantro, thyme and peppermint, plus my parsley that's out in the garden already), as well as a few huckleberry plants, just for fun.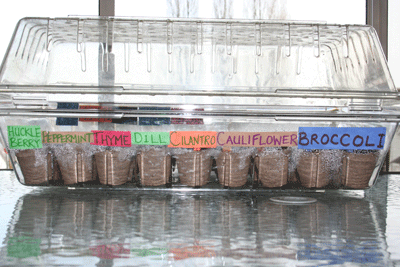 There they are, on the outdoor table that we brought into the family room and set up in front of the large window to catch the sun. My darling friend even cleaned the window and tidied my porch, in case you could see it in the photos- sweet, isn't she? I got this little greenhouse thingamabob from my MIL, who got it who-knows-where. I love it, though!
Just today I noticed one of my broccoli seedlings poking his little green head up through the soil! Spring really is coming, and boy, am I ever ready!
Sometime in March, we'll be planting these seedlings, as well as onion sets, carrots, shelling and snap peas, spinach, several types of lettuce, radishes, turnips, beets and possibly something else I'm forgetting about. Around that time, we'll also start all of our warm weather seedlings (tomatoes, peppers, watermelon, etc.) inside.
Where are you at with your garden plans? Have you started your seedlings yet? When do you plan to actually get outside and start planting? And are you as excited as I am???