45 Real Food Slow Cooker Meals for the Summer
Today Stacy brings you a roundup of 45 excellent slow cooker recipes, categorized by protein type. This is a continuation of Jami's roundup a few weeks back, where she shared 42 recipes, divided by meal type (breakfast, lunch/dinner, sides, dessert/beverages). Now you can easily fill that crock pot every day for the rest of the summer! I'm inspired myself, actually, to go pull mine out and get dinner started right now (it's 8am as I write this)! ~ Stephanie 

By Stacy Karen, Contributing Writer
No one wants to turn on the oven in the heat of summer! The extra temperature in the house can make you completely miserable.
Not to mention that many of us are spending a lot more time outside, enjoying our family, or working on special projects, leaving little room (or desire) to slave over a meal in the kitchen.
This is where the slow cooker
 comes in handy. Toss a few ingredients together in the morning, and enjoy a scrumptious meal at night. What could be more perfect?
One issue I have with many slow cooker recipes is that they contain undesirable ingredients, like cream of chicken soup (from a can). To save some time, I've collected 45 real food slow cooker recipes.
All of the  recipes below contain real food ingredients so you don't have to worry about weird additives. There many be one of two that use items such as brown sugar, but you could switch that out for honey or sucanat
.
Without further ado, here are 45 real food slow cooker meals for you to enjoy this summer:

Vegetarian Slow Cooker Meals
Slow Cooker Chick Pea Curry @ Better with Cake
Eggplant Parmesan in the Slow Cooker @ The Greenbacks Gal
Slow Cooker Lentil Chili @ Two Peas and their Pod
Slow Cooker Eggplant Potato and Mushroom Curry @ SkinnyMS
Garlic and Dijon Slow Cooker Chicken @ Baked by Rachel
Super Easy Crockpot Spaghetti Squash Curry @ The Paleo Pot
Crockpot Sweet Potato Lentils @ Pinch of Yum

Chicken Slow Cooker Meals
Slow Cooked Barbecue Chicken @ A Delightful Home
Slow Cooker Chicken Caccitore with Quinoa @ 100 Days of Real Food
Slow Cooked Chicken in a Tomatillo Salsa Verde @ My Humble Kitchen
Quick and Healthy Slow Cooker Chicken Fajitas @ The Greenbacks Gal
Slow Cooked Honey Chicken @ A Delightful Home
Crock-pot Hawaiian Chicken  @ Sweet Treats More
Slow Cooker Roasted Chicken @ The Nourishing Home
Slow Cooker Salsa Chicken @ The Nourishing Home
Aunt Beulah's Saucy Chicken in the Crock-pot @ Red and Honey
Buffalo Chicken and Eggplant Lasagna @ The Paleo Pot
Gluten Free, Dairy Free Buffalo Chicken Lettuce Wraps @ Once a Month Meals
Slow Cooker Thai Chicken Curry @ Perry's Plate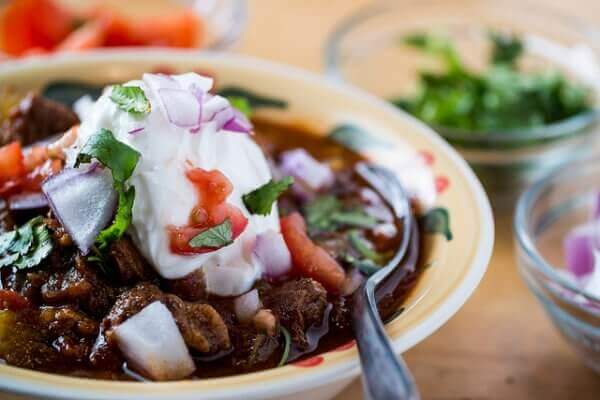 Image by RPavich
Beef Slow Cooker Meals
Easy Slow Cooker Steak Chili @ 100 Days of Real Food
Spicy Mango Ginger Beef Roast @ Just Making Noise
Sun-dried Tomato Balsamic Onion Pot Roast @ Real Food RN
Easy Crockpot Grass-Fed Beef Sandwiches @ Kelly the Kitchen Kop
Crockpot Korean Beef @ Whole Food. Real Food. Good Food.
Slow Cooker Beef Stroganoff @ A Happy Healthnut
Slow Cooker Italian Roast with Peppers Aus Jus (Gluten Free) @ The Nourishing Home
Crockpot Spaghetti Bolognese Sauce @ Red and Honey
Slow Cooker Flank Steak Fajitas @ 100 Days of Real Food
Chili Colorado @ DJ Foodie
Easy Slow Cooker Taco Meat @ Rubies and Radishes
Delicious Crockpot Beef @ Delicious Obsessions
Slow Cooker Asian Short Ribs @ 100 Days of Real Food
Stuffed Cabbage Un-rolls @ Kitchen Stewardship
Slow Cooker Ginger Beef @ Kitchen Stewardship
Slow Cooker Cuban Vaca Frita @ The Curious Coconut
Seafood – Pork – Lamb Slow Cooker Meals
Crockpot Seafood Paella @ The Humbled Homemaker
Slow Cooker Shrimp Marinara @ Taste of Home
Crockpot Jambalaya Recipe @ Food Renegede
Slow Cooker Pineapple Pulled Pork @ Mommypotamus
Slow Cooker Pork Vindaloo @ Nourishing Joy
Balsamic Pork Tenderloin @ Add a Pinch
Slow Cooker Parmesan Honey Pork Roast @ Six Sisters Stuff
Slow Cooked Pork or Lamb Chops with Cabbage and Fennel @ My Humble Kitchen
Crockpot Leg of Lamb @ A Year of Slow Cooking
Slow Cooker Lamb, Apricot, and Olive Tagine @ Real Simple

What are your favorite slow cooker meals during the summer?
Disclosure: This post contains affiliate links. When you buy through our links, it helps to support this site, so thanks!