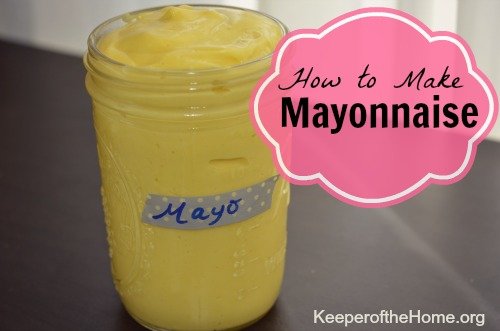 Written by Stacy Karen, Contributing Writer
Today I'm going to share my favorite mayonnaise recipe and give you the details on how I make it.
It's not complicated, but it does take a little patience.
The first time I made mayonnaise it was a complete flop. I rushed it, and well, I never actually got mayonnaise.
Since then I've tried a few different methods and have settled on the one that works best for me. If you've attempted to make mayonnaise before and it didn't work, I encourage you to give this method a try.
Many people use a food processor to make mayonnaise, or even a stick blender, but I've had trouble with both. (My sister tells me her food processor works beautifully for mayonnaise. She makes a delicious looking garlic and lemon mayonnaise. Maybe it's just me!).
In fact, since I know many, many people use a food processor to make mayonnaise, I thought I'd try it again when preparing for this post. I got frustrated when it kept splashing out the sides: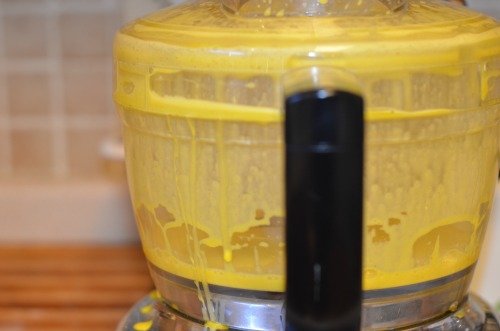 So, I went back to my tried and true method: the handheld mixer.
I like using a handheld mixer to make mayonnaise because I have more control over the speed. The other bonus is that it doesn't get too hot. Excess heat ruins the mayonnaise making process. This is one reason some high-power blenders don't work well for mayonnaise: they generate too much heat.
If you have success with food-processors, blenders, or other appliances, then by all means, carry on. And if you don't have a handheld mixer, give it a shot in one of the other kitchen appliances. (They work really well for plenty of people.)
Why make mayonnaise?
It is awfully hard to find good mayonnaise at the store; most use undesirable oils, like soy or canola, and have other additives. Making it yourself allows you full control over the ingredients.
Plus, it tastes really good.
In Nourishing Traditions, Sally Fallon suggests adding a tablespoon of whey to the mayonnaise and leaving it out for several hours. She states that it will then keep for up to 6 months. I have not tried this. Anyone else? Ours never lasts that long since we use it to make salad dressing, as well as egg and chicken salad.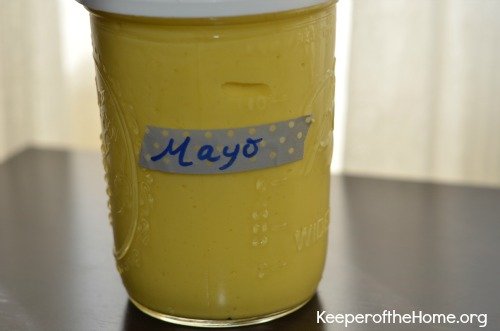 Do you make your own mayonnaise? If so, which kitchen appliance do you use?
This post is sponsored by Plan To Eat. Plan To Eat was born from our desire to eat real food — great food — prepared at home, together as a family. Plan to Eat is an online menu planner that uses your recipes, scheduled for the days you want them, automatically generating your grocery list, organized the way you like to shop. Eat well. Eat together.