Spring Giveaway Week: Win a Large Gift Box from Healthy Surprise ($79)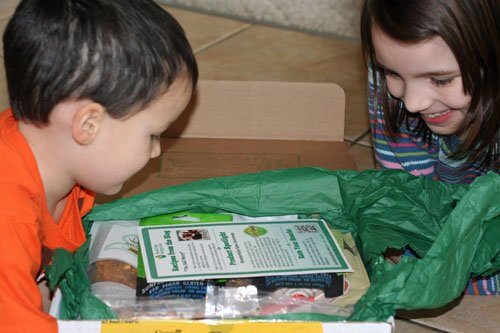 I was pleasantly surprised last week as I opened up my review box from Healthy Surprise.
The idea behind this novel business? We all know that it's easy to fall into snacking in unhealthy ways, and sometimes it's difficult to source out various kinds of truly wholesome snacks.
Healthy Surprise does the work for you, seeking out new and unique (but always healthy) snacks that your whole family can enjoy, packs them up and sends them to your door on a subscription basis. Each month's box comes with a fresh variety of treats to enjoy, some you've had before and some you've never heard of.
I was definitely intrigued, but somewhat concerned. I wondered what type of snacks I would find. Mostly sugary? Full of improperly prepared grains? Lacking in quality protein? Soy-based protein bars that we wouldn't eat? Would they contain ingredients that my dairy/wheat/peanut/rice intolerant daughter couldn't have? Would it contain lots of processed organic snacks that I still wouldn't consider to be "real food"?
And that's where the very pleasant surprise came in.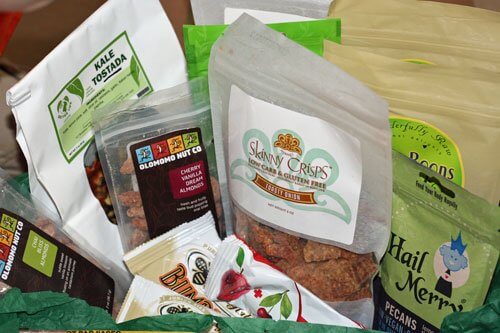 We got plenty of nuts. Seeds. Dried kale. Raw coconut macaroons. Dried fruit. Grain-free crackers.
Nary a Clif or Luna bar to be seen. All things I would actually choose to feed my children. And this real food mama rejoiced.
I am so pleased to say that my food-sensitive little girl could eat EVERYTHING in this box. So could someone with Celiac. And so could primal/paleo eaters (I'm pretty sure- I'd have to double check the ingredients but at a quick glance it all looked safe).
Most of the sweet snacks were sweetened with honey, maple syrup or fruit. I believe only one contained some kind of cane sugar. Even better, the snacks were not predominantly sweet, as I thought they might be. There were almost as many savory snacks (two flavors of crackers, sunflower seeds, kale tostadas).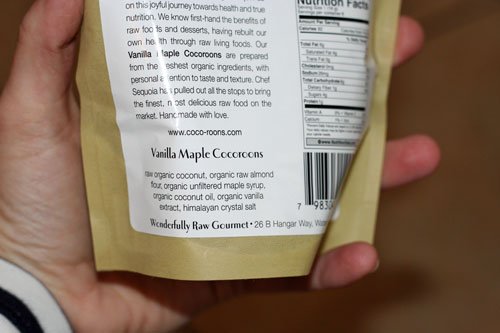 First, you choose which sized box will best suit your family. The 3 main options are:
Starter 16-22 servings (1-3 people)
Healthy 32-40 servings (2-6 people)
Large 50-60 servings (3-9 people)
There's also a Super size of 200+ servings, which might be better suited for a business, a special event, or maybe a long road trip? We received a Starter box, which definitely wouldn't last a month around our house. For our family of six (well, five that eat solids and a nursing mama that eats for two), we would need the Healthy box.
Pricing is $33, $66, and $99 per month, respectively. US shipping is included in that price. Which means that you're looking at about $1.75-$1.83 per serving.
Now, I know that I can make homemade snacks far cheaper than that, without question. However, if I start looking at buying these type of quality snacks, I couldn't do much better myself, not with the quality of the foods that are included. I tried to locate online prices for each of the items included, and I came up with at least a $42 value on the $33 box that I received (and it might have been higher than that).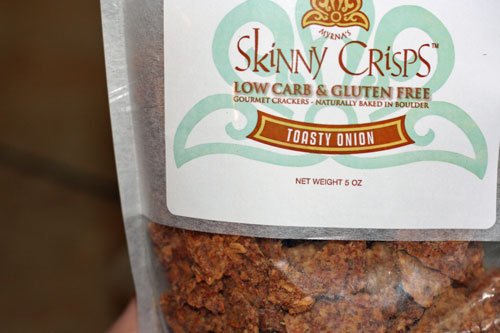 I can see this being particularly useful for busy seasons of life- early pregnancy or when you have a newborn, preparing to move, for going on trips. I also thought that I would consider it as a way to have high-quality snacks to send with my husband when he's going out to work. I don't always have something that I can readily send with him, and if he has to stop and buy food while he's out, this would work out cheaper (and infinitely healthier).
Another thing to note is that the contents of the box differ each month. I think this is a (mostly) great feature, because who doesn't love trying out new things? Of course, there is the possibility that there might be a few things that aren't your family's favorite. Out of all the items in our box, the only one that hasn't received a thumbs-up has been the Kale Tostadas (I sort of liked them and so did the 2 year old, but the rest of the family didn't). That said, every month those receiving the boxes have the opportunity to vote for the items they want to see again and those they didn't care for, which I'm sure helps them to keep the boxes full of customer favorites.
Would you like to win a Healthy Gift Box with 32-40 servings ($79 value)?
Disclosure: I received a box of healthy treats for the purpose of review. All opinions expressed are my own. This giveaway was generously sponsored by Healthy Surprise.