Simple Steps to Safe and Natural Personal Care {And 18 Homemade Beauty Recipes}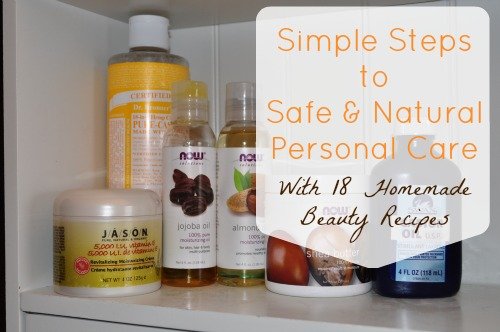 By Emily, Contributing Writer
As you're beginning your journey toward more green and natural living, one surprising thing you will most likely encounter early on is the truth about the dangerous chemicals and toxins lurking in the personal care and beauty products you use every single day. This knowledge can be somewhat shocking and overwhelming at first. I know it was for me!
I specifically remember what I first thought upon hearing about the EWG's Cosmetic Safety Database, where they score personal care products based on the toxicity of the ingredients. It went something like this, "I just really can't believe that! There is just NO WAY that the government would allow toxic ingredients in products that we buy at the store and use on ourselves and our kids, every single day!"
It was hard for me to wrap my mind around the fact that the government in the United States really does not provide any control or regulation over the cosmetics industry. I thought the purpose of the government was to protect the people from danger – including dangerous chemicals and products. But unfortunately, when it comes to personal care products, that's not the case at all.
From the Campaign for Safe Cosmetics:
"The agency charged with oversight of cosmetics, the U.S. Food and Drug Administration (FDA), has no authority to require pre-market safety assessment as it does with drugs, so cosmetics are among the least-regulated products on the market. The FDA does not review – nor does it have the authority to regulate – what goes into cosmetics before they are marketed for salon use and consumer use. In fact, 89 percent of all ingredients in cosmetics have not been evaluated for safety by any publicly accountable institution."
Some may say that many of the ingredients used haven't been proven to be dangerous, and that may be true, but there are many chemicals used in cosmetic products that have been linked to things like allergies and asthma, development and reproductive toxicity, endocrine disruption, and cancer. Others may say that the levels of these chemicals in products are so low that they can't really have a harmful effect on us.
I believe that it is wise to follow the precautionary principle, and so, the reality is, if the government is not going to make sure that personal care products are safe for us to use, we will have to do it for ourselves and our families!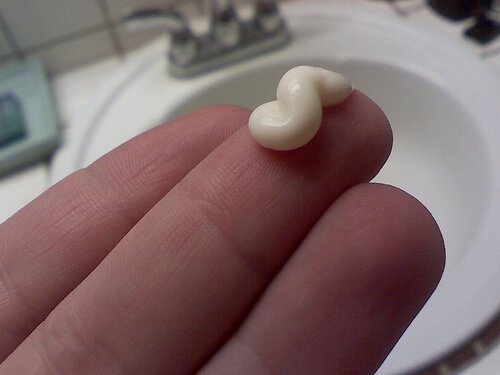 If it feels overwhelming to you to change all of the personal care products that your family uses on a regular basis, I want to encourage you that all it takes is one step, one change, at a time. You don't have to overhaul your entire bathroom and beauty routine all at once. Start with just one product, maybe the one you use the most, or maybe one of your children's bath products.
Look up the product you currently use on the Cosmetic Safety Database, and if you're comfortable with the ingredients and the score it receives, you can continue using it, knowing that you've done your research about its safety.
Or, if you're not comfortable with the ingredients in that product you can:
Check the Cosmetic Safety Database again for natural and safe alternative products that you can buy at the store or order online.
Begin making your own homemade version of the product, so you can control the ingredients that go into it.
Once you feel comfortable with your decision about that first product, move on to another product, and walk through the same steps. Keep repeating the process until you are comfortable and have researched all of the products that are a part of your family's personal care routines.
Most likely you will end up using some combination of the second set of options to replace most of your family's products. For my family, I buy some of our products from safe and natural brands that I am comfortable with their ingredients lists, and I also make several of our products at home; we have found that to work best for our family.
To help you get started with making your own basic homemade beauty products, here's a list of recipes you can easily make yourself at home.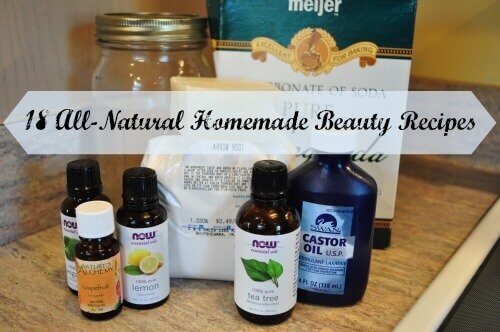 18 All-Natural Homemade Beauty Recipes
Shampoo
'No Poo – The Natural Way to Clean Your Hair
Conditioner
See the posts above on the No 'Poo Method which includes a conditioning hair rinse.
Homemade Detangler or Leave In Conditioner
Bath Soap
DIY Natural Castile Soap Body Wash
Face Wash
How to Wash Your Face Using The Oil Cleansing Method (Video)
4 DIY All Natural Facial Cleansers
Jojoba and Rose Water Natural Face Cleanser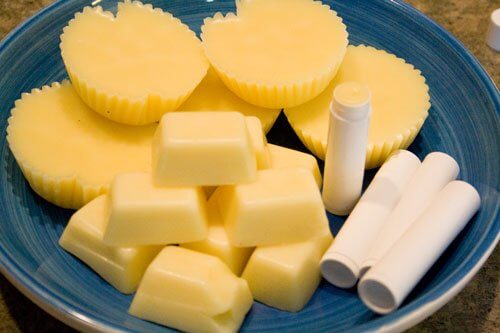 Lotion
Simple Nourishing Hand and Body Cream
Deodorant
Gentle All-Natural Deodorant Stick
Toothpaste
By walking through these simple steps, choosing natural brands, and making your own products at home, you can be sure that the personal care products in your home are non-toxic and safe for your family to use!
How have you made changes to your family's personal care routine? What are your favorite beauty products to make yourself?