3 Tips That Will Truly Help You to Manage Your Grocery Budget Better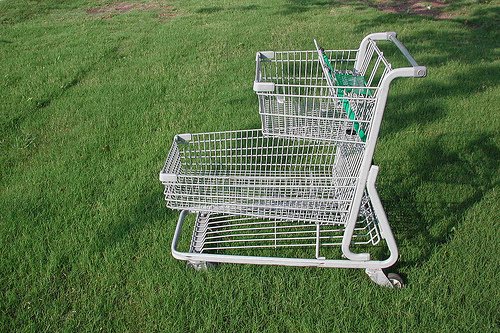 Once upon a time, there was this girl who was very careful with her budget. So careful that her husband trusted her implicitly, and she carefully maintained her grocery budget with cash each month, so as not to overspend. She was so insistent that this method worked, she even wrote profusely on the topic.
This worked well for several years. Then this girl discovered that upon returning home from an overseas trip, she was pregnant with her 4th child. Then two homestay students arrived, fatigue and nausea ensued, and general chaos was reigning in most areas of her life as she sought to keep up with everything. Foolishly, one of the things she dropped was her careful cash management system. And didn't pick it up again for 4 months.
Until this month. After being informed by her ever-loving husband that she had gone over budget for 4 months in a row, particularly so this past month, she has learned her lesson well. Her wallet once again contains cash and she has a written list, detailing what she has spent and what she intends to spend and the balance of her budget.
If she sticks to the plan, she and her grocery budget may just live happily ever after.
3 Tips That Will Really, Truly Help You to Stick to a Budget

1. Use cash.
I can't say it strongly enough. Cash is tangible, it hurts to pass it over to the cashier, it's beyond embarrassing to get to the till and realize you don't have enough, and when it's gone, baby it's gone.
Even if your family does the rest of your budget online (as we primarily do, through debit cards, online payments and a budgeting software system), make your grocery budget cash!
Just go to the bank at the beginning of each month and take out what you've got budgeted for that entire month (usually I leave about $25 in the bank, just to cover any small trips my husband might do to grab something random, because otherwise I tend to overlook those and go slightly over budget). Use your choice of a special cash wallet, a basic envelope or baggies system, and divy it up as you prefer (by the week, or kept whole).
For those who are really, really adamant about not using cash, I suppose you could use a debit card and keep a meticulous record of each and every purchase you make, which you have with you ever time you go to shop. It's not ideal, though, in my experience.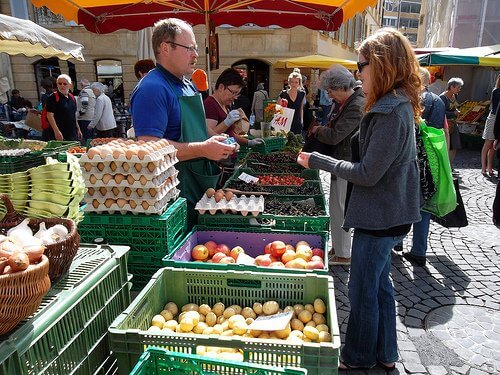 2. Before you spend any of it, determine how that money will be spent.
At the beginning of the month, after I make my first meal plan, I like to sit down and determine what I will spend where, and how much is left for remaining purchases. For example, here's my money breakdown this month:
Budgeted Amount: $400
*Note that it would have been $450, but my husband had already spent $30 the day that I wrote up this budget buying raw milk and cheese, and I'm leaving $20 in the bank account for unaccounted for purchases.*
Azure Standard Natural Foods Co-op order: $170
I make this order monthly, and it usually varies between $80-$180, depending on what we need.
Extra Foods (local grocery store): $88
I had budgeted to spend about $90 before I went, based on the fact that this store gives a 15% discount the first Sunday/Monday of every new month if you spend $100 or more. I brought a calculator and tracked exactly what I bought, and the total came to $103 and then $88 after the $15 discount!
Ennis Meats: $60
This is my meat/deli store out in the country, where I purchase grass fed and free-range meat products, including nitrate-free sausages and that type of thing. I had planned on spending $40-$50, but they had cases of the turkey breakfast sausage we like for a good deal, so I splurged and bought one, but I did so knowing that my budget could handle it.
We had already started the month with some vegetables, and a ton of free local apples and pears (from gleaning in the park, and a friend's yard), so I skipped the produce store for now. We also already have a freezer full of grass-fed beef purchased earlier this summer, plus 11 pastured chickens that I bought off my mom last month.
Budgeted money remaining: $90
I won't shop this week but will try to use up everything that I have. After that, I will do a big produce shop for the rest of the month (probably $35-$40, and I might spend another $20-30 on a case of pears for canning). The produce will last because I use up those things that go bad faster first, saving the hardy fruits and vegetables for later, plus I'm using something called a Blu Apple, which helps to keep produce fresh for longer, reducing waste and trips to the store.
The rest will go towards a smaller shop at my local store for things that we run out of or need to fill in the ingredients list for my meal plans. This will include fresh eggs, I'm sure and a few other random grocery items (and if anyone knows a great source of pastured eggs for a decent price in the Fraser Valley, I'd love to know it- I lost my source of eggs this winter).
If I have extra (which is rare, but it happens sometimes), I will save it up towards future meat purchases. Otherwise, I try to set aside meat money at the beginning of the month, except this month when I was already buying meat and needed a large co-op order.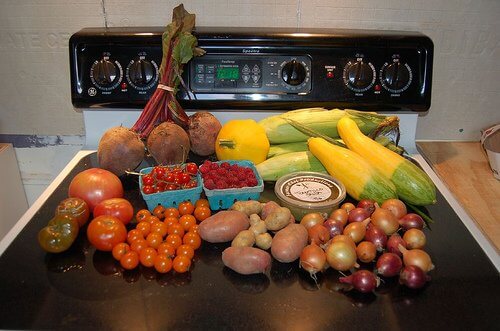 3. Go with a detailed list.
Not just a list like this:
chicken
broccoli
pasta
milk
But a list like this:
1 large whole, free-range chicken ($3.99 per lb, so approx. $15-$20 depending on size)
2 large heads broccoli ($3)
4 packages brown rice pasta ($12)
4 half-gallons raw milk ($20)
Now, you don't have to estimate the prices like I do (and yes, those are estimations, but they're very educated guesses because I pay attention to prices). I realize it adds time to your planning. I've come to feel that it's worthwhile, however, because it allows me to guesstimate a ballpark figure of how much I will spend at each store on each trip.
If I'm going to hit up 3 stores while I'm out, I will have a list that tells me I expect to spend:
$90 at Extra Foods
$40-50 at Ennis Meats
$35 at 2 EE's (my produce market/farm)
This way, I can pay attention to how things are adding up as they enter my cart. I will know if I'm overspending before I even get to the counter and I can make a decision to remove something if necessary. Or, if I have underspent at 1 or 2 stores by the time I get to the produce market, I might be able to splurge and stock up on a sale on organic potatoes, or a discounted case of tomatoes to turn into sauce, or simply on an expensive veggie or fruit that we love but rarely buy.
Not only will a list like this help you to be very cognizant of the money that you are spending (before you even hand it over), but it will keep you on track with your purchases. If fresh salmon or mandarin oranges or fair trade chocolate weren't on your list, then unless you know you have the extra room in the budget, you'll rethink them.
You'll also get through the store faster, particularly if you use a list that groups like items together. The list I use is divided by baking items, diary, produce, cleaning, toiletry, canned goods, etc. and it really does help to streamline my time in the store. Having 3 young children who get antsy pretty quickly while shopping, this is invaluable.
It really does work.
This month, for the first time in 4 months, I am on track to finish right on budget, with plenty of food stocked up in the freezer and pantry to go into next month. Can I just tell you that it feels really good?
I know that managing your budget like this requires a bit more thought, more time, more effort.
However, if keeping your food expenses affordable and finding ways to shave down your budget are goals that you have, these techniques will ensure that you stay on track and move steadily towards those financial goals!
How do you manage your grocery budget? What practical things that you do make the biggest difference for you? If you're struggling with the budget, which areas are hardest for you?